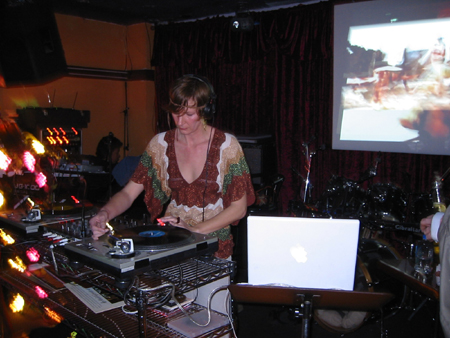 At the corner of Gower & Sunset street across from the Sunset Gower Studios in Hollywood, originally established as the legendary Columbia Pictures Studios, is a small western themed shopping center named "Gower Gulch", This center is named after the history of this Hollywood intersection. So many want-to-be movie actors used to hang out here in search of work, dressed in cowboy costumes, that the area was nicknamed "Gower Gulch."
The Gower Gulch is a perfect example for the immense diversity that is typical for the Los Angeles area. As part of a country themed small shopping mall, the Gulch holds a Karaoke Bar, a Sushi Bar and a restaurant with a stage and dance floor all in the same building.
On this special night, DJs and several dance performances had been arranged to entertain the diverse crowd. DJ Lady Fingered showed a good selection of rare 60s Soul & Funk to get the crowd started. Besides her gig as a DJ, she is also a professional and passionate writer, as well as famous music journalist, writing for such magazines as Flaunt, Angeleno, Dazed & Confused and Complex. She has also recently published her second book, an intimate biography on the influential Country-Rock Musician Gram Parson. This night, her 60s vibes got everybody in the right mood, to enjoy the extravagant dancing performances that were to come.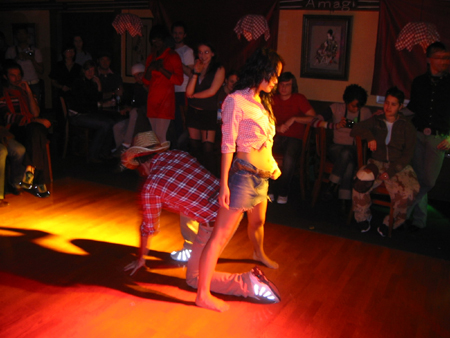 Starting out by a sensual dance duo, the dancers paid tribute to the location by choosing western themed outfits for the show. Drawing on the long co-operation within the group, the dancers showed a professional performance, although the rehearsal for this event only started 3 days before the show. All of the dancers belong to the famouse Hysterica Dance Company which has been co-founded by Ryan Heffington who has choreographed the dance and also dances the duo and the later performance himself. The mixture between traditional country dance like elements mixed with a very modern and abstract approach would be strikingly enough, but the moves are exercised so sensually that you can almost feel the intimate touches of the dancers, filling the air with a certain kind of "dirty dancing" atmosphere.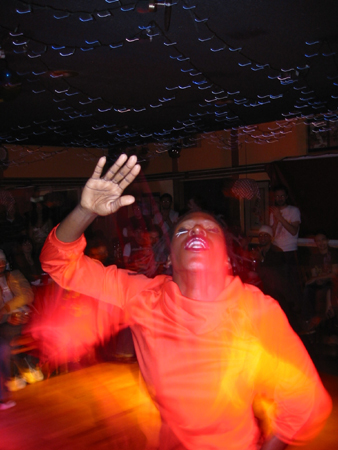 This intimate dance duo is then followed by a stunning solo dance performance in which she incorporates abstract and modern aspects with smooth and gentle motions, as well as shaking her body vigorously in ecstatic motion, even resembling elements found in the Japanese Butoh dance.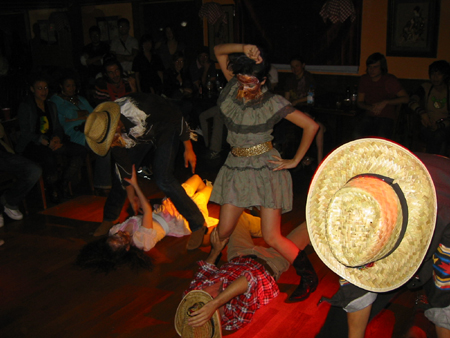 To top it off, the final dance performance enchanted us with what you would have to call a modern, again "dirty dancing" version of a country-stlye line dance. This would already be a pretty awesome mix, but by wearing Venetian Carnival masks, the whole performance gained almost sort of an other-worldy character.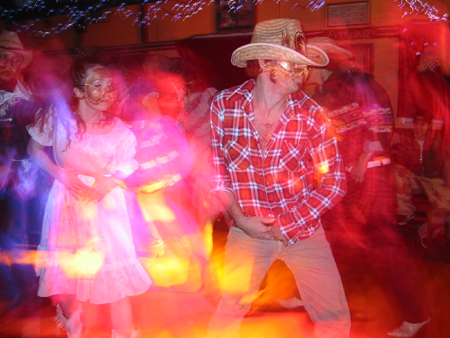 The genuine inventiveness and fresh approach of the Hysterica dance group is based on the original concept of aiming to create original dance works which are reflective of the current cultural landscape. The group focusses on exploring collaborations with other artists, filmmakers, fashion designers, composers and musicians. As Co-founder Ryan Heffington who has just worked with Berlin based musician/artist Peaches, he shows that the co-operations are not only on paper, but are actually challenged and realized. He also worked with Jessica Hundley to choreograph the dance performance for her music video of the band "Voy".
At Hysterica Ryan has a dual role of co-artistic director and in-house costume designer, his work with Hysterica having been nominated for best male performance (2001) and best costume design (2004) by the Horton Awards. In 2005 Hysterica performed in such great venues as the REDCAT and the Disney Hall in Los Angeles.
Ryan also teaches dance at EDGE Performing Arts Center Hollywood and has
moreover also launched his own fashion line "Rock 'N Sissy" which is worn by the likes of Gwen Stephani, Britney Spears, Jennifer Lopez, Beck and Mick Jagger.
After this enchanting night, we are all too curious what kind of projects he is holding for us in the future.
Fingered at the Gultch
Date: 12th January 2006
Place: Amagi's @ Gower Gulch
Address:6114 Sunset Blvd., Hollywood, CA 90028
http://www.myspace.com/fingered/
Text and Photos: Christopher Lenz
[Help wanted]
Inviting volunteer staff / pro bono for contribution and translation. Please
e-mail
to us.