DESIGNEDGE & EXPO 2005
"DesignEDGE Conference & EXPO 2005" was held in Singapore from November 10th to 12th. This was the kick off to Singapore's national project "Singapore Design Festival". A Hon Kong based design magazine "IdN" was in charge of production and curating the the expo. In addition, DELTA, MO'WAX, and ROSTARR who are renowned in the street scene participated in the expo, and Kazuki KUraishi and Devil Robots from Japan, UVA and D-Fuse from digital film scene, and design mogul Designer's republic all joined in the expo.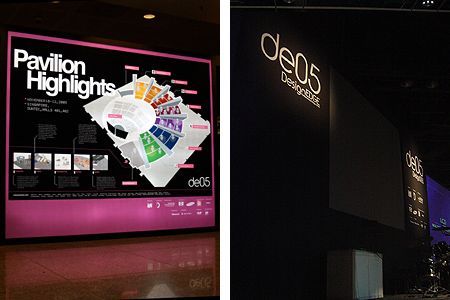 Singapore takes design as a national strategy to become a design trendsetting city in Asia. Singapore Design Festival was held from November 9th to 23rd, and it was a much-awaited large scale festival in one of the biggest business cities in Asia.
During the festival, there were many conferences and talks as well as Design EDGE in various disciplines, including, ADASIA 2005 and Beyond 2005 that looked toward the next leaders of creative industry, and other culture, business, academic related events that made possible to generate interdisciplinary communication. When we take a look at the array of guests at the festival, we must realize Singapore's genuine efforts for the festival.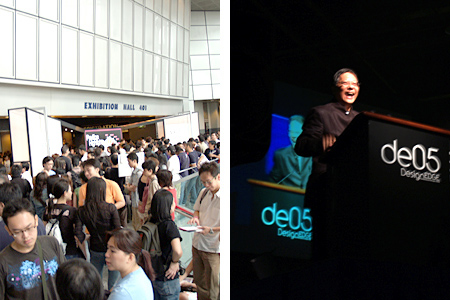 DesignEDGE was held at SanTech international Forum. It was a festival for design geeks, and its lobby was heavily packed with young geeks who were starting to get excited. The conference hall was immediately filled to the capacity, and the chairman of SIngapore Design Council, and the president of IdN Lawrence gave greeting speech to the audience. "The revolt and new perspectives of guest designers play a decisive role in contemporary creative culture, and this conference indicates to us a process of its revolution." The conference was to discuss about "What is cutting edge design?" and "What kind of processes are involved?." The three days of vibrant discussions were finally kicked off.
The lead-off was taken by DELTA and MODE2 gave a talk with rhythmic style and showed his mastery in image tracing. DELTA showed not only his successive works but also works by Keith Haring and sketchbooks from 80s with Zephyr tags on it. DELTA introduced his recent project that he "buffs" (to erase graffiti.) Any civilians can "bomb" on DELTA's black and white graffiti works. Later, DELTA draws on it again, but somebody will come to bomb on it again. This process is repeated by DELTA and civilians many times. It is like a rat race on a legal wall, and graffiti acts as a communication platform in this process.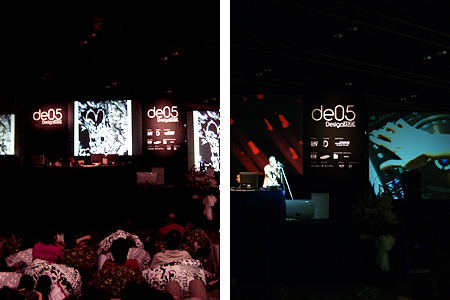 In the following talk by Answer, U.N.K.L.E and Kostas Serementis, Ben Drury and Kostas Serementis appeared as U.N.K.L.E in place of James Lavelle, and spoke about their collaborations with THE RAMM:ELL:ZEE and FUTURA by only showing works that were already familiar to the audience. On the other hand, in the next talk by D-Fuse and United Visual Artists, Ono from D-Fuse did a live DVDJing performance and UVA's kaleidoscopic light installation drew the audience into their overwhelming visual space.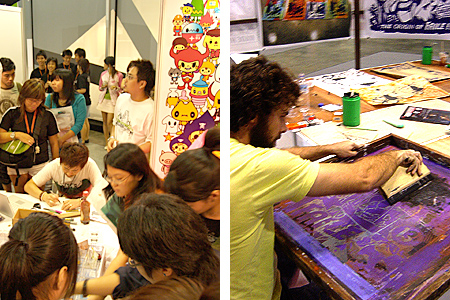 The conference finished without a question-and-answer session in the forenoon. From the afternoon, the pavilion exhibition took place at the Expo. The Expo site was organized into seven pavilions, including, Print, Art, Fashion, Music, Interactive, Korea, and Urban. And there were autograph signings and various live performances happening alongside exhibitions. The autograph signing of Devil Robots, who built a buzz around the phrase "SEXY CHANGE" at last year's conference, was crowded with people. And FAILE who was put up on the cover of SHIFT NO.94 Issue was rolling out his silk screens to crowds instead of signing autographs. A lot of fans kept coming to ask autographs, presenters could not rest a moment and their fatigue became invisible from time to time. At this expo, they were all too big stars.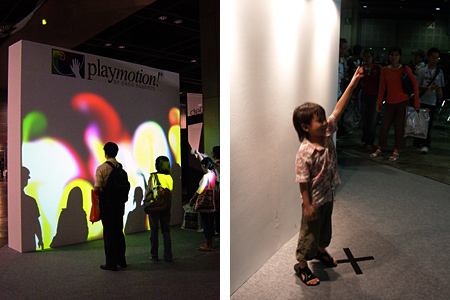 The most interesting pavilion was "INTERACTIVE" pavilion where people could experience design objects or artworks by moving their body. Feedtank has a shooting game approach to their productions with the idea that incorporates body as a device, so they needed to adjust game balance constantly and secretly for users behind the display. At PLAYMOTION!, they utilized simple physical interactions such as "touch" and "hit". However, when people see its great graphic technology and performance that reacts to their body so well, they must be amazed and feel comfort by the rich experience brought by PLAYMOTION's product.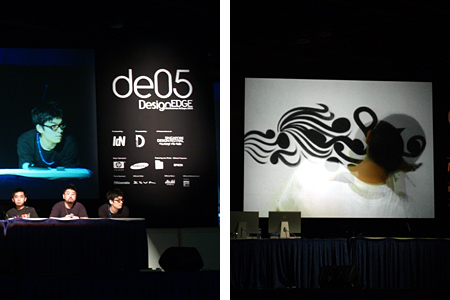 On the second day of conference, a panel session with Surrender, Mo'Wax and and Kazuki Kuraishi was held. However, this also became just presentations of works, and the audience who sat on bean cushions in front of the stage could not help nodding off. That became even worse when Kazuki Kuraishi's session became a QA session from the beginning because he did not bring in any materials to show. "If there is no material, we cannot come up with any questions." An opinion such as this erupted among audiences, and he kept replying them with brusque answers. He was on the stage right in front of us, but he kept distance from us. And there eventually was an audience member who spoke out his resentment saying " I'd like to speak to the organizer. What a stupid presentation. We came here to know processes not just collections of works. What can we learn from this?" He spoke for all the other people in the audience and it resulted in a storm of applause. Eventually, this eventful session ended with a bad aftertaste.
This bad aftertaste was driven off by ROSTAR. He says that he fell in love with graphic design because of its powerfulness. He made audiences glue to his sketchbook where he draws images of destruction and creation. His encompassing remark "We, artists need you guys" cleared off the bad atmosphere that dominated among audiences. However, when audiences pointed out the significance of conference, it simply stated the presence of barriers in street culture scene and made us to think many other things.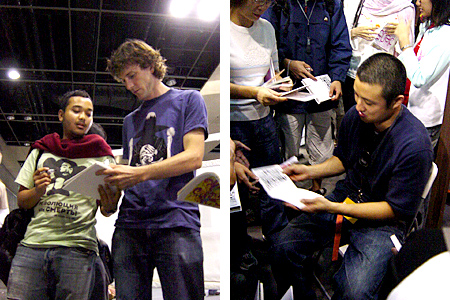 The conference was concluded with a session by camouflage king MAHARISHI. EXPO time followed after the conference. DELTA's live performance was canceled because of some technical problems and he organized a tagging event on very short notice. There was a good atmosphere around his booth and he conversed with audience members asking, "Where are you from?" and "Do you study Design?." Official booklets that were given out to audiences were filled with tags and autographs from artists and designers, and audiences must had been happy. Even audiences can meet and converse with their favorite artists, there sill exists a barrier between big-stars and fans, it was a sort of disappointment that there were no sorts of people who showed up to present his own works to exhibiting artists.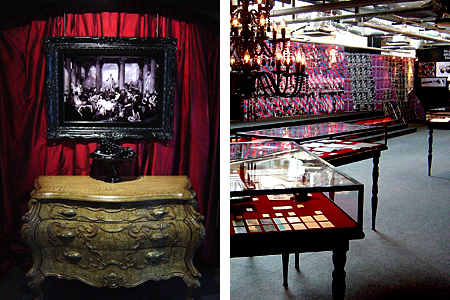 I went out to the exhibition "Decade of Decadence" by PHUNK STUDIO with a bit of mental agony. PHUNK is a true champion in Singapore's culture scene, and Stefan Sagmeister says about PHUNK; "I wanted to make things but PHUNK did it before me. I don't like them!" The exhibition was dark and decadent filled with displays of outstanding and exciting works. Flyers were put up on the wall cumbersomely, and messy but powerful views were something that Singapore's streets miss. There are no graffiti and stickers on the street. Singapore is teased about its popular employment of death penalty law and graffiti corresponds to flogging as a punishment. There were many artists who were speaking for "revolt" at this conference in this clean country Singapore, and I am curious to know what meanings Singaporeans get from it.
DesignEdge Conference & EXPO 2005 generated many happenings and feelings. An uneven contrast between big-stars and fans was difficult to dismiss. In addition, FUNK's remark " We become visual rock star." has also remained in my mind. If Singapore wants to become a rich design market, the existence of distance between presenters and audiences can be a success, but it must have been disappointing for young talents who dream to be next rock-stars. The edge of design should be at the hot spot where there is no distance among all talents.
DesignEDGE Conference & EXPO 2005
Date : 10th -12th November, 2005
Place : Singapore SUNTEC Halls
http://www.designedge.sg
Singapore Design Festival
Date : 9th – 23rd November, 2005
www.singaporedesignfestival.com
Text: Yoshihiro Kanematsu
Photo: Yoshihiro Kanematsu and Syunya Hagiwara
Translation: Masanori Sugiura
[Help wanted]
Inviting volunteer staff / pro bono for contribution and translation. Please
e-mail
to us.