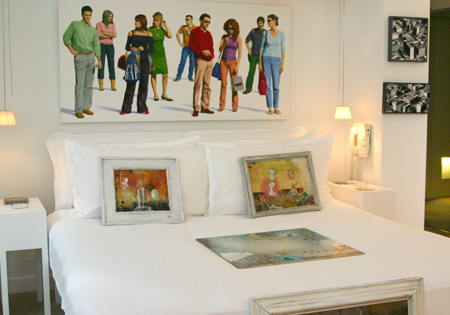 Not only museums or galleries are places for art. So many art fairs are going on in London this autumn, with rooms that are pretty unusual. For starters, let's have a look at St Martin's lane, off Trafalgar square. Of course you will see St Martins lane Hotel which is all designed by Philippe Starck. One, taking place using whole first Floor, is Scope London. This is an international art fair with 50 exhibits taking place in and outside the U.K. Audiences are visiting each room of the Hotel to see all the different works presented at the minimally designed places.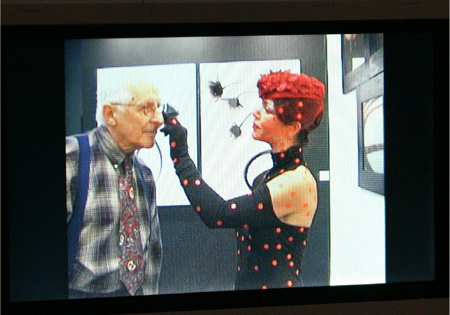 Now, I met a lovely female artist at room 119. She is a performance artist, called LIUBA. In her VHS works, she wore a black mini dress, black lady like gloves and a black veil. All over them and also her skin, she was putting red dot stickers. The title of the work is "Virus". Wearing Virus, she attended an opening party of a big art exhibition. Then she stuck the red dots on the wall just next to each work, very elegantly indeed. In the art world, a red dot sticker indicates a sold item.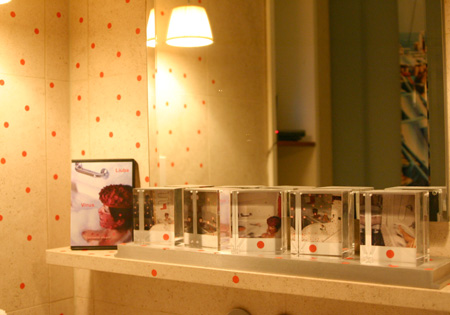 "Although" she said, "only putting this sticker on, people start being interested in the works." It is one of the biggest reasons one judge's artworks; that someone has already bought it." It is exactly how a virus works that such a small dot can make big influence. The video shows the response of people she met at the party, and one of the curators. "In Milan, people appreciate my performance as art but in N.Y they trashed me." Surely, nobody can buy anything because there are already signs of 'sold'. The curators must freak out. No matter how attractive her virus outfits are.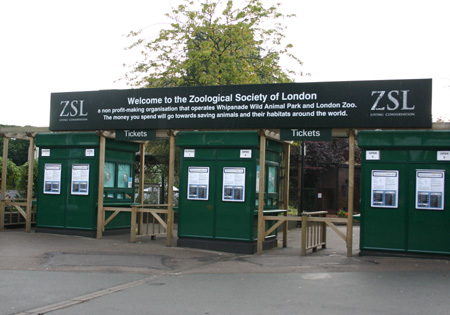 At the north end of Regent's park, there is the London biggest zoo, London Zoo. Entering the gates, past the Flamingoes on your right, past the reptiles and aquarium, now you see the Zoo Art Fair. It is held for art organizations less than 4 years old.
The work of Carey Young, represented by IBID projects, looks really amusing to people. It is based on his own experience as a call center worker. If you sit on the lounge-type sofa, pick up the receiver, it connects to a woman in the photo in front of you. She introduces herself briefly, and says. "Now you have 2 options. If you want to hear about my personal background, choose one, want to hear my work experience at call center, choose two."
When I chose one, she talked about her hometown, her school experience and so on, and then asked if I have any questions about her personal experience. Looking at the audience, some of them were just listing to, some are really enjoying chatting, and the others are asking questions seriously.
In real life, if we call this kind of customer center, first you have to listen to a recorded voice to choose the right department for you. Then finally you can talk to one of their operators. Although operators are only allowed to speak what they have trained, their identity and individuality are normally denied by the caller and the employer. Through his own experience, Carey Young may have come to ponder this kind of communication. His operator happily speaks her own story and we can choose either to be her audience, or potential friend.
In this systematic day, he has represented how individuality is denied and we become generalized, through a call center. In fact if such a friendly operator answers us, we might be shocked, enough even to calm down when calling aggressively. Every customer support team must have something to learn from his works.
Scope London
Date: 21st – 24th October 2005
Place: St Martins lane Hotel
Address: 45 St Martins lane
www.scope-art.com
Zoo Art Fair
Date: 20th – 24th October 2005
Place: London Zoo
Address: Prince Albert Gate, Outer Circle, Regent's Park
www.zooartfair.com
Text and Photos: Sayaka Hirakawa
[Help wanted]
Inviting volunteer staff / pro bono for contribution and translation. Please
e-mail
to us.