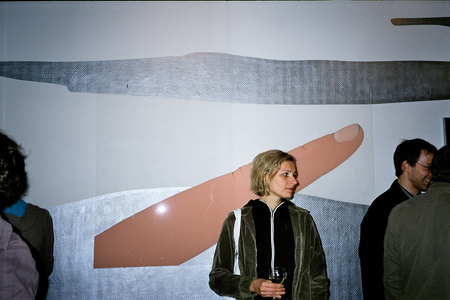 Bagpipes for a welcome: when entering the opening of Katharina Gschwendtner current exhibition in Hamburg, visitors were greeted by live-music and a massively huge eye, cut, pasted and painted onto the window of Gallery Feinkunst Krueger.
Labelled "Das erste Mal"(The First Time), Artist Gschwendtner presents her first behind glass paintings, giving her almost narrative Illustrations a new level of storytelling through this technique. The meaning of the title is twofold: not only focuses it on the artists first time using the style of painting behing acryllic glass panes, but also on the new dimension her stories are reaching – painting-technique as a means of redefining the content.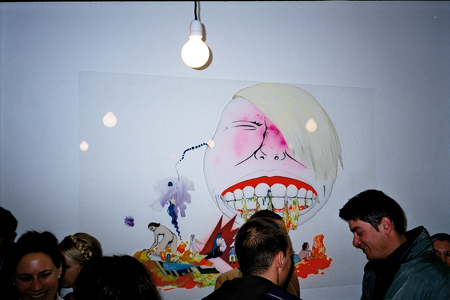 Objects and people sprawl from Gschwendtners brush over the surface; highly illustrative and figurative depictions of people, animals and familiar objects, layered over each other and connected through weird shapes and forms. Traditional references to church paintings are blended with pop at and nouvelle vague, before getting lost in chaos and disorder. And every piece shown in the gallery is so detailed you can find new versions of the tales told by the artist every time you go back to look at them.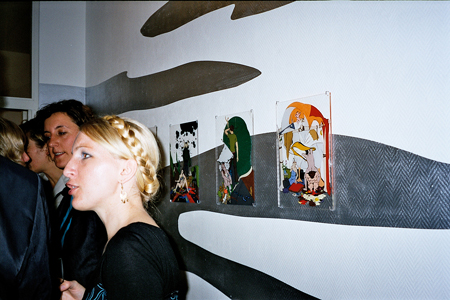 Katharina Gschwendtner is well known beyond Hamburg for her work and has been contributing to many important nationwide magazines for years. Since summer this year, she draws illustrations for a regular column in one of germanys most influential weekly newspapers, Die Zeit. She is a busy illustrator for advertising, too, but her main focus is the complete freedom she has in her art projects.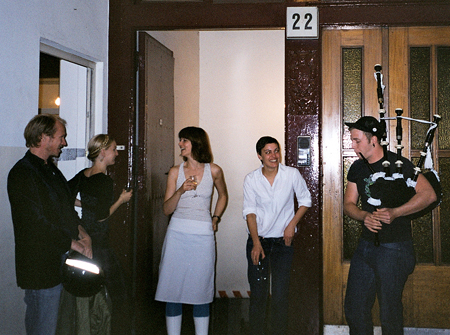 As usual, the opening at Galerie Feinkunst Krueger, located close to harbour and the river elbe in Hamburgs "Portugese Quartes", was crowded with art enthusiasts. This time, gallerist Ralph Krueger let Gschwendter go beyond her exhibited artworks: She designed not only the window, closing out almost all natural light, but the walls too, onto which the artist painted large scale shapes as a backdrop for the behind glass paintings of "Das erste Mal".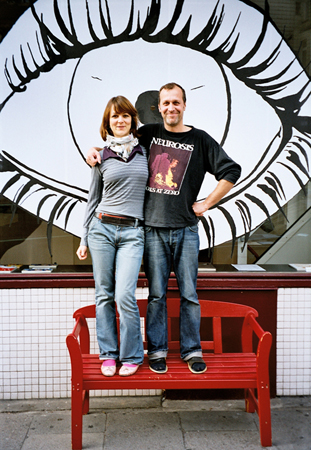 This enabled her to extend the stories from the paintings in an almost threedimensional way, and thus created a surrounding which integrated the visitor therein. Her "psycho-comic reality" is very colorful and works with strong outlines, but the harmony of her style often stands in contrast to the ironic and sometimes bitter depictions of very human, very personal dramas.
At Feinkunst Krueger, since over 6 years one of the most interesting places in Hamburg for young art, well-known international artist Jim Avignon follows after the current show in November, before onDecember 3rd Ralph Krueger celebrates his 50th exhibition with a huge group show of all the artists ever being represented in his space bringing back Katharina Gschwendter, just in case you should miss out on "Das erste Mal"…
Katharina Gschwendtner, "Das erste Mal"
Date: until 29th October, 2005
Place: Gallery Feinkunst Krueger
Address: Ditmar-Koel-Strasse 20459 Hamburg
http://www.feinkunst-krueger.de
Text and Photos: Jorg Heikhaus from Heliumcowboy
[Help wanted]
Inviting volunteer staff / pro bono for contribution and translation. Please
e-mail
to us.