The Shift calendar competition started in 2003 with an aim to discover fresh creators. The number of entries have increased year by year and have received 1253 entries from 47 countries this year. 12 carefully selected works will decorate each month of the Shift calendar, creating the feeling of a little art book.
These selected works will also be exhibited and sold at PRINT'EM for a year with support by PRINT'EM, a graphic print center operated by Mitsubishi Paper MIlls Limited.
There also will be held an exhibition of each works printed on A0 size poster at the gallery cafe SOSO on December 2005.
The 12 works below are the pieces which will be used in the Calendar. Please have a look and enjoy the comments from each creator.
Yeoh Guan Hong (New Zealand)
As a co-founder of an experimental new media lab – Hyperthesis Visual Lab in New Zealand, he has working closely with members exploring new media projects including interactive art installations, graphic design, product, and animation. Many of these projects have been featured in international new media events and exhibitions. Currently he is working on a new book projects "Invisible Nature", a compilation of design research work on nature and theories.
Work description:
Rose has the beauty that allows to captures.It has the sense of aesthetic for everyone to feel. Rose is always grows in our lost garden of paradise. It is nothing, but something we want to keep forever.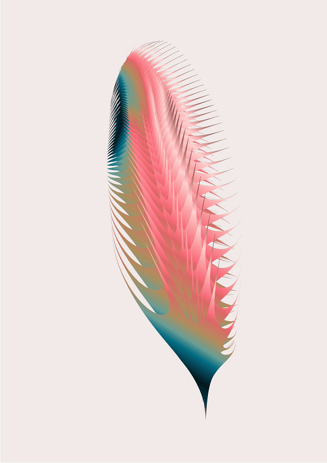 Jonathan Morris (UK)
Jonathan Morris is a designer and artist born and based in Wales, United Kingdom. He is a past winner of Creative Futures, nominated by Tomato founder John Warwicker for his personal study of mapping and light navigation. Jonathan has recently formed a design studio "Sweet" with Fay Blakeley, and is the co-founder of The Community Centre (TCC). TCC is an online showcase of collections and observations of everything visual, inspired by the community. Jonathan is currently working towards an exhibition in 2006.
Work description:
A study of microscopic beauty – the series, entitled "Microsea", explores natural objects and living organisms. Each illustration is unique and relies on a personal process of interpretation and experimentation.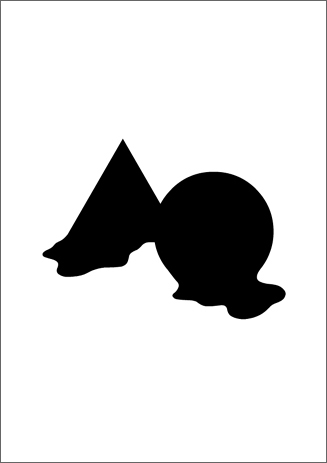 David Rule (UK)
Started 1983, started school 1988, started university 2002. Currently studying photography (more studying, less photography) in Surrey, England with work rooted in a keen interest in conceptual arts and the investigation and application of cultural theory and philosophy. Design is an important diversion; a chance to focus on aesthetic appeal.
Work description:
Primal shapes. The history (and future) of shapes? Precision. Purity. Misdirection.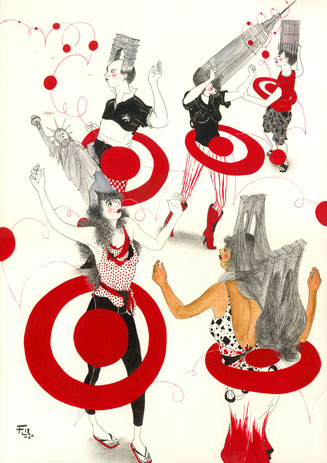 Fernanda Cohen (USA)
Fernanda currently lives and draws in NYC. Awards include Luerzer's Archive, American Illustration, Society of illustrators of NY, Graphis, Communication Arts, BD&AD, ADC, Applied Arts, ALTpick, Curvy, and STEP Inside Design among others. She does lots of personal work, and some commissioned work for The New York Times Magazine, Continental Airlines, Harvard University, Taschen, Ronald Lauder, CNN, Fast Company, Flaunt, Dwell, etc…
Work description:
Target commissioned this piece but didn't end up featuring it in The New
Yorker as planned. The campaign was called Target in New York.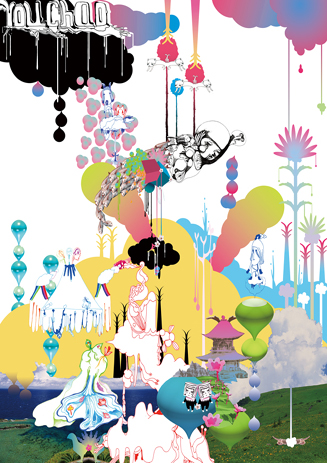 Gu Fan (China)
I was 25 years old and lives in Beijing, China. My profession is 3D-animation. I'm trying other plans at sometime. They include: illustrator, animation, sound, handicrafts, fashion…
Work description:
Creation a world improvisatori. This world like the nature and be made up of many different little world and space 🙂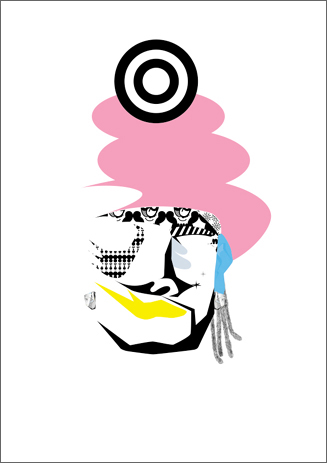 Hidehito Shinnou (Japan)
Born in 1981, 24 years old, from Aichi prefecture Japan. Studied graphic design at a school in Nagoya, and now working as a designer.
Work description:
Have been watching many creators' works, now I'm interested more in the creator itself rather than the works. Different from works which are provided with one defined idea of the creator's, the creator itself doesn't have a shape yet and naturally make the shape throughout the person's filter. I enjoyed the process during this time. I'm enjoying the moment when I draw without thinking, so it will be great if you can also feel something from my work.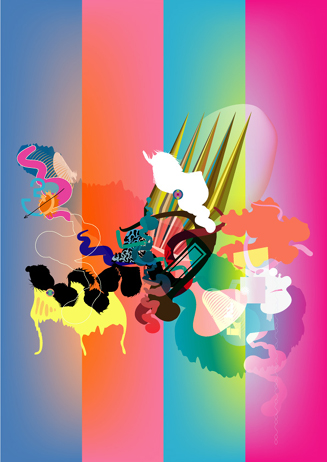 Edvard Scott (Sweden)
Edvard Scott operates his little one-man-studio from the usually cold country of Sweden (slightly larger than California). Scott started doing illustrations and design back in 2004 and has since then been involved in numerous projects; both as a freelance designer and with Stockholm Design Lab, where he's currently employed. The projects have reached thru many different categories; Scott has worked with everything from basic illustrations to major corporate identities, as well as motion graphics and magazine layouts. Scott is always trying to break new ground with projects in all forms, shapes and sizes.
Work description:
The piece is an experiment in colour, shape and light created in two stages; the "background" was created first and then the actual illustration was applied onto the striped background.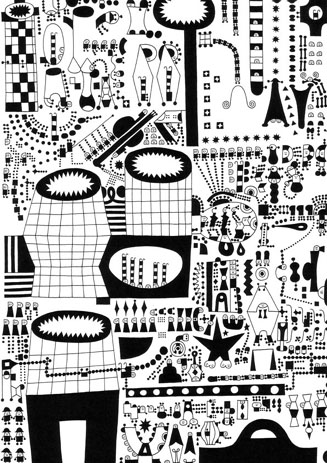 Akinori Oishi (Japan)
Graphic Artist. After the international prize at MILIA 2001, he worked at the creative studio TEAMCHMAN in France for 3 years. Now independent artist, and teaching at the art university ECAL in Switzerland and NZU in Japan.
Work description:
The graphical and miniature village where LE PETIT BONHOMME is living in monochrome.
* LE PETIT BONHOMME means small people like beans in French.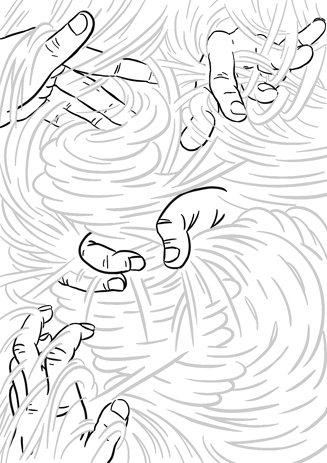 Bryan Fu (Hong Kong)
FU is my family name. Born in the 80's in Hong Kong. Bought up by Japanese comics and cartoon. Got a degree at the City University of Hong Kong. Interested in new things in all media. Working as a freelance motion graphic designer. Trying to improve everyday.
Work description:
I tried to express movement and rhythm through lines on a still image. I didn't start any draft for this work, just kept on drawing along with the flow. The result is like a non-existent force field between the hands. This work is a practice for lines and movement.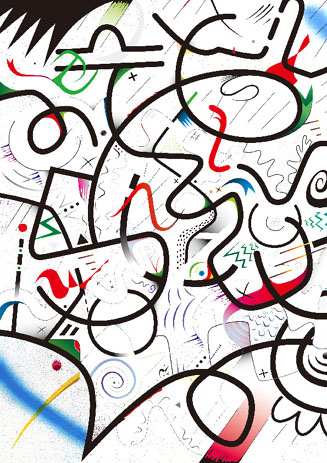 Yoshiaki Shinbo (Japan)
Born in 1980. Working for graphics of "THE-newworldwearhouse-", and in other various fields; flyer production, jacket design, interior wallpaper, painting, and so on.
Work description:
Mostly inspired from music I daily listen to. I changed an interval, an expanse and a loop between sounds into abstract and simple lines and shapes.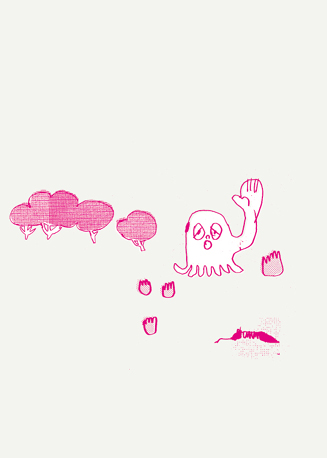 Miki Rezai (Japan)
Graphic Designer. Born in 1976, male, giving my real name, multinational. Living in Tokyo and currently working as a freelance in various fields from stoic design works to LoFi illustlations. Mainly in art direction and design of CD jackets, also working for logo, binding, wear design. Restarted art activity from 2005.
Work description:
I drew man or shapes giving free rein to my feelings. The creatures appearing unconsciously said "Hello!" to me, I wanted to let everyone know. You are not alone.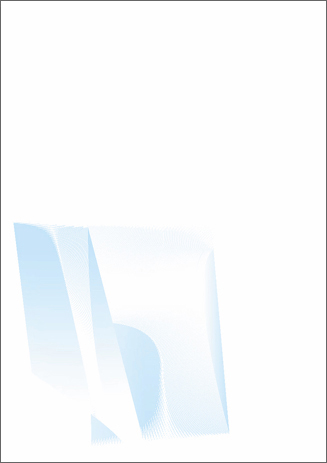 Tetsuya Obara (Japan)
Born and raised in Tokyo, 24 years old. Currently studying at Tama Art University in Japan.
Work Description:
One of experimental graphics. Graphics are also the fruit of trial and error repeated like science or physics. Depending on the condition of the day, it is completely different. This is one of them.


SHIFT 2006 CALENDAR
Release: 20th October, 2005
Spec: All colour / 28p / 210×297 mm
Price: 1,360 yen (tax included)
Produced by Shift Factory
It can be purchased on Shift Factory as well as select shops around the world.

SHIFT 2006 CALENDAR EXHIBITION
Date: 1st – 29th December, 2005
Place: Soso Cafe
Address: 1F Sansei Bld., S 1 W 13, Chuo-ku, Sapporo
Tel: +81-11-280-2240
http://www.shift.jp.org/soso/

PRINT'EM
http://www.PRINTEM.org
Shift 2006 Calendar will be available on the 20th of October at Shift Factory.
If you know of any shops that might be interested in supporting this project, please e-mail us to staff@shift.jp.org.
[Help wanted]
Inviting volunteer staff / pro bono for contribution and translation. Please
e-mail
to us.