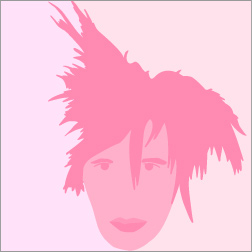 As a young artist, Los Angeles based Yoffy has already grasped the basics of making it in
the fickle art business. With a short, one word name, Yoffy has already become a brand, a
label that sticks to his sleek, minimalistic, graphic work. But then, no wonder, because
Yoffy is from the iPod generation, who came (no surprise here) to L.A. via an internship at
MTV in New York. Talk about a pop sensibility. Andy would be proud.
Yoffy is a native of Williamsburg, Virginia. He graduated from Virginia Commonwealth
University with a bachelor of arts in communication arts and design. His academic career
afforded extensive studies and training in illustration, graphic design, web design, film,
animation, photography and color theory.
And color is the key throughout all his oeuvre. Even before moving to L.A., Yoffy actively
painted throughout design school, centering on abstract paintings based on native
american geometry methods. In the way of media, nothing was off limits, often applying
his designs to old canvases, refrigerator doors, freezers, oil barrel lids and trash cans.
He has now moved to the classic canvas and his new series looks very graphic reduced on a
screen – to really get the full experience, one has to stand in front of the large
(sometimes 5×6 feet tall) images to get the details and perfection applied to these
paintings. How does he do it? "I sketch my paintings digitally in Photoshop, then transfer
it to a vector-based program called Illustrator. This allows me to get the super clean
lines and adjust the color composition on the computer before I lay anything down on
canvas. I think of the computer as a modern day sketch pad" he tells from his garage
turned artist studio in Santa Monica.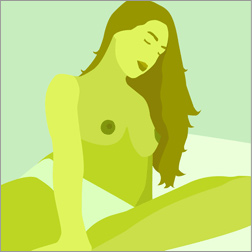 It is a very unique way of working. He picked up on the technique in a color theory class in
art school. " "Once the image is drawn on canvas, I use masking tape to mask off the areas
I want to paint. Then I cut the masking tape with an x-acto blade and remove some of the
tape. I then lay down matte medium so the paint does not bleed underneath the tape. In the
beginning, I thought this method would be easy and help get rid of all the detail work. But I
was wrong and spend most of my time in the details of my paintings – getting the lines
smoother and more refined as I go."
Although he also works as a freelance designer for Tokyopop, a notable comic book
company that imports japanese manga and as a web designer for an interactive agency
called nextleft, he sees a clear distinction between his art and commercial work. "I think
seeing my work on canvas on a wall makes a big difference. I feel my work gives the room
a lot – as color and composition immediately draw the eye in the direction of my work."
Like any other artist, he would love to be painting full time. It is his dream to just sit in
his studio and express himself all day every day. "Right now, when I get off work in the
evening I go straight to my studio, putting anywhere from 4-7 hours of painting in the
evening. I often have this daydream of the future where I am sitting in my studio drinking
a pina colada and painting while a harem of naked ladies lounge about. But in the end, I
really dont care about the pina colada or the naked ladies – all I want is to relax and be
creative" he explains with a laugh.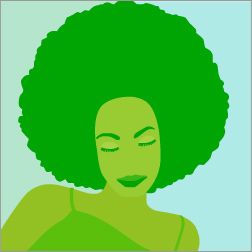 Being in Los Angeles and having a presence on the hip artist circuit, Yoffi has sold already
over half the pieces. Not a bad start by any means. "I have sold work to tv- and movie
producers, to CEOs, to actors, to young couples in the valley. I would say most of the
people that purchase my work are young professionals looking to hang something modern,
clean and hip on there walls."
Being influenced by clean design, ultra-modern interior design and architecture,
mid-century modern furniture and swanky Hollywood lounges and clubs, it looks like Yoffy
has found the perfect place to produce his art and the perfect evironment to have his work
displayed. And this being Hollywood you never know if the dream of the harem and pina coladas doesn't come true iafter all.
Text: Reto Caduff
[Help wanted]
Inviting volunteer staff / pro bono for contribution and translation. Please
e-mail
to us.