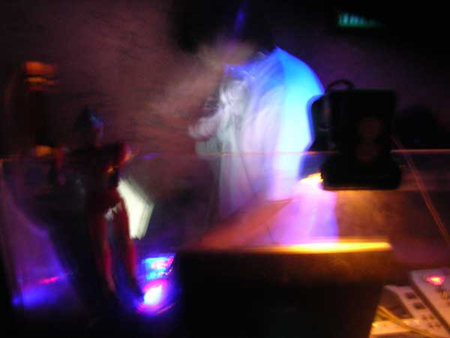 For far too long, Shanghai has been plagued by loud, over-advertised and generally cheesy parties. From Thursday nights at Pegasus, the city's biggest hip hop night, to the overflowing taverns (complete with wenches) at Park 97, Shanghai's nightlife scene has been stultifyingly boring. Luckily, a cure has been found.
The Shanghai scene's saviour is a ragtag bunch of locals and lao wai (or gaijin, farang, angmoh… you get the idea) who have decided to combat the corrupting forces of alcohol sponsorships and ridiculous cover charges. They have started a monthly party, fittingly called The Antidote, and armed it with the most effective weapons against mainstream bastardisation: no cover charge, 10 Yuan beers (that's about one US dollar and change) and a stubbornly eclectic music policy.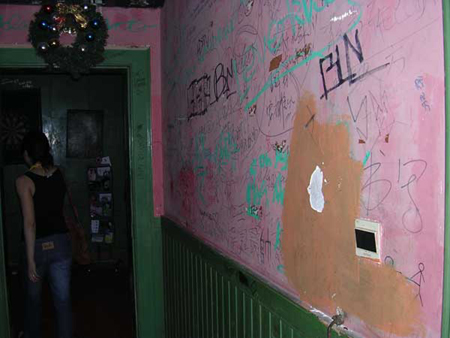 The Antidote made its debut at C's Bar, a graffiti-strewn dive tucked away in Zhongshan Park, far from the cognac-swigging, handbag-slinging crowds in the city centre, on a balmy Thursday night in August. It was a match made in heaven.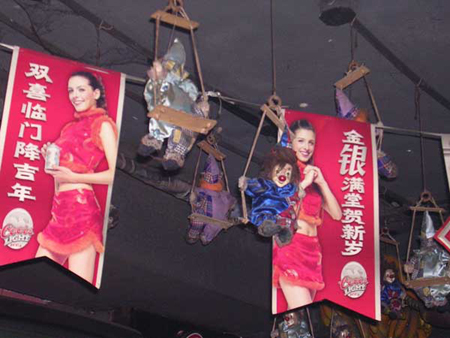 C's is the type of place that occupies a basement and lit with red lightbulbs to disguise the disintegrating furniture and beer-stained walls. The decor is, in a word, bizarre. Shiny new Carlsberg ads jostle for space with a collection of toy clowns on swings and bunches of plastic bananas. The DJ booth is decorated with a US Navy recruitment poster and a 9-inch Ultraman figurine. Susan Sontag might have called it kitschy; Hunter S Thompson would have found it charming.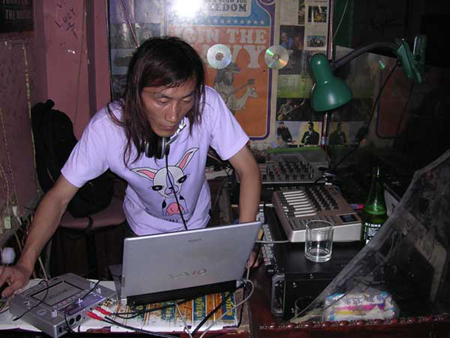 The Antidote's music was similarly discordant. The night started out with punk rock and My Bloody Valentine tracks from San Francisco's Ozone ("I've been DJing since 1987," he likes to tell fans) and moved on to IDM and Kaos Pad effects from local audio alchemist and graphic designer B6, with almost every conceivable genre making an appearance in between.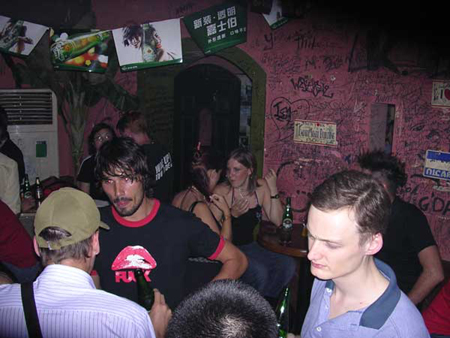 The crowd, a mix of clued-up and very artsy-looking Chinese and clued-up and very drunk expats, loved every minute of it. They were moshing in the early hours and still draining the bar of cheap beer at the end. After all, it's not every night that you hear the Gotan Project's nu-tango in a basement party in Shanghai. All told, there were probably 250 people packing out The Antidote's first edition; an excellent turnout considering that it was a Thursday night at C's Bar.
The Antidote's appearance on the Shanghai party scene gives the city's nocturnal nervous system a timely curative shock. Who needs table service and gyrating bar girls when you've got fine music, smelly toilets and sweat dripping off the walls?
The Antidote
Date: 25th August, 2005
Place: C's Bar
Address: 685 Dingxi Lu, Shanghai
http://www.smartshanghai.com
Text and Photos: Wong Joon Ian
[Help wanted]
Inviting volunteer staff / pro bono for contribution and translation. Please
e-mail
to us.