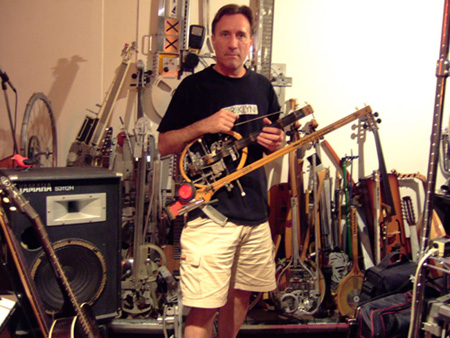 Back in March, I moved into a 2nd floor loft apartment in Brooklyn, having been looking for a change of scenery from my last place of four years. It was only a matter of time before I heard bizarre noises coming from the first floor below that gave me a cause for curiosity. I later found out that the ground floor apartment was home to an artist by the name of Ken Butler, who's self-made sculptural instruments and live performances have won him wide recognition, from the "downtown" music scene in New York as well as "high-art" circles around the globe.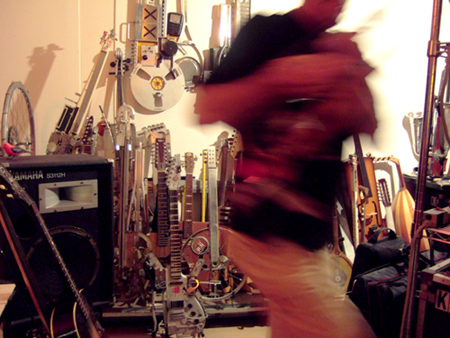 It's a bit hard to pigeonhole Ken as simply a musician as his work crosses a few disciplines, making it hard to pinpoint exactly what he is. One thing that is evident is Ken's passion for performance and the energy that he exudes when he talks; he's a keen communicator! Nevertheless, installation artist, sculptor, video artist, photographer, designer, film-maker, sound artist, composer, and poet, these are just a few of the terms he throws out there on his website.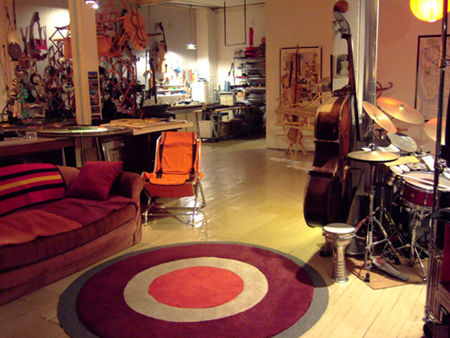 Ken comes from a background in the arts. He obtained an MFA in painting from the Portland State University in Oregon in 1977. It was around this time that Ken created his fist playable instrument by taking an everyday hatchet, adding strings, neck, violin tailpiece, bridge and some tuning pegs. Not only had ken just created the "Violin-Axe", but also a blank canvas and an idea that would consume him over the next 27 years.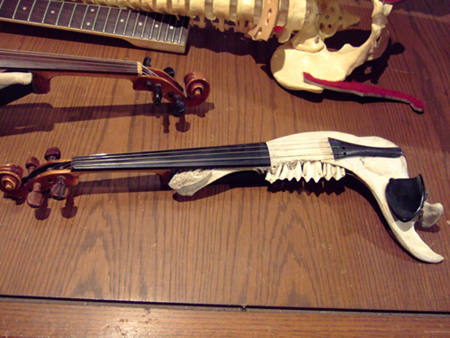 After getting a tour of his spacious loft space and seeing a few of Ken's creations, I got the sense that he is someone who, if you stuck on a desert island with not much on it, would get busy creating something musical. His output has been extensive considering that he has built more than 400 instruments, some extremely elaborate like his 'Urban Grand Piano' which consists of slide projectors, radios, neon tubes, lights and tape recorders. Others, like the strip of plastic which he promptly reached for and let rip on in mid-conversation, sounded like a trumpet! I was curious to know his favorite from the whole collection and using the "desert island" scenario he simply said "the shovel" which he told me sounds great.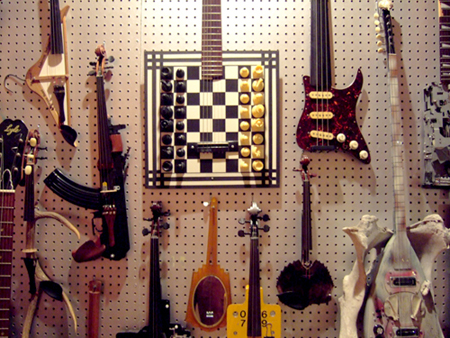 Ken's approach to building his instruments is driven primarily by the visual and practical properties of materials he finds, and acoustics is most often an afterthought, believe it or not. Anything can be"played" to some degree with microphones. This multi-purpose quality is what he refers to as "hyper-utility". But his use of bizarre and sometimes quirky objects leads me to think there's a hidden agenda, a statement that he's trying to make. Hanging on his walls were some interesting examples of stringed instruments including a chess board, a leather boot, an old phone and a gun (not a real one). After telling me that his work is read on many levels, all of which he's comfortable with, he is quick to point out the practicality of a "hockey stick". It has the ability to be held upright, or handled like a guitar, and the design enables him to sit the "foot" of it in his pocket as he's playing which adds stability. He also explains the numerous ways of using some of his stringed instruments which can be bowed, strummed or picked, and have surfaces that can be struck or tapped. Nevertheless Ken's work would make interesting dinner topic hanging on anyone's walls, and he has exhibited his instruments widely for their aesthetic qualities alone.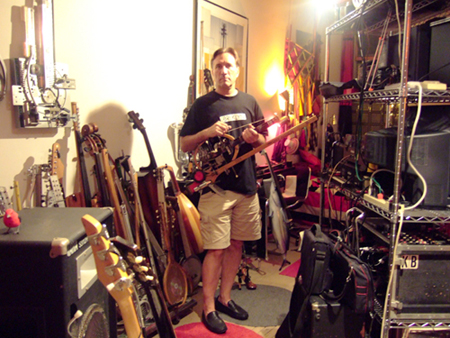 As my chat with Ken draws to a close he tells me that a short video displaying some of his work might be of use to me and offers to play it. On it there's examples of elaborate installation work such as keyboards which trigger additional audio and visual layers as the keys are struck. A huge mixture of lights, video, still photography and sound is what results and in the middle of it all is Ken. By contrast, another sequence shows Ken inserting a small microphone into his mouth as he starts a rhythmic virtuoso by "finger tapping" himself on various parts of his head which the microphone pics up and outputs via a small amplifier. As Ken points out "Everything you touch makes a sound".
A quicktime of Ken playing
http://www.location1.org/artists/anxious_objects.html
A link to buy his CD "Voices Of Anxious Objects"
http://www.musicoutfitter.com/store/item/702397740223/voicesofanxiousobjects.html
A link for any upcoming
details on Ken's performances
http://www.zebuloncafeconcert.com
Text and Photos: Garry Waller
[Help wanted]
Inviting volunteer staff / pro bono for contribution and translation. Please
e-mail
to us.