"WABISABI", a design unit, whose stronghold is in Sapporo just same as SHIFT, did the SHIFT cover this month. You may know they released their original card game "CROW&TRASH" from SHIFT Factory before. This July, they held an exhibition for three weeks in SOSO cafe and they also took part in the exhibition in Frankfurt, Germany. They extend their work all over the world.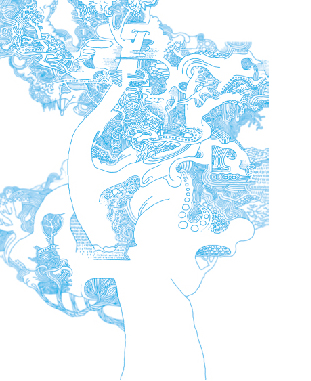 First of all, please introduce yourself.
"WABISABI" is a design unit, consisting of Kudo "WABI" Ryohei and Nakanishi "SABI" Kazusi. We formed it for our creative work in 1999. We first met 20 years ago. SABI joined the design production for which I (Wabi) worked. Then, I started to work as a creative director, art director in an advertising agency. SABI also started to work with me on 2 productions. We saw each other again after these long experiences, and we started to work together, as a director (WABI) and a designer (SABI). Our main work was to make advertisements for tenants of fashion buildings. I got to think I wanted to make what I really want, without clients' wills, and I asked SABI, and started "WABISABI" for our original work.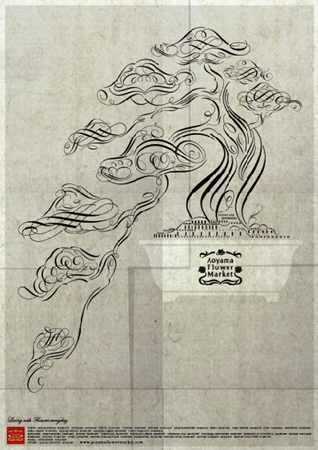 Callibonsai, Aoyama Flower Market
What's the difference between "HOME" and "WABISABI"?
"HOME" is a designing production which I (WABI) made after I quit the advertising agency. We work making advertisements mainly. We deal with CM, magazines, newspaper, traffic designs, and whatever. Actually, there is no difference between "HOME" and "WABISABI" in our will for great works. The only different thing is that "who thinks it's a great work". "HOME" works for clients to make attractive works for consumers. On the other hand, "WABISABI" works for "WABISABI". The work is based on the idea "make what we want". We both love our works. We may say that "WABISABI"'s main works are based in art.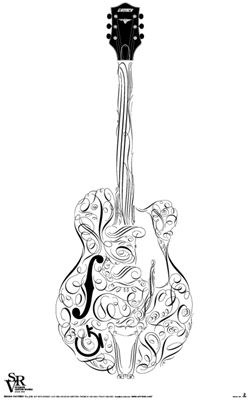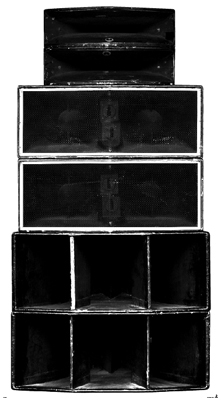 The Guitars, SRV
Could you tell us about the exhibition "WABISABI + ULTRA GRAPHICS" held in SOSO cafe this July?
"ULTRA GRAPHICS", a design production we love located in Tokyo. We met Eji Yamada who is an art director, a graphic designer and also the president of "ULTRA GRAPHICS", when he came to Sapporo as a judge in a meeting held by Art director's club consisting of young creators in Sapporo. "WABISABI" got many prizes and pre grand pix there, and he advised us to join JAGDA (Japan Graphic Designer Association) with the great praise, "WABISABI will go well not only in Sapporo, but also in Tokyo." After the meeting, we kept in contact with him, and later, SABI and Chiharu Kondo from "ULTRA GRAPHICS" got a new designer prize at the same time. I felt like we were in merrymaking!! SABI will talk about this in detail later. By the way, this 3-week exhibition was given a changing theme for each week.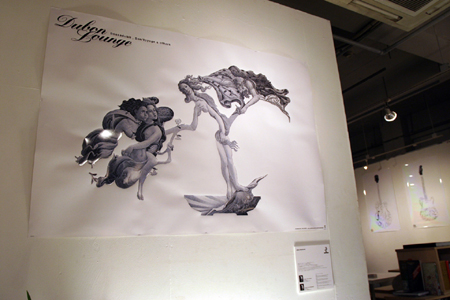 The Music, Exhibition, Photo: Meyuga
The first week was "WABISABI" exhibition. The theme was music. We designed 5 electronic guitars using calligraphy. We designed them faithfully measuring 50 – 60s old guitars. We started this work by taking pics of instruments.
I (WABI) am in a music band, and particular about instruments. I took pictures from head to body dividing vertically. The pictures we often see on a catalogue don't look realistic, especially the head of the quitar looks small and has no impact. Therefore, I took seriously the feeling of scale and started with my personal Les Paul custom and original short horn of "dan-electro" which I brought from London.
SABI didn't have knowledge about instruments at all, so he studied hard in everything. He is a conscientious worker. He says he connot make anything without being convinced. Well, the motto of "HOME" is "DON'T THINK, FEEL!" though. That's what Bruce Lee said in the movie "Enter The Dragon", I decided to make it the motto of our company, and put it on the wall. SABI improved his knowledge gradually, and started saying things like "It's not a telecaster, but a broadcaster, isn't it, WABI?" as if the owner of vintage guitar shop, and I was somehow glad about it.
I asked Mr. Okuda, the owner of the vintage guitar shop "SRV", to take pictures of the Telecaster and the Rickenbacker. And the '59Gretsch was the personal belonging of Ryusui Cho, the owner of the tattoo shop "COOL STAR TATOO". In 5 guitars, I made 34%, and SABI made 66%. It's always my job to stretch the strings last. I used my favorite "ERNIE BALl 01". This is all done on the computer though, you know.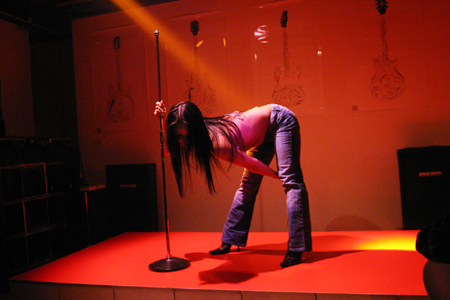 Megumi Kaneko, The Music, Exhibition, Photo: Meyuga
We filled the whole wall at the venue with 5 guitars and posters of PAs and speaker boxes which were popular in 70's. In the opening party, we planned a secret event, a show for just 3minutes and 5 seconds. The plan was that the space darkened suddenly, and very loud "Shake appeal" by Iggy Pop was played, and one of the audience members started to dance. The song is like energy drink for me, and we played it very loud in the setting as if these speakers on the wall worked. The performance was by Megumi Kaneko, the dancer who works in New York and came back to Sapporo just to renew her visa by chance, was really great. She gave me goose skin. When I talked to her about this plan at first, she didn't know about Iggy, and she studied really hard. I want to let Iggy fans over the world see her performance! It was really cool.
The second week was the exhibition "Hanko Arimasu" by Eji Yamada from ULTRA GRAPHICS. The same event was held in HB gallery, Tokyo, in this spring. The design of stamps he does, is not just typography, he puts the character of each person in each stamp. There were many stamps, which I know who they are, and all of them express people's character, and it was really fun. We enjoyed seeing big stamps on the wall, and trying real small stamps. And we could also order his stamp there. Usually, some experts in the graphic world enjoy his work, but this time, regardless of age or sex or their job, many people enjoyed his work.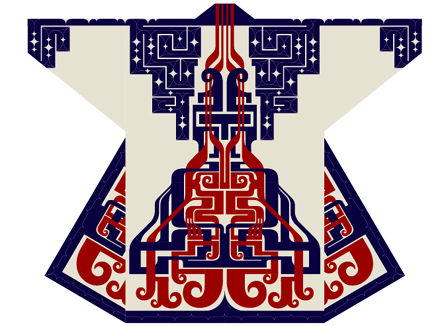 Re-design of Ainu Pattern, The Music, Exhibition
The third week's exhibition was a collaboration between"WABISABI" and "ULTRA GRAPHICS". The theme is "Redesign of Ainu". We chose this theme because people in Hokkaido are familiar with their design and we respect their design a lot. How can we redesign their completed design and make them ours? Both companies worked hard about this plan. Actually, I regret we didn't have enough time, and we could make greater works if we had more time.
Finally, I loved "Bonsai cake" and "Whale cake" made by the owner of SOSO cafe to celebrate the finale of our event.


DO MUSIC!, AIR DO, Music Support Campaign
Does "WABISABI" have other works?
We designed the poster of "AIR DO," the airplane company in Hokkaido. It is AIR DO's campaign advertisement to support the annual rock event, "Rising Sun" (Sapporo) and "Summer Sonic" (Tokyo). The advertising agency commissioned us to work on this project. We did it last year, too, and it's our second time to work on it. I'll say WABISABI is the best to work for rock!! We worked for posters, novelties, visuals, and music of this project. It feels great to see huge 16m board made up of 20 boards. The last poster is one of objects for JAGDA new designer's prize. JAGDA new designer's prize which SABI got has the same worth as Japan record grand prix for a new singer. Although he is 39 years old, he is still called a new comer in graphics. FABULOUS!! Anyway, SABI is busy with exhibitions and having lectures in seminars, in Tokyo, Osaka, and all of Japan. We work to form what we have thought up in spare moments from his work.
What do you place the most importance on when you design?
To make what moves us! That's everything and the basis of our motto when we design!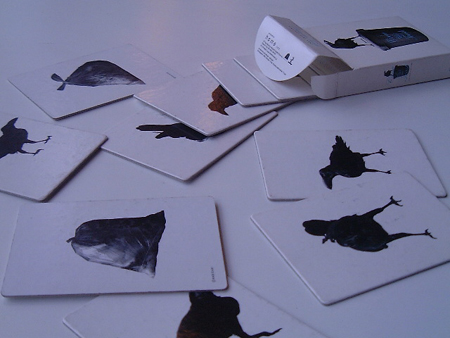 Crow and Trash
Could you tell us about Wabi's rock band "Flemings"?
WABISABI's first work was to design the jacket of "Flemings". It's a maxi single we recorded in just one take in a studio. You may think I was young, but I wanted to earn a livelihood with our band. WABISABI got SADC semi grand prix with the poster of Flemings. On the omnibus rock CD "Rawk'n'Roll Revolution",which is sold in 12 countries around the world, there's our band's music, we are there as the one of three bands which are representative of Japan. However, we lost the drummer from our band, and can't play our music anymore. Well, can I have a recruitment drive for our drummer here? I addicted myself on this situation, and I can't stand life without music!!
Congratulations for JAGDA grand prize for new designer, SABI!! How do you feel about it?
Thank you very much. I got this prize by the grace of all people who were with me for great works. I'll keep working hard for great works.
How do you think about the relation between music and design?
Well, especially for me (WABI), I'll say it's equal. I've thought jacket design and music make all the great things in the world. I can say same thing with musician's style and fashion. No reason for their attractions. I started music, and got to feel without thinking. Well, when I look back what I said in this interview, I found I've talked about rock a lot and you may think we limit our work to just rock design, but we don't at all, just to make sure. I talked about music a lot, because the theme of this exhibition was "THE MUSIC".
What do you think of the design and creative scenes in Sapporo, which is your stronghold?
Today, there is no problem with where people work. There is no better place for me than Sapporo, I love it. This place gives people a broad mindedness and tenderness, and their works reflect them. But I also go to Tokyo. I want to feel the speed of Tokyo style, the speed people live, and the speed time passes. We can't feel it just in the Internet. Sapporo doesn't have it. About design and creative scenes, I think Sapporo Art Directors Club has much power for me, because I get the feeling of "competing with others" in actuality. Great creators in Japan get together in Sapporo, and see our works earnestly. Before the life without this, I was satisfied with making just what I like, but now, I want to compete with them.
Please tell us the concept of the cover design of SHIFT this month.
This is the arrangement of what we made in the beginings, and we've used it on our monitors as a screensaver. We got inspiration from "LIGHT MY FIRE" by Doors. Don't you think it's sweet if a computer has a heart? Some of them might have uneven heartbeats. I'll feel so glad if computers all over the world beat their heart when people visit SHIFT this month. Great!!
Do you have anything you want to do, or challenge in the future?
There are piles of unformed ideas, for which we've done the plot. So, we want to work hard and put it into practice. As you find from our unit name "WABISABI" and our unit logo mark, we believe in our feelings as Japanese, which is hard to be explained by words. Therefore, we want to work all over the world with our original design.
Finally, please give readers your messages.
DON'T THINK, FEEL! (WABI)
Thank you very much for reading all.(SABI)


WABISABI
Address: 2F Tiyo Bld. South 3 West 8 Chuo-ku, Sapporo, Japan
Tel: +81-11-271-6666
wabi@homeinc.jp
http://www.homeinc.jp/wabisabitop.html
Text: Yurie Hatano
Translation: Yu Murooka
[Help wanted]
Inviting volunteer staff / pro bono for contribution and translation. Please
e-mail
to us.