"Sapporo's awesome. There's Isamu Noguchis object at Odori Park, Moerenuma Park, and Sapporo Art Park. There are not many places like this, which has such large-scale art facilities close to the center of the city."
People from outside of Hokkaido often said so. It may be less flashy thing for local people how special it is. Moerenuma Park is designed by Isamu Noguchi, the world famous sculptor, based on his master plan. The concept is that the park itself is one of the sculptures. It is also from "Toroidal-Green Belt Plan", which intends to cover center of Sapporo with parks and greens. Moerenuma Park was completed in all aspects this year. So, both the park and Sapporo Art Park hold various events and big exhibition. Now we can go back to see the famous slide in Odori Park designed by him, which called "Black Slide Mantra."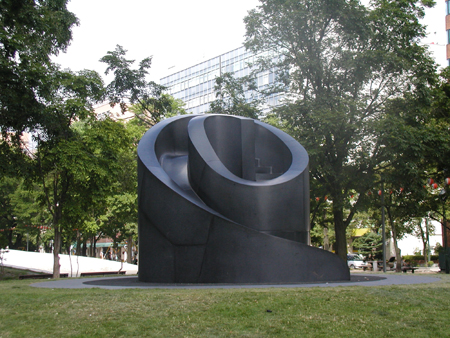 Black Slide Mantra
Odori park is a big park dividing Sapporo into south and north. Sapporo snow festival is also taken place here. "Black Slide Mantra", the famous slide object by Isamu Noguchi can be seen at 8th part of the park. He must imagine how vivid the black is in snow. It has strong impression in the green turf. Looked avant-garde but also making us feel comfortable, it is loved by children to play with.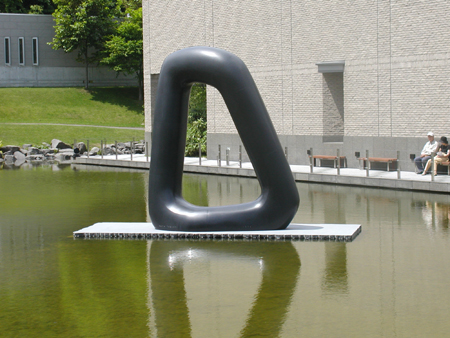 Energy Void
For the 15th anniversary of Sapporo Art Park they have "Isamu Noguchi exhibition, Energy started from 0". It is second time for this museum to have his exhibition. Last time it focused on "Spirit of harmony". On the other hand, it pays attention to an environmental sculpture and space modeling such as park and playground. They exhibit about 45 of his works. Almost half of them are from Isamu Noguchi foundation in NY and also can be seen for the first time in Japan. "Energy Void" which is huge stone sculpture, 3.6 high 17 ton weigh, is high lighted in arranged on the surface of the pond in front of the entrance. As it is same black objet as "Black Slide Mantra" in Ohdori Park, you can feel same "Harmony" and kind of mysterious comfortableness. That may be why Isamu Noguchi has such world wide reputation.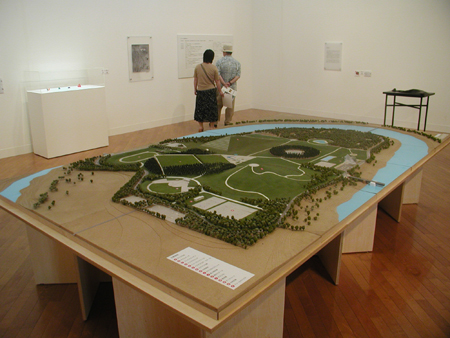 Entering exhibition site, you can see a model of entire Moerenuma Park. Seeing the overview, it can be clear the meaning he said that this park itself is one of his sculpture. Each pavilion is attractive, beautifully arranged and has its individuality. Again you can see his strong concern to public facilities, through all the works supposed to seen shared places like parks. I strongly recommend to see another aspect of Isamu Noguchi, different from works based on spirit of harmony. This exhibition has been held till 28th of August. It could be good opportunity for you to think about "public place=park".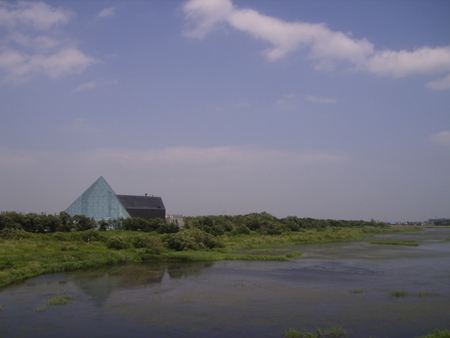 Well. I went to Moerenuma Park on the weekend. It was sunny day so many people enjoyed their holiday there. It is also because they have big exhibition and film workshops just after grand open. I always think that the glass pyramid in the marsh looks one of the scene of SF movie, fresh otherwise.
Read more ...

1
2
[Help wanted]
Inviting volunteer staff / pro bono for contribution and translation. Please
e-mail
to us.