It has already been 35 years since "EXPO'70 OSAKA JAPAN". And now, "EXPO 2005 AICHI JAPAN" is being held. On July 9th, almost the middle point of the holding period of 185 days, I tried to have a look during the fine day intervals of this rainy season. How are the trials different from past Expos? What is the message?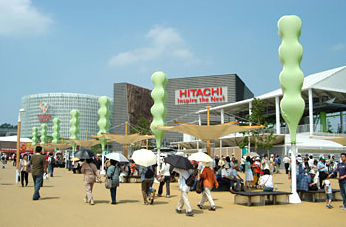 This expo is taking place in two venues; a Nagakute area and a Seto area which are next to each other. This time, I moved around the Nagakute area staging pavilions from each country. It is not too much to say that this is the first and momentious EXPO of the 21st century, bringing up lots of topics including the main theme of "Nature's Wisdom", the relationship between human and nature, de-develop, coexistence with ecology and amenity, and so on. Also, you cannot experience the enjoyment, pleasure and deep emotion of a festival with 120 countries and 4 international organization anywhere except EXPO.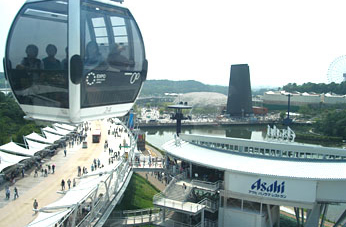 I arrived at the station of the EXPO venue by a linear motor car called "Linemo". The first things I noticed were passageways with lots of trees and a global loop. Pavilions between the forest and ponds, which were distributed to each area called global common, harmonized with the scenery and directed a beautiful space.
The broad venue with roughness taking in the idea of nature has a various transport facilities. There was a global loop first.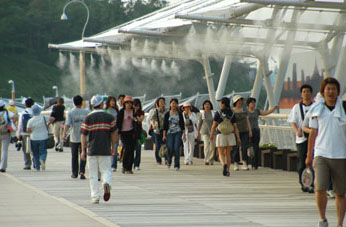 The circumference was 2.6 km with a height of tens of meters, as if it was the wide deck on a beach or harbor. This was a delightful facility in the hot weather with a maximum temperature 32 degrees as mist poured from a shade on top.
Both sides have a strucuture along which people can walk, and vehicles can pass through the center. There were also IMTS (bus), gondola, escalator, elevator, and so on. All these vehicles use clean energy like fuel cells, which meets the theme of this EXPO.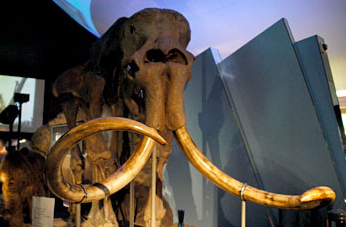 The first thing you cannot ignore is a mammoth! I went towards the Russian pavilion by a ropeway from the gondola North station, which was placed near the North gate of the EXPO station. I was surprised by the size and the power of a life-sized mammoth as soon as I entered the building. After calming down, I began to wonder "Why a mammoth, now?". I reached the reason when I saw other mammoth discovered from permafrost layer, which was a special-feature of this EXPO, and heard these are often found from the encroached permafrost layer thesedays. This is because of global warming. How humans respond to their message without voice? I felt the reality of the big and heavy subject.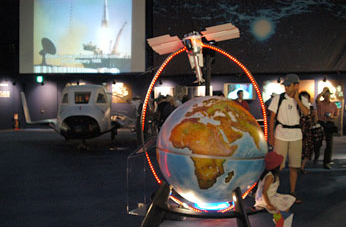 In addition, the high space technology of a Russian space shuttle attracted people. Because this was a popular pavilion, I had to wait for about 30 minutes, but it was worth seeing as expected, and made everyone thnk about the current situation of the earth (space) without exception.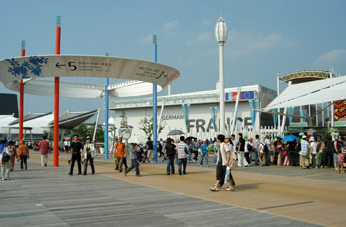 At a pavilion devided into the French and German pavilions, I intersected the French pavilion and had lunch at the German pavilion.
As it is said to be the country of art, the French pavilion had a good taste in fashionable appearances and exhibits, though the video content was very severe. Immersion theater, which covered four faces of the wall and ceilling, was impressive in pointed questioning. It appealed to people regarding problems we have to face, including global warming, destruction of nature, consumption and waste problem.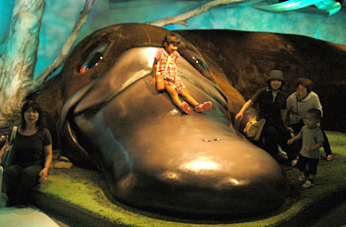 The main object in the Australian puvilion was a huge duckbill. It was very popular with children, and always crowded with people taking souvenir pictures. The duckbill is one of the oldest mammals existing from approximately 65,000 years ago.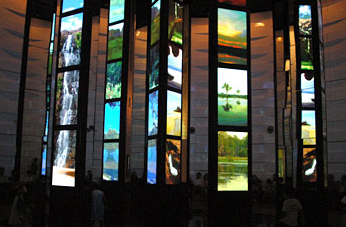 The next exhibition space had several high poles with LCD (Liquid crystal display), showing beautiful nature and culture using sounds. Cooling off in the evening, I went to the South Pacific pavilion. There was a huge wood carved boat displayed. Watching local people around the boat, I felt their big-hearted and cheerful characteristics. You can also enjoy the world's cuisine. Coolin down my head and body heated up in excitement and by the weather, I had an ice cream with yoghurt and roses at Caucasia cooperation pavilion.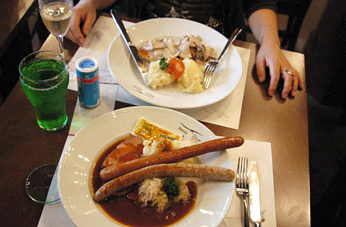 Going around each pavilion absorbedly, it got late so I had lunch at a German Restaurant, which was full of German atomosphere as if it was in the country. I couldn't stop smiling while having typical German sausage, mashed potatoes and Polk saute mushroom. When I was checking the pictures I took, a German young man said to me in English "Oh, It's good! Nice!", then I answered "Danke schoen! ", which are only German words I know.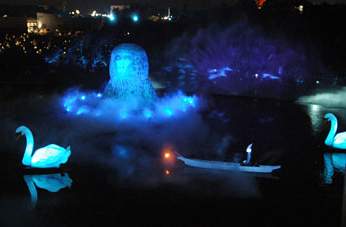 Finally, the climax time came up. There was suitable event at the end of the day, a water performance on the pond. Having a snow monkey (Japanese monkey) as a main character, showplaces and ruins of the world were displayed on the water screen, and babies who bear the next generation and astronauts also appeared. Then, apes of three parent and child generations expressed past, present and feature, and reached to finale… Synthesizer
directed the silence, and two swans from the right side and a boat with fire slowly passed on the water in front of the apes. After watching the scene, the apes got relieved faces and disappeared into the water, sinking slowly. Impressed by the performance expressing a Japanese world and feeling of wabi (the beauty to be found in poverty and simplicity), I left the venue.
EXPO 2005 AICHI JAPAN
Date : March 25th – September 25th, 2005
Nagakute area and Seto area in Aichi, Japan
http://www.expo2005.or.jp
Text and Photos: Photoperformer Pas
Translation: Yurie Hatano
[Help wanted]
Inviting volunteer staff / pro bono for contribution and translation. Please
e-mail
to us.