ROJO® 4TH ANIVERSARY PARTY
How to explain that when a magazine like ROJO® reaches four years it seems like a lifetime? ROJO® began focusing in grafical tendencies, becoming later a vehicle to different and multiple faces: events, music festivals, cd's, dvd's, limited edition shoes and t-shirts…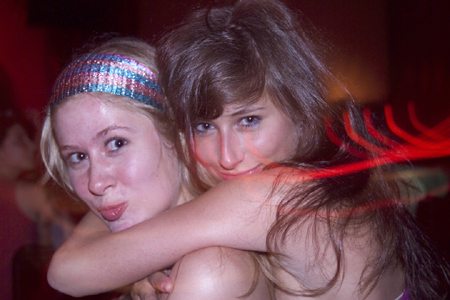 The team is now integrated by David Quiles Guilló, Marc Mascort i Boix and Alejandra Rachkes, working together with associated directors and more than 500 contributors from around the world.
ROJO® celebrates it's fourth anniversary generating new tools of expression, and presented them in a delicious party happening in the legendary Apolo Club, a unique and constant reference for live music in Barcelona.
The presentation of the new printed ROJO®ipon issue was a luxury, as always, but the first catalan screening of RUGA®Magazine on DVD, and the three live acts by artists that contributed to ROJO®tachan, a CD compiled by Nosordo, were the best demostration that ROJO® and the artists that make it possible have a lot to say !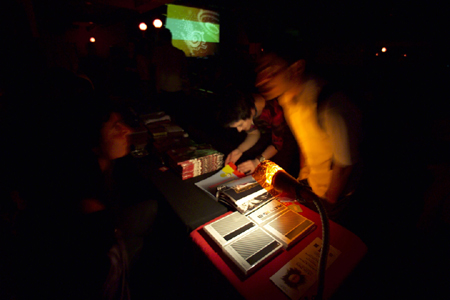 ROJO® received its guests with a present at the door, one free ROJO®tachan cd for anyone entering the event. After going up the stairs, a very spacious old ballroom was presented to my eyes. The venue was ready for people to sit down as in a wide living-room, with a huge screen, where a big latex pussy done by german artist Boris Hoppek was projected while audience started to crowd the space avaliable.
First part of RUGA® presentation started as programmed, and the audiovisual pieces by Carolina Melis, Transforma, Crankbunny, Zeitguised Actop and Wagoer cached the audience attention right before Ljudbilden&Piloten + Via Grafik started.
Ljudbilden & Piloten were the first surprise of the night, offering a very rich sound compilation of images of an ideal world, a kind of paradise: nature, birds, butterflies, sounds from the sea, silence, growth. Like an oniric dimension in a femenine and naive universe of children. Viagrafik was supporting Ljudbilden with live visuals, and its cleaness and simplicity really gave its best visualization to the minimal sounds that the live act delivered.
An elegant ovation to the performing artists opened the second part of RUGA® that launched works by Qian Qian, Nicholas Bernier, Till Heim, Bowling Club?, Gregori Saavedra and Boris Hoppek. The last two pieces were the second surprise of the night; Gregori Saavedra's "Enjoy your worries" compiles familiar ideas in a machine gun way, hundreds of images shoot directly at you to recreate a huge archive of fun and childish references combined with strange folk sounds custom made for each sequence that made you feel happy and smile. Boris Hoppek's "Everything is going to hell" starts and ends on the beach, with images filmed by Pato (his partner) of Boris catching a wave, but in between this two scenes, audience lived Boris everyday live together with him… skating, street painting with freaklub, Neasden Control Centre, Tofer, Gratis, Yummy, and more… the best moment is when the video piece stops and fades to black, and right after few seconds, a dog appears and we start to hear his thoughts… demostrating that Boris is one of the greatest artists of the moment.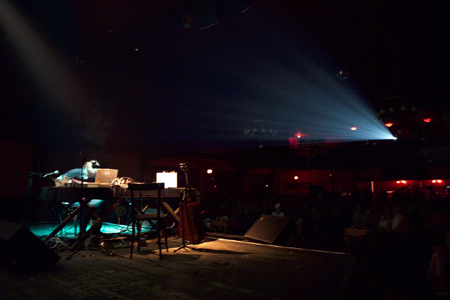 Second live act by Tsukimono just started and my first thought was; "if Ljudbilden & Piloten could calm down all the beasts of the jungle, Tsukimono could enfuriate them in a touch of a key…" Tsukimono produced an esthetic "harmony of disfunctions", aberrations and ellipsis marked an effective break with Ljudbilden & Piloten. aproximately 40 minutes of an auditive intensity that reached invasiveness, generating anguish and saturation sharp enough to produce intense aesthetic experiences. Tsukimono made noise, and noise was nice.
While Tsukimono was playing, Actop was producing live images that were as intense as the sounds; tinned products, war, consumism, urbanism, fragmentation, enclosure, saturation, stimulus, brands, real and imaginary ghosts in the city, complicated urban and mental arquitectures… and above all, a perfect bound between sounds and images that made people accept the show as a beautiful combination of talents.
After the ovation, the third part of RUGA® launched works by Glaznost, Lycette Bros, Jewboy Corporation, D-Fuse, Sascha Pohflepp and 310k. This last part of RUGA® was the perfect medicine to get the audience back on earth.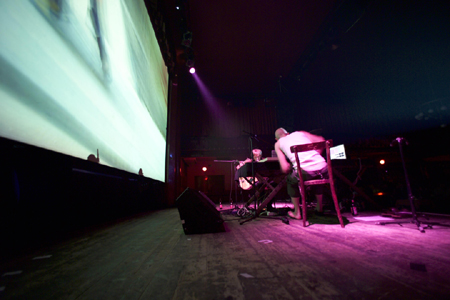 Finally, the last big live act, and the biggest surprise of all. Conduo Orchestra with live visuals by Boris Hoppek was the perfect bound between noise and harmony (in fact, Conduo Orquestra is formed by Kristofer from Ljudbilden & Piloten and Johan from Tsukimono) and the meeting of two opposite but complementary styles in a great perfomance, that produced in the public a state of full placidness. Boris Hoppek delivered is home made videos addapting the images and themes to the different tunes by Conduo Orquestra… Again, and as final act… the combination of these three talents made the approximate 40 minutes more intense and beautiful of the night.
The narrative that joined the three acts was probably an homage to the creative act by excellence: placenta, birth, self awareness, rupture, caos, deconstruction, happyness. Probably, people that experiment this vital process once and again, is earning new energy.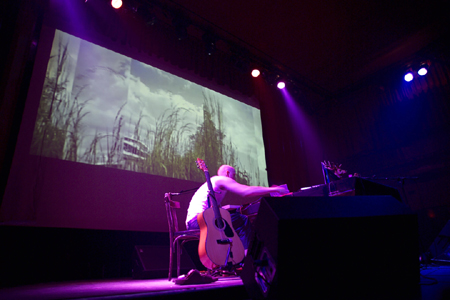 After the final live act, I asked Kristopher from Ljudbilden & Piloten about his music and how he combines all these elements to build his beautiful tunes, and he said: "Well…it's kind of hard to explain the idea behind my music. Since I make music live and record it all into my loop-pedal I create music that I feel for at the moment, with either images in my head or just feelings in my heart."
ROJO® cellebrates his 4th aniversary with a super event where artists were always the main act, and were many friends came out to enjoy a new audiovisual experience confirming that there is still new things to be done and many artists to be discovered.
ROJO® 4th Aniversary Party
Featuring live music by Ljudbilden & Piloten, Tsukimono, Conduo Orchestra
and live visuals by Viagrafik, Actop, Boris Hoppek
Date: June 15th 2005 20:00-00:30
Venue: Sala Apolo
Address: Nou de la Rambla 113, 08004, Barcelona, Spain
Ticket: 5 Euro / including one drink and a CD copy of ROJO®.tachan (Limited)
http://www.revista-rojo.com/apolo/
Text: Patricia Gauna
Corrections: Fakenice (this is me)
Photos: Facundo Tasorda
[Help wanted]
Inviting volunteer staff / pro bono for contribution and translation. Please
e-mail
to us.