This is not the first time that a brand like VANS, invite other art disciplines to act over its shoes. Last edition of the alternative fashion "CIRCUIT" by exellence in Barcelona was a good example: two young designers used Vans in a very accurate way for a naive clothes collection.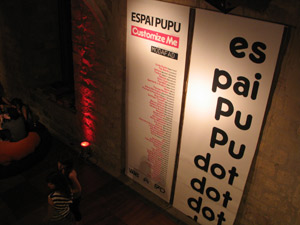 But in CUSTOMIZE ME VANS had the luxury that more than 40 designers from all over the world intercepted and fired multiple new creative posibilities.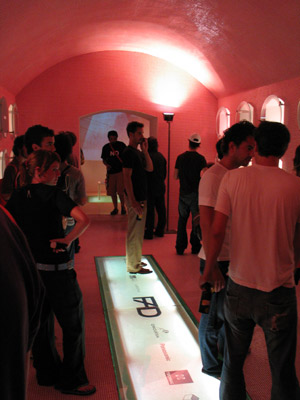 The event was organized by PUPU in colaboration with MODAFAD, (one of the most interesting places for experimental arts in Barcelona). Very originals press-conference and exposition, showed the creativity of this brand to join marketing strategies with diverse artistic dimensions (mode, design, ilustrations, comics, manga esthetic.)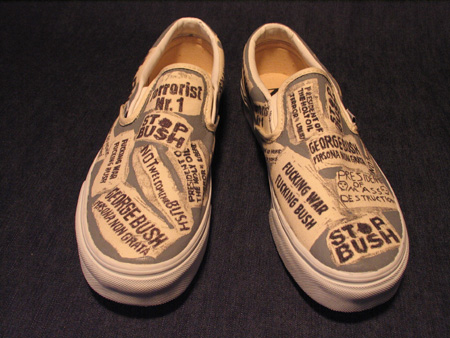 Linda Zacks inserted George Bush into a VANS piece like riding a horseback in a clear "cowboy style", aiming with his guns to Sadam Hussein into other shoes, both with its own flags over an area full of dollars and dead men.
In the same "policy", but not in ready-made Peter Fuss simply wrote "George Bush, non pleasant person".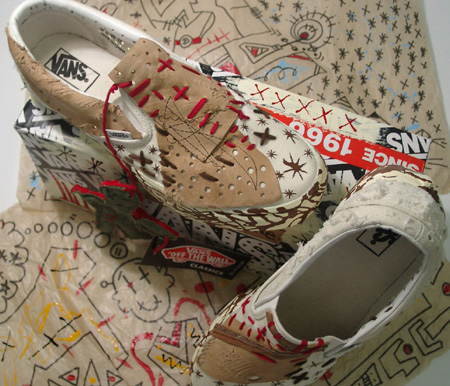 Belsi Enne tituled its ready-made like "Made in love", probably inspired in his clothes collection, in some way recreating the boys-scout imaginary with a very clever patchwork. A very close connection with some of its hats designs like "Mister Fidel" or "Ghetto Bogart", humoristic and political referencies mixed with art.
A group of designers made allusion at a very specific register: "the smocking". In very differents styles probably they had similar intencions: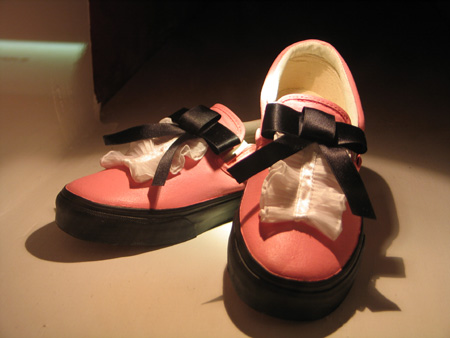 Guillem Pericay from Barcelona dressed his creation all in pink with a black bun.
Gori De Palma from Mallorca left us his very personal stamp with a totally black and brilliant shoes with a red picture of a very sexy girl, actualizing the parody made in Pasarela Gaudi (february 2005), about kistch enviroments like the casino's world and its wonderfull characters.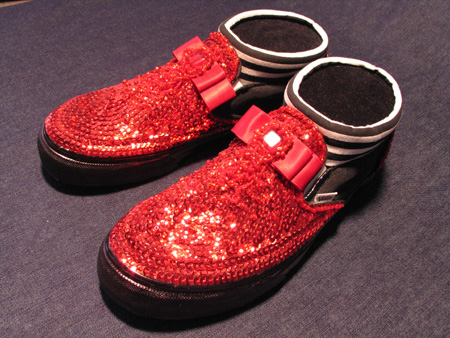 Marmagenta from Granada prefered to dress its VANS with a lot of furious red pailletes, in a very glamm and sosfisticate but humorous style.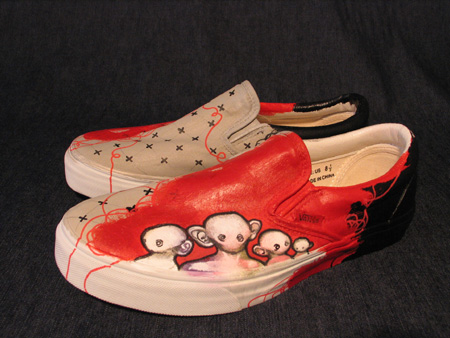 Ra from Paris draw red and black mini men with a futurist air, while The Ronin recreated its very rich manga universe.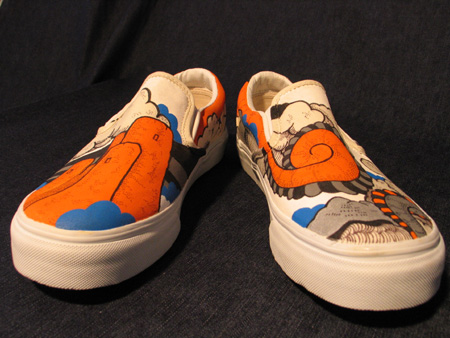 From London Yuko Kondo sorprised us with succulent ilustrations.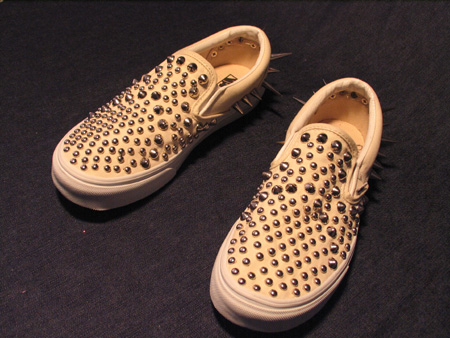 A very different style than Rash Holden, who aplicated a sofisticate punkie in white and silver proucing the sensation of pain in feets, more near to The KDU, that gave us a very chic camuflage in gold, black and white.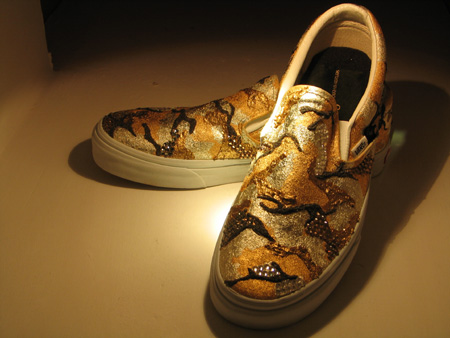 Pixelcock in a hot and tipical mexican touch, draw erotic and sexual breasts with feathers, surelly inspirated en "Pornocha", one of its best ilustrations series.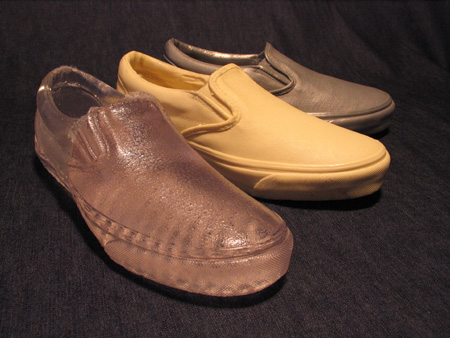 Lobo (Sao Paulo) presented a secuency of thee shoes in diferents colors and material aplications: a transparent, metalized, and with shoes But was Vasava design perhaps, one of the most original designs, covering up a couple of electric green shoes with the feet skeleton in, achieving a funny optical ilusion !!
More than 50 articts are already confirmed to participate the exhibition; Special K (New York), Upso (Ohio), Thomas Hauser (Berlin), Steve Harrington (South Pasadena), Thomas Schostok (Germany), Ross Holden (London), Santiago Taccetti (Barcelona), Vasava (Barcelona), Bernat Lliteras (Barcelona), Guillem Pericay (Barcelona), Idealword.org (Barcelona), Maxalot (Barcelona), Ipsum planet (Madrid), Cubemen (Hong Kong), Marmagenta (Granada), Mister Ministeck (Berlin), Chu Uroz (Barcelona), Charuca (Barcelona), Little Miss Lutzifer (Berlin), Alfons Helsinki (Helsinki), Joshua Davis (New York), Hort (Frankfurt), Ra (Paris), Sarah Doyle (London), Gori De Palma (Mallorca), Fabrizio Contarino (Barcelona), Pixelcock (Mexico), Lobo (Sao Paulo), Yuko Kondo (London), Kustaa Saksi (Paris), Locking Chocking (Madrid), Nigel Dennis (Lansing/USA), Sanderson Bob (London), Nicola Pecoraro (London), Hudson-Powell (London), Marcelo Viquez (Mallorca), Suso33 (Madrid), Fundicion Grafica (Mallorca), Xim Izquierdo (Mallorca), Dispersos (Barcelona), Delaware (Tokyo), La Esserre (Barcelona), Jemma Gura (Ohio), The Ronin (London), Satone (Munich), The KDU (New York), Peter Fuss (London), Dibone (Barcelona), Taobot (Mainz/Germany), Linda Zacks (New York), Kenzo (New York).
CUSTOMIZE ME EXHIBITION
Date: 28th June 2005 11:00-20:00
Place: Placa dels Angels 5-6, 08001, Barcelona, Spain
patrick@espaipupu.com
http://www.espaipupu.com
Text: Patricia Gauna
[Help wanted]
Inviting volunteer staff / pro bono for contribution and translation. Please
e-mail
to us.