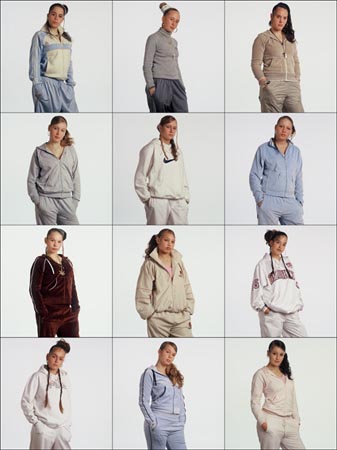 One of the most memorable shop window displays I have ever seen was the one for the book, Exactitudes. The Atheneaum book store in Amsterdam had a stunningly simple idea of images from the book decorating their windows. People just couldn't walk past without looking at them and even though it was raining heavily that night, foreheads were pressed up close to the glass, pointing and discussing what was on show.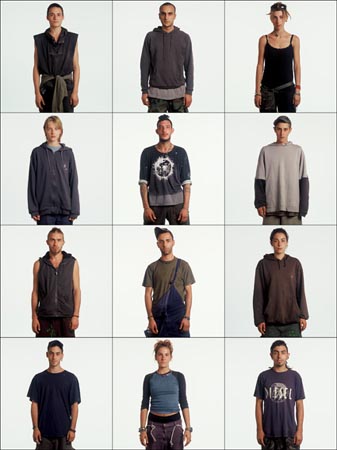 So what were they looking at? Simply put, selection after selection of groups of people who looked exactly the same as each other. I like to think I have a critical eye when it comes to sub-cultures but I couldn't fault what was presented in front of me. Personally, I think the success of Exactitudes is the insightful selection of which'groups' to feature and also which members to include within them. You can therefore imagine my excitement when Ari, one of the Rotterdam duo behind Exactitudes, agreed to do a quick interview with me.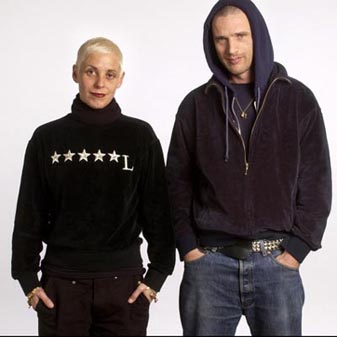 Exactitudes started back in 1994 when photographer, Ari Versluis and stylist, Ellie Uyttenbroek came up with a campaign for KPN (Dutch Telecom) which was based around telephone cards with images of youth culture. At the time Rotterdam was the capital of a big working class youth culture called Gabber. Ari described them as, 'technomates in Italian candy-coloured shellsuits. Bold, clean terror. Addicts to hardcore music, 180 bpm in XTC.' They took pictures of a few gabbers but quickly found they were indistinguishable because they all looked alike! By infiltrating the scene, they were then able to take hundreds of seemingly identical photographers and an idea was born.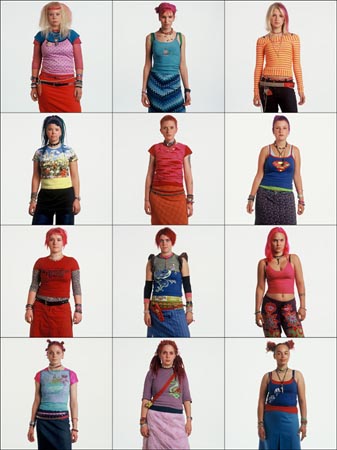 Ari and Ellie decided to seek out more groups that were united through 'Uniformed Identity' and explore the irony of distinguishing yourself from others by assuming a group identity. Their research has identified some brilliant 'groups' including leathermen, massalas, grannies and game boys (do check out their websites for all the groups photographed on exactitudes.com). What's nice is that it feels more than just trend-watching, as Ari says, 'it's real sociological issues covered with fashion'. The members of the sub-cultural groups are also carefully selected so that they are really involved in the scene and not just styled accordingly. They are the ones who actively want to be associated with their sub-culture. Ari, however, particularly likes the 'groups' which are usually not aware of the fact that they are united, 'when you show them polaroids of the others from that group and they sometime say, why do you want to take my picture, you already have one?… especially with the old people. It's so sweet.'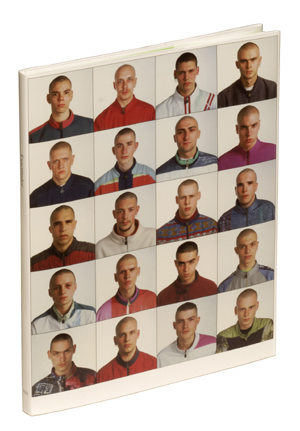 Exactitudes Book
ISBN 90-6450-455-5
Translation: Gerard Forde, London
Graphic Design 75b, Rotterdam
Digital support & webdesign: Joost Burger, Rotterdam
Lithography/Printing: Lecturis, Eindhoven
© 2002 Ari Versluis & Ellie Uyttenbroek
010 Publishers, Rotterdam
With a successful exhibition that has traveled internationally and the Exactitudes book which continues to sell well, what does the future hold for this unique project? This summer they'll be taking it further for the Arnhem Fashion Festival where they'll be projecting visuals against buildings at night, showing archetype youngsters hanging out 'mega-size'. Plus there is an exhibition coming up in France during April and finally new exactitudes on the 'New Consumer'.And life beyond Exactitudes? 10 new series' on the theme 'God'. Watch this space.
Exactitudes will be exhibiting their full retrospective during April at the Festival de Heyeres in France
Don't forget, if you're interested in buying any of their work, contact the VIPS gallery in Rotterdam on info@vipsart.nl
Exactitudes
info@exactitudes.com
http://www.exactitudes.com
Text: Ania Markham from Post Panic
Photos: Courtesy of Ari Versluis and Ellie Uyttenbroek
[Help wanted]
Inviting volunteer staff / pro bono for contribution and translation. Please
e-mail
to us.