What do you think about Japan when you see it from outside?
Especially Japanese design or fashion magazines get into the news even in London and I think they are exciting. Japanese magazines are high quality even when we see it at the world level and Japanese visual expression is very unique which is completely different from Western culture. I also feel the Japanese have a unique ability to read the times ahead. They always seek what is needed in time and hold interesting exhibitions. However, things change quickly so that it can be described in a single word "craze".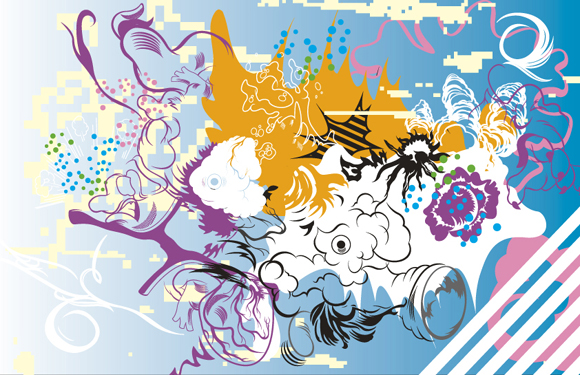 How do you feel about your work being selected for the Shift 2005 Calendar Competition?
I am very happy and also surprised with the sudden notice. However, the most exciting thing is that I could receive many e-mails from around the world and got interesting feedback. I will make efforts so that more people around the world can have an opportunity to see my works.
Creating something means for you…
At the present situation that everyone uses a Mac or Win and the same application, and look at or listen to the same information. It's becoming difficult to establish originality. I don't want to create a work which is nothing but a rehash of other artist or which people feel they have ever seen it in some magazines. If I create a work thinking the things I learned so far, the work should be an original. I think the approach of each individual is very important.
It's rather apt to say that creating something is my lifework than to talk about the meaning of it. I don't want to set limitations on myself by fixing my style. I always want to pursue interesting works which don't only seek novelty but also explore meaning. I feel gratitude to people around me and I think it's important to never forget I am always supported by them.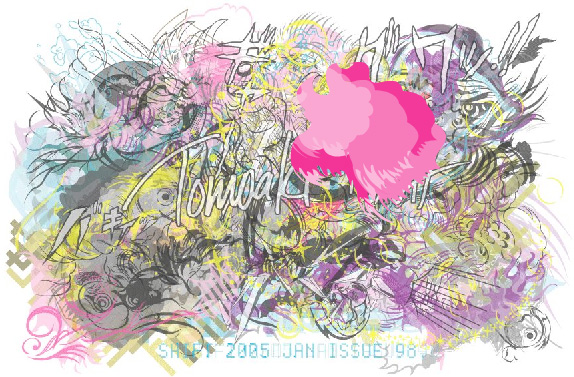 What's the concept of the cover design for this month?
I created the cover design in collaboration with Takuji Nishida. (I feel deep gratitude for his help to do an unconscionable amount of work!) On the process, we had a lot of problems with the Illustrator file and spent a lot of time working on it, but we learned a lot at the same time. I didn't want to make an interactive or frame animation which would which only show "technique" without any subject or contents, so I explored my original approach with a belief that I could produce a simple but powerful work by doing trial and error by "excluding something".
With a subject of "Shift + (New Year)", I thought about the way to approach the design using Flash, and added the time element developing the idea of fireworks to celebrate a new year. 98 piece of objects disappear one after another and shift to the next one. Those objects are comprised of various information including people, things, silhouettes, pixels, or plants. This work feels like poetry, expressing the sorrow of modern society with an excess of information where the information is piled up and disappears quickly.
In the world where there are a million graphic designers, I feel deep gratitude to the Shift team for giving me the opportunity to do the cover design which a many of notable creators have worked for so far. I think I'm having a great experience working in a foreign country and looking at the things happening here with my eyes.
Could you tell your future plan?
Every project is a challenge for me. I'm learning a lot of things through the experience and growing up as a designer. I'd especially like to continue working on challenging, exciting projects. I have a heap of things I want to do but I always would like to be deeply involved in video and music, making a music clip.
Please leave a message to Shift readers.
Recently, I feel things might happen as a logical consequence. I have worked on silk screens, woodcuts, and produced T-shirts and magazines so far. Now I think everything I learned through those experiences is connected and becomes one line. I feel that everything I had done was a necessary thing for me to go to the next step (to shift). (I think I have come a very long way round though..)
I think we can learn something only when we do our best on each offer of work and have a hard time with it. Then, creation comes along with it. I would like to do a work which is appreciated by clients, viewers and also their needs, by taking a step forward steadily. I would be happy if I can hear your impression or comments on my work.
A Happy New Year.
Tomoaki Ryu, 1st January, 2005
Text: Naoko Fukushi


1
2
[Help wanted]
Inviting volunteer staff / pro bono for contribution and translation. Please
e-mail
to us.