Supermundane from London did the cover design for this month. Hand drawn illustration with an original taste which can't be created by digital tool and the beautiful typeface with organic forms are impressive. His first ever solo exhibition is held in London at the moment.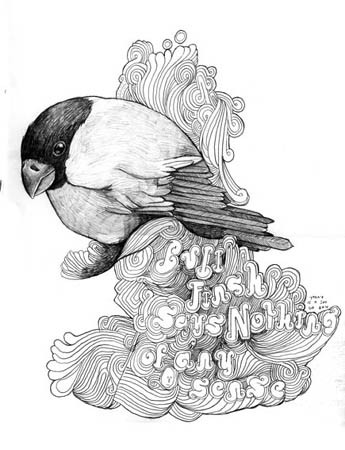 Could you introduce yourself first?
I'm Supermundane, living and working in London, England.
What's your activity at the moment? What actually are you doing?
Graphic design but I also illustrate, write, sculpt, make noises, animate and art direct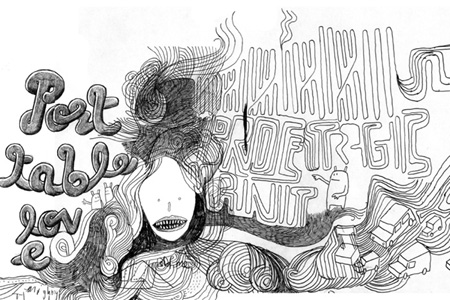 Could you introduce your recent work/projects briefly?
My main project at the moment is my first solo exhibition in London. It's mainly drawings but I have also made miniature beast sculptures that fit into matchboxes. I'm also working on a London based free magazine called Good For Nothing which I am Art Directing, it's edited by ex-editors of Sleaze magazine, which I also worked on and will be out in January. Apart from that I have just done a logo for a new record label called Hassle and generally have a few other projects on the go.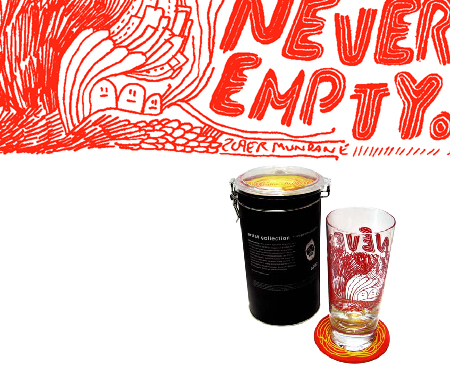 You contributed the design to HongKong based ChilliChilly's glassware collection. How did you join the project? Also, please tell us about the design (actually we haven't seen it yet)
I was approached directly via my website by ChilliChilly, it sounded like a really good project to be involved in. My glass was based around the words "Never Empty" I was thinking about the fact that a glass is never really empty as it is always filled with something even if that is just air. I guess it's the ultimate display of optimism.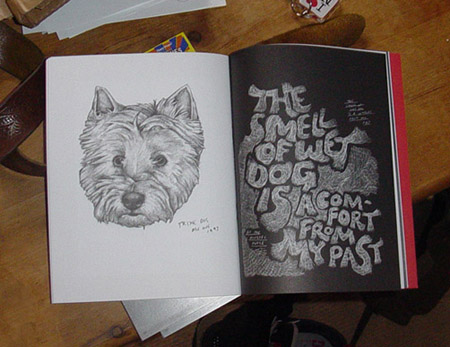 Most of works you contributed to "ARKITIP" and "OUR MAGAZINE" are hand-drawn illustration and they look unique. Why do you like such style? What do you think attractive in the hand-drawn illustration?
I have always enjoyed the hand-drawn approach to design, by this I don't necessarily mean rough. I have kept a sketchbook for the last eight years and many of the pieces that appear in these magazines are from the sketchbooks. I like the immediacy of drawing, I think it gives the work a freshness and spontaneity that working solely on a computer can not give you. I also like the fact that you are more prone to mistakes which can often produce the best work.
I feel the taste of Art Nouveau in your font design. Did you actually try to do it?
I can see what you mean but it wasn't a conscious decision. Almost all my fonts start as some sort of a sketch, I love organic letterforms and their highly decorative elements, I guess there's a link to Art Nouveau there.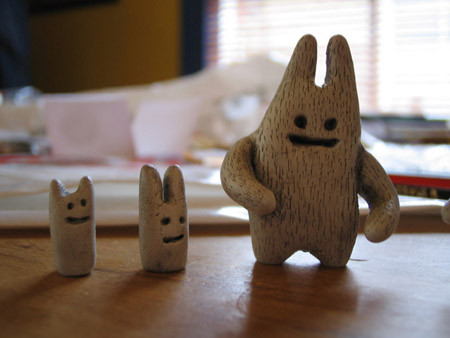 What's your roots? (It can be anything, people, book, music, etc…)
When I was a lot younger than I am now I used to be into calligraphy, which started my love affair with type, I was also in to fantasy art and miniatures along with heavy metal music ( I was a bit on a loner as a child ) I have only just started to appreciate how these things have influenced my work up to this point. I tried for so long to move away from my past but now I can see the logos of the heavy metal bands I used to like in my type and the fantasy elements are there as well in the form of beasts I draw and make and doodled worlds.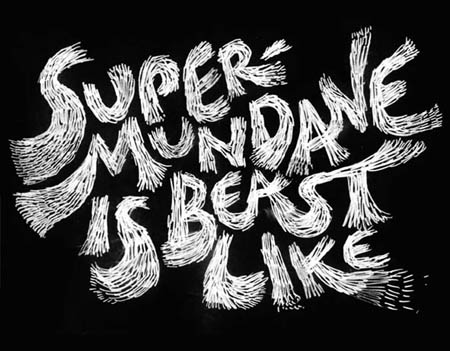 Do you imply some special meaning in your name "Supermundane"?
The word supermundane is a real word that is in the Oxford English Dictionary. I found it whilst working in my first job as a graphic design in a kettle factory in the Midlands here in England. It means 'beyond earthly things', I really liked the fact that it sounds the opposite to it's real meaning.
You are going to hold your first exhibition in London. How is it going to be?
I'm really excited about it and quite nervous. It's been a lot of work but has been really fun. I'm hoping people will enjoy it and it will make them happy. I have the private view on the 30th November which, if nothing else, will be a good party.
Could you tell us about London graphic/design scene? Is there a new movement that should be focused on?
I don't really belong to a London scene and I'm not really sure what is going on in terms of movements. Maybe this will change. I have always felt more affinity with the West Coast scene in America, their sentiments and style seem to be more suited to my own.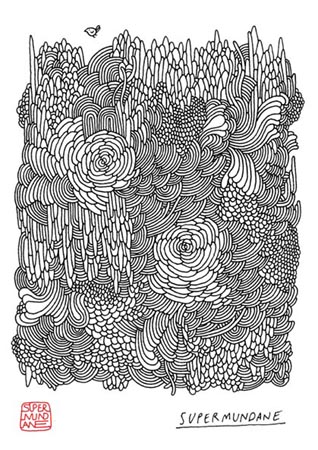 Please tell the concept of the cover design this month of Shift?
The beasts, for once, are happy and in celebration of shift have made themselves into the letters to form the word.
Is there any plan or anything you want challenge from now on?
As I mentioned early, I'm art directing a new magazine that has to be finished by the end of the year so that's my main project. Apart from that there's plans in the pipeline to do more Supermundane applied arts such as plates, cushion or anything useful that I can adapt myself to.
Supermundane
hello@supermundane.com
http://www.supermundane.com
Text: Naoko Fukushi
[Help wanted]
Inviting volunteer staff / pro bono for contribution and translation. Please
e-mail
to us.