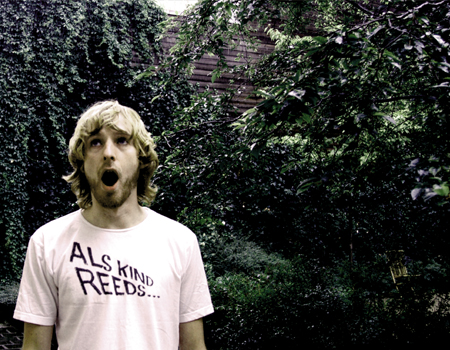 Martyn is blonde, cheeky looking and has a twinkle in his eye. First impressions are of a Bjorn Borg flashback into the seventies. His humour and personality shine strongly through in both Martyn's illustrative work and other projects.
Graduated in 2001 from The Hague, Martyn has only really started calling himself an artist in the professional sense of the word, during the past 12 months. He claims this is because he had no opportunity to do it before but hearing his adventures since his college days, leads me to believe he's always been an artist in some form or another. His current CV reads model, illustrator, artist, DJ and book publisher and we, at PostPanic, know him from starring roles in both a music promo and television commercial we made a few years back. Since then we've followed the man closely and thought it was time to share him with the world.
Having started studying Graphic Design, Martyn quickly switched courses to Fine Art having realized he preferred making everything by hand – a method practically impossible to follow these days in the graphic industry. For him, drawing is the quickest way to expressing ideas. A white piece of paper and pen are all he needs and it allows him spontaneity in a way he says nothing else can. Much of his work is honest, funny and transparent – complete with mistakes that add character. His striking illustrations are often coupled with text that has absolutely nothing in common with the images, making them absurd – exactly how Martyn likes them. When pressed, he explains that often the text reflects his opinions or things that interest him at that time.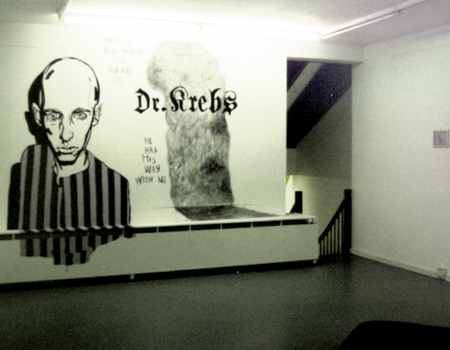 In just twelve months, Martyn has enjoyed 3 exhibitions (Amsterdam, The Hague and Antwerp) featuring both his drawings and photography plus illustrative commissions for prestigious Dutch publications incuding the Volkskrant magazine. He especially feels inspired by the commissions because, "each has to be an artwork by itself and be able to stand-alone".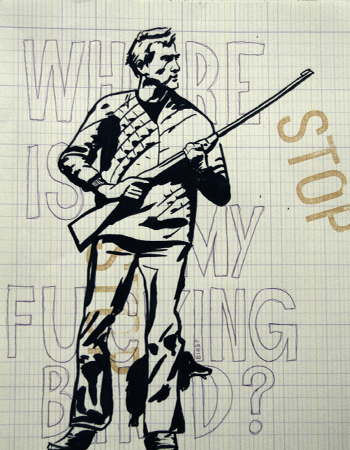 His other projects include t-shirt design, DJing and book publications. The t-shirts came about through his DJ partnership with Dennis Koot who works at Studio Dumbar (together they call themselves UNISECS) because they needed something to wear. Their choice of music is a blend of, "personal, edgy hit mix. Anything from ELO to Electric 6, Vive La Fete and Duran Duran". Not surprisingly, the DJ duo pride themselves on their unconventional mixing techniques – well, more precisely, their lack of mixing completely. "It's all music played on CD and we keep it simple. No fussiness. That's why it's UNISECS. SEC as in dry and simple."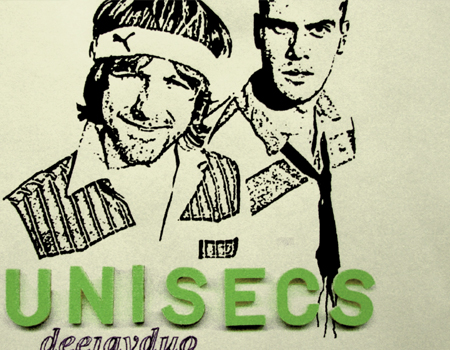 Not to be overlooked, are Martyn's other project, 'the artybookies' or 'FAMC' which he produces with another friend, Rowan McCuskey. They're little books packed full of illustrative work produced in conjunction with graphic designer, Rowan. "We have the same aesthetic so it's not difficult to hustle it up and we have a bookie'. The books, sold through selected art book stores, sell out immediately and the demand for them is continuing to run high. So is there anything else Martyn wants to get into? 'Yes, love. The next thing has to be love."
Martyn
Tel: +31 (0) 61 8840184
mfoverweel@hotmail.com
www.mfoverweel.com
Text: Ania Markham from Post Panic
Photos: Mark Visser from Post Panic
[Help wanted]
Inviting volunteer staff / pro bono for contribution and translation. Please
e-mail
to us.