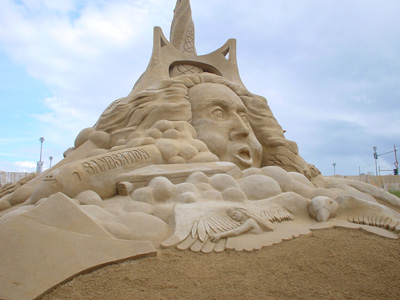 Between the Chancellery and building site that is Lehrter Bahnhof, Berlin's future main station, lies a patch of the tropic this summer – well, almost. 3800 tonnes of sand have been delivered here from the coast of Germany to transform the park into a beach area with deckchairs, play area and bars. It is also serving as host to the 2nd Sandsation Festival, bigger and more international than the previous. In this fascinating genre of sand sculpture, 10 renowned "carvers" from India, Russia, Morocco and many European countries compete for three prizes – the 2nd German Sand Sculpture Prize, the Artist Trophy, and the Audience Award – each creating great sculptures of at least 4 metres in height. I went to discover this curious form of art.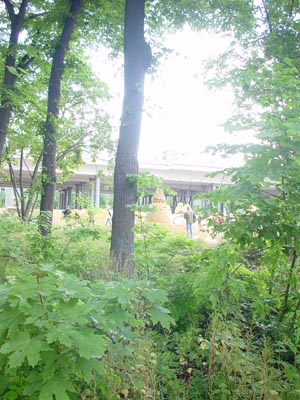 Travelling on the S-bahn to Lehrter Bahnhof and then making your way by foot to the venue, what strikes you the most is the vast amounts of glass and concrete deposited in the deserted construction area. So it is a strange feeling to enter the grounds of Sandsation, where a completely different set of senses suddenly become stimulated. First of all there's the sand. It's the type of sand you just want to put your toes through, and here there's a lot of if. Then there's the atmosphere. Though the weather is looking a bit grey, people that can only be described as jolly are sitting around the bar, sending off a sunny holiday feeling. Eventually you see the sculptures themselves, but only just – they're hidden behind a wild patch of forest, which seems to add to the mystery of the sculptures.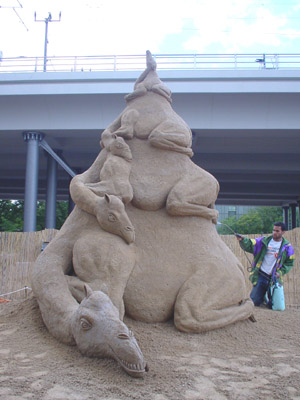 Up close, the sculptures are a wonder. How can sand and water alone become these monuments? According to the carvers, there's a science in choosing the sand and its balance with water – when the two are mixed to form a compact material, it can be carved like soft stone, often with the most unexpected tools like toothbrushes or lollipop sticks. The weather had been changeable and I'd worried about the rain that had fallen (quite hard) in the past few days, so I was amused to find the artists themselves spraying their works wet with water pumps. This helps to "set" the sand, apparently, and in this condition, they can last anything from 12 weeks to half a year.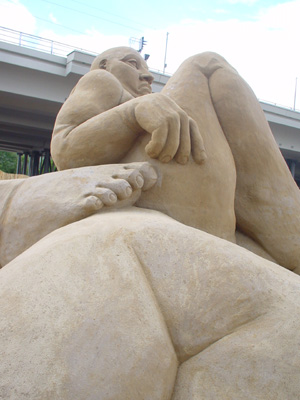 As mesmerizing as they are, once the novelty of the sand wears off, the sculptures take a different perspective. Some simply become beautiful works of art, whilst others seem to unfortunately become kitsch monuments. Most impressive were the serenity and strength expressed in Peter Busch Jensen's "Wind", the sheer artistic skill in Pavel Zadanyuk's "Surrealistische Phantasie", the gorgeous curves of Anique Kuizeng's "Moddervet" figures, and a personal favourite, the comical facial expressions of Simo Abdessamad Baallal's camels. In the end, the prizes went to Kuizeng and Jensen for the Artist's trophy and 2nd German Sand Sculpture Prize respectively, with the Audience Prize to be announced at a later date, when the votes of the visiting public have been collected.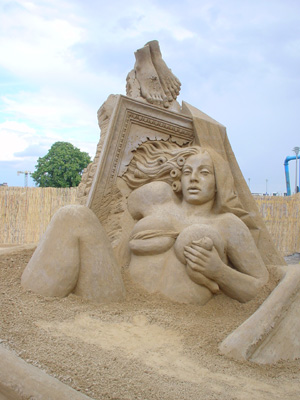 Sand sculpture is thought to have been pioneered sometime in the late 70s, and for most of the carvers – many who work mainly as stage designers or restorers, or with other material such as ice or snow – it offers and exciting alternative. But perhaps this art form will be wider spread in the near future. Already carvers such as Pavel Zadanyuk and Sandsation organiser Martin Tulinius are in demand internationally, and Japan has just held the 1st Japanese World Sand Sculpting Championship. It's typical of Berlin to pick up on these niches and make them into amusing, inviting events. Lets see what follows….
Sandsation 2004
2nd International Sand Sculpture Festival Berlin
Date: 13th June – 25th July 2004
Place: Zitty Park between Lehrter Bahnhof and Chancellery
www.sandsation.de
Text and Photos: Kristy Kagari Sakai
[Help wanted]
Inviting volunteer staff / pro bono for contribution and translation. Please
e-mail
to us.