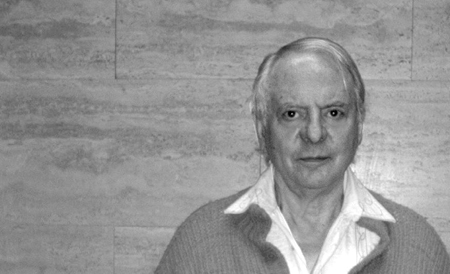 Pause is the first edition of a series of concerts and video projections inside Milan's beautifully suggestive cathedral.
Largely built between 1366 and 1485, the cathedral is undeniably one of the most emblematic locations one could imagine, with its rigorous yet flamboyant northern gothic austerity. With its central vaults 148′ high and 14,000 square yards of space, the cathedral is among the most amazing of venues.
Under the artistic direction of Don Luigi Garbini, the patronage of The UN Refugee Agency and in collaboration with the cultural projects of the Italian Episcopal Conference, Artache have organized a memorable evening with a selection of works from one of most important composers in the history of music, Karlheinz Stockhausen, and the videos of one of the most intense video artists today, Bill Viola.
I was very fortunate to have the possibility of meeting Karlheinz Stockhausen the morning before the actual event: a cup of tea in the lobby of a hotel turned out to be the most enlightening of conversations.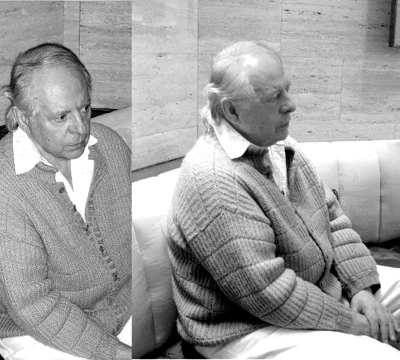 Today, a very consistent part of the musical production (from pop to avantgarde) is essentially electronic. What has changed from when you started experimenting with electronics?
So as you just said, now there is an acceptance of a multiplicity of musical styles whereas I started there was always a hierarchy of quality… for every musician, from the most inventive and developed music to the most simple music, for social entertainment. This has made an enormous change, in every institution, in the radios where I worked for many years. The record companies are constantly trying to have the largest public possible while when I started composing it was a struggling experience, we knew that certain music would always have small public and other types of music a large one.
I come from the radio in Cologne where I was yesterday and I have to continue working there, mixing a large work for choir and orchestra and it was extremely hard to get the time for the mixing whereas in previous times it was understood that it would take as long as necessary. So I think you have at the moment no clear hierarchy of quality.
What do you think is the most important issue today that music should be aware of?
As always, to create for every work a sound world that is unique… which is surprising, inventive, and allows discovering a new experience of oneself, when one hears this music. Through this music you can teach something and form the spirit and a more refined way of listening.
What do you consider the most important issue you've dealt with through the years?
As I just said, to discover for every new work a sound world which is unknown for me and for others as well… so that the development of our capability of listening goes on, we should not stop developing our musical intelligence and the scale of our musical perceptions, what we can feel through music… because then we change… and music has the spiritual goal to help human beings to develop themselves through sound, through the art of composing sound which is an art in itself.
Many people think music should mainly entertain the body, with all the dances et cetera. Very few musicians stick to the principle that music should be added to the repertoire which expands the spirit.
Last year I remember being in Modena (at the Angelica Festival), and I was particularly shocked in an emotional sense by the second concert, the Oktophonie evening, because it was amazing, with the lights turned off. I actually assisted to the whole concert with my eyes closed as you recommended before and as I said I was shocked by the visual strength of the whole experience. It was like being in the middle of a sort of cosmic explosion, with thousands of elements rotating and spinning around me.
When you compose a work like Oktophonie do you have a strong visual reference in your mind?
No, I'm a sound man. I work in the studio and I decide every moment what to accept and what to reject according to the inner excitement that I experience through sound; but I'm also a technician and an engineer of sound – that means I always try to find new ways of shaping sound in space. Space is a very new experience in the history of music. Up to now music was always happening in one place and we practically had a monaural experience or sometimes, rarely, a stereophonic one; but nowadays we are striving for music which surrounds us, up and above and below us. So that we can leave the body with our spirit through sound. And travel with the sound – this space is unlimited. It depends on the inventiveness and the technology that is used by the composer. So we are just at the beginning of a totally new history of music. Space music.
I think that's pretty amazing because I think it actually works. I mean with Oktophonie in Modena I remember the strength and when it was over I left with the impression that I didn't simply assist to a concert but a whole event of micro happenings and many other situations.
…but your comparison is right, it is like leaving and beginning with your first new experience in outer space. Some of them are weird because our body needs contact with the earth and everything the earth can offer, like nature… as if we were pure spatial vibrations and we had no birds, no violins to stick to, we would lose orientation. That is a wonderful state because after death it will be like that for a while, it will prepare us for a different experience.
One last question. Where do you think the direction of music will go in the future?
We should learn one by one the music of the whole planet, which is already a lot to study. No matter from which culture or tradition or country the music comes from… but that will not take very long because the total mixture of everything has almost become normal, in a lot of pop music… but the real future will be exactly like I said; man will slowly develop large auditoriums even with the current interest in music… it will happen because I believe that the constant development of humanity will lead to people that will want to play a new space music, in the new auditoriums people will want regularly have this experience. Being in space without being in space and leaving the body, travelling with music so that the spirituality of man, which means the diminishing of the importance of body, will have a chance. It might take a few hundred years before mankind, in the general, has a new orientation towards what you could call the cosmic feelings and the cosmic experience. Music will make that possible.
Many thanks go to Don Luigi Garbini, Stefania Morellato from Artache and Paola Manfrin for their help; and all my gratitude goes to Karlheinz Stockhausen for his patience and kindness in sharing some of his inspiring and precious thoughts.
Stockhausen-Verlag
Address: 51515 Kurten, Germany
Fax: [49] (0)2268-1813
jim@stockhausen.org
www.stockhausen.org
Text: Roberto Bagatti from Bacteria
Photos: Paola Manfrin
[Help wanted]
Inviting volunteer staff / pro bono for contribution and translation. Please
e-mail
to us.