It is artists who have continually brought the new aspect that has spurned technological change in the world and helped create a new society. Those who can provide new possibilities through their understanding of progressive technology are watching for an opportunity to take action in the changing society or way of life with Information Technology.
Selling works is not the only business of artists. Creating interface, solution or application for the systems of new technology or society and providing creative solutions for our future life is becoming their new business model. Lighting up our future by making new things perceived as attractive and exciting. Such a new model is emerging by artists who have the ability to realize it in Tokyo now.

It is three years since artdemo has started. Its new attempt was to create a platform where artists who have potentiality can apply their creativity to society or business. "Artdemo" is the one artdemo project which exhibits solution models for society or business, suggested by artists and hold brainstorming between artists and stakeholders in public. It is a meeting place where people who have creativity and people who look for the creativity. Most of "works", which are products, will be exhibited in March. This exhibition was an initiation to the trend that people enjoy the creativity in Tokyo.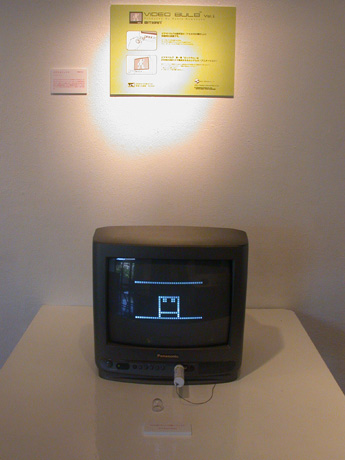 Video Bulb is created by Ryota Kuwakubo, a device artist. The looks is like a RCA yellow pin without cable and its grip is a sporty design. When you connect this pin to the video terminal, the visual which was saved into it comes up on a screen. Video Bulb will be in the Japanese toy market in mid March.
Ryota Kuwakubo made a communication product, "Bit hike" with which people can create minimum dot picture and show it to each other like the video game console. Developing this concept, he is planning to make a communication entertainment in which one can create a dot picture and send it to friends to show it using Video Bulb as a media.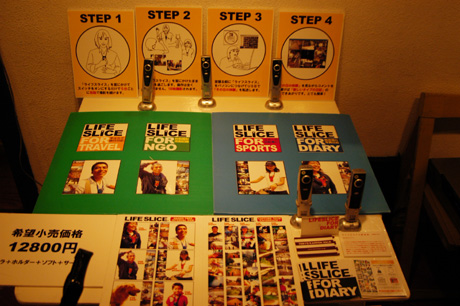 "Life Slice Camera" keep taking pictures every few minutes. This product is created by Life Slice Laboratory. It's also going to be in the market in mid March. Life Slice Camera looks like a necklace so that everything people see will be taken as a picture. It enables you to hold "viewpoint" in common with other people; town you live, environment or communication. A prototype of this camera was purchased and used by NGOs working worldwide. "What do people do in unkown places?" The answers for this curiosity will be cleared through pictures with reality even with emotion.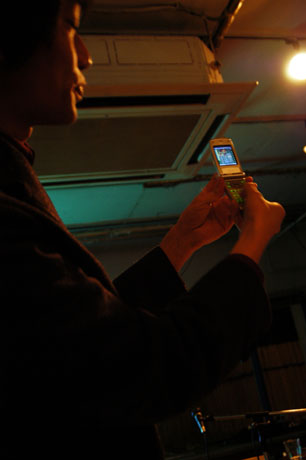 "Otodama" is the first game software for mobile phone created by Photon, who converts media art into computer games or mobile contents. It's also released in mid March. Nowadays, the mobile phone is a high-spec game machine. "Otodama" is a kind of music game you crush "otodama" (sound ball) which has a fragment of melody and link it to make music. You can enjoy the moment of a trip. Nowadays, a majority of people have a mobile phone which is a powerful multi media tool. So it's a challenge of Photon to invade the situation with art works. Giving it excitement.
Ryota Kuwakubo pointed out the most interesting discussion in the brainstorming session between artists and stakeholders. He mentioned he would like to make art close to people. No matter how many of us or younger people think it is interesting, he would like to create art works which can be attractive, understandable or touchable even for older people or more open to public. He wishes to spread joy brought by creative things in the era where everybody lives with IT, converting the technology into a product. He doesn't indulge in "cool" or "trendy" things. This is a common idea within the artists who participate in Artdemo.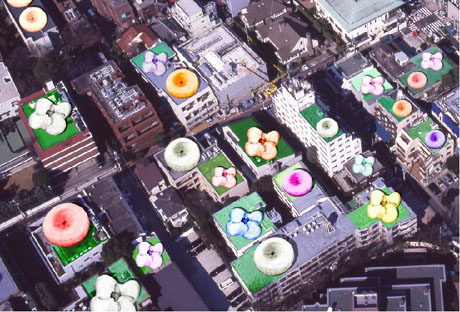 Haruaki Tanaka is an architect and media artist. He mentioned in the brainstorming session that art would be a tool for a solution for the new age or self-improvement and pointed out that art might be able to become one of the ways to change daily things. In the year before last, he held a housing exhibition in Hokkaido in an attempt to make standardized building materials for a prefabricated house more creative. Through this project, new building materials with which residents can reflect their own taste was produced.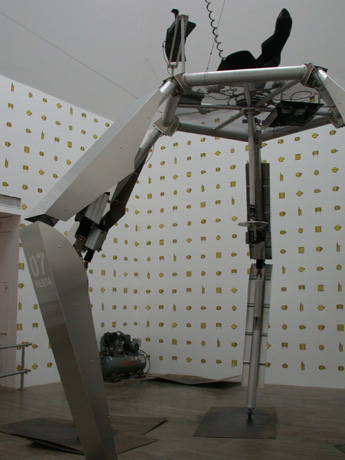 There is another artist who approaches this matter with a broader point of view. Contemporary artist, Noboru Tsubaki is trying to make a solution for some problems in Bangladesh through an art project. He purified polluted water in the well at an agricultural area where there was great suffering from a serious pollution problem. Even if it's an honest way, this activity could attract attention from the world with art. It is the power of art that makes it possible to challenge the problem and create a solution even by himself in a country which is not the concern of the world. Noboru is now making many huge robots. The first opportunity for him to go to Bangladesh was for an exhibition of the robot. All the framework of the 10 meter high robot was bamboo and it was constructed completely by human power. The Bangladeshi told him "We don't have any machines but we have unlimited human power".
The creative power of art is becoming a leading factor of a product or service and as a result, it will become a way to convert IT into a product. This is not only incorporated into a big company, but also artists themselves can show their product or service to the world through new epoch-making products like Video Bulb and the camera which created a new communication style. Is this movement really going to be able to make people happy? Artdemo needs more certain steps to make it a success.
Artdemo messe
Date: February 15th, 16th
Place: Kyozon (5-47-6, Jingumae, Shibuya-ku, Tokyo)
Fee: 2,000 yen (artdemo catalogue + 1 drink ticket)
Contact: Artdemo (artdemo@coolstates.com)
Text and Photo: Tomohiro Okada From Coolstates Communications
Translation: Naoko Fukushi
[Help wanted]
Inviting volunteer staff / pro bono for contribution and translation. Please
e-mail
to us.