Delaware, who designed this issue's cover, is a four person group who design rock and rock the design. Their working field is wide, incorporating music, CD-Rs, commercials, magazines, T-shirts, the web, mobile phones and live performances. They can't be categorized in any existing frame. We interviewed them, asking about the two albums which they have just released after a three year hiatus.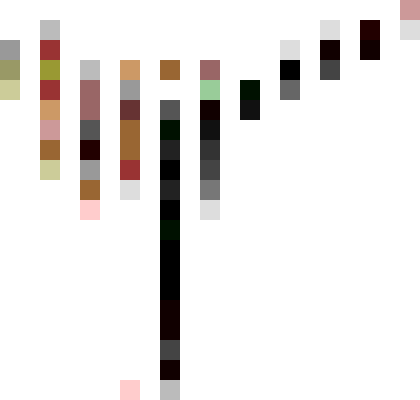 First of all, could you introduce yourself and explain how Delaware is set up?
Personally, meeting with a computer was a big incident for me. Before I started using the computer I never thought that I could make music or draw pictures, but with the computer I can do it! Now I'm a creator! This excitement led me to form Delaware, which is a band and a graphic team. For more information please have a look at our profile!
Could you tell me about your current activities?
Making music, drawing, thinking of the writing, and mixing them up. This is our constant style. More specifically, we've just released two albums "dELAwArE_S+rikeS_bAcK" and "AmeN". We are going to have a live and speech show at "AGIdeas International" in Melbourne in April and have another live show at "IdN/My Favourite Conference" in Singapore in May. Moreover, we'll publish a book from ACTAR, a publishing company in Barcelona.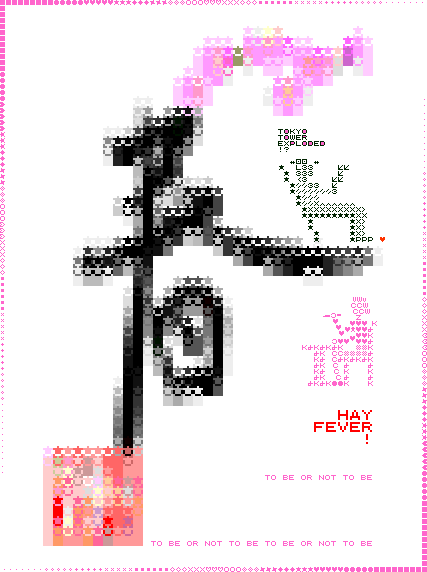 You define yourself as "Artoonist". What does it mean?
We have a song titled "ARTOON". This song's lyric explains it the best so I'll introduce the lyric here.
artoon toon artoon artoon toon artoon
artoon toon artoon artoon toon artoon
let's go artootoo artootoo artoon
let's go artootoo artootoo artoon
artoon toon artoon artoon toon artoon
let's go artootoo artootoo artoon
let's go artootoo artootoo artoon
minimal artoon
optical artoon
conceptual artoon
p o p !
artoon toon artoon artoon toon artoon
let's go artootoo artootoo artoon
let's go artootoo artootoo artoon
computer artoon
a h h h h h h
graphic artoon
a h h h h h h
artoon toon artoon artoon toon artoon
artoon toon artoon artoon toon artoon
let's go artootoo artootoo artoon
let's go artootoo artootoo artoon
artoon toon artoon artoon toon artoon
You can listen to short version Artoon from here.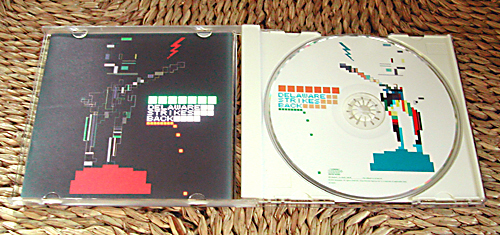 In the two new albums, you invited many artists to join you. Could you tell us the story behind the making of these albums? Then, could you introduce each album in detail?
First, I introduce "AmeN". All the sounds in this album are from the sound source for mobile phones. Even the drums. We regard mobile phones as a new casual instrument or output rather than a phone. "AmeN" is VERY inspired by the calling melody which appeared in Japanese culture in early times so the number of the sounds are extremely limited compared to the normal music overflowing in the world. By reducing the number of sounds, certain ideas and good music are required because you can't cover it with decorations. It's naked!, I'm not talking about the Beatles…. though. We think this is a VERY important thing. The reason why the music expression appears to be classical or esthetic and looks different from Delaware's past works is not only by the small number of sounds, but also by a new member, Yoshiki Watanabe who made most of the songs for this album. He gave a new nuance and virtue to Delaware.
On the other hand, "dELAwArE_S+rikeS_bAcK" featuring "+eX+_&_+He_SpeecHeS", a Doo_Wop group from Silicon Valley, consists of songs which includes a vocal track. This is an opposite to "AmeN" which has only instrumental tunes. The songs in "dELAwArE_S+rikeS_bAcK" can be divided into three types; the song only with +eX+_&_+He_SpeecHeS's voice, the song with Delaware's instrumental play and +eX+_&_+He_SpeecHeS's vocal and the song with +eX+_&_+He_SpeecHeS's instrumental play and Delaware's vocal.
+eX+_&_+He_SpeecHeS's voice reminds me of HAL9000. Why did you decide to feature them?
When I was thinking "Who is the most wicked vocalist?", I came up with a scientist, Stephen Hawking's computer voice. It was about two years ago. Several months later, a member of Delaware, Tajiri found +eX+_&_+He_SpeecHeS. We were VERY fascinated with their voice. Our impression of their voice is that it sounds as if it is denying feeling or emotion completely, but it's comical and heartwarming. HAL is their idol and they started singing to be able to be like HAL. Their voice is even nostalgic for us, who live in a world surrounded by electronics. For that reason, "dELAwArE_S+rikeS_bAcK" and "AmeN" can be viewed as the folk or acoustic music of the 21st century. You can listen to the songs a little from here.
What kind of works are included in the two extra CDs?
In "dELAwArE_S+rikeS_bAcK", we created "h/m/s_in_+he_rain" with Ages 5 & Up and "walk_on_+he_hill" in "AmeN" with Tota Hasegawa (Tomato). The former is clockwork motion graphics in which the motion ticks away the seconds. The other one is an interactive amusing work in which music changes, reacting to the hill's angle which is altered by a user.
Unfortunately, it is VERY difficult for us as musicians or graphic artists to make ends meet with the income derived from these album sales. However, there is a possibility that these two albums might create an opportunity from which somebody gets interested in us and offers some work for us. The two albums show the idea behind Delaware and what we can do. We wish to make a living by creating more of the work seen on these two albums. This is our plan. In that way, we can say these albums are also our sales tools. It's the Delaware/2004 all season collection!!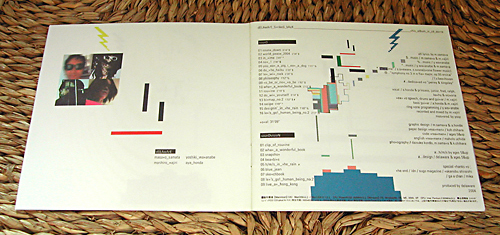 CD jackets are not your well-known style dot pictures only. Why did you change the style this time?
We wanted to have jackets and booklets design blend nonsense and refinement randomly, and hope that you can enjoy the music more by looking at them. More specifically, we try to make the jacket and booklets a design that won't easily lose their freshness. We do this by placing lyrics or prose with fun, using white background boldly and making full use of small tricks like random underlining. To make it a reality, Koh Chihara was invited. We chose him not only because of his design but also because he likes music VERY much. We are not interested in a designer who doesn't have a sense of music.
Koh Chihara says, "Through discussions with Delaware, we decided to make a booklet design like 'dub'. Delaware made a basic graphic layout then, for the CD jacket, I took the picture of Delaware's graphics and mixed with the graphic data. Also in the booklet, I used the same method as for the CD jacket keeping Delaware's original "dub" style design. Moreover, I thought about what kind of CD design would be suitable in a time where CD-Rs or inkjet printers have become affordable for a lot of people, and what can become a "family design" without losing its professional look. From these concepts I chose bleached mat papers like inkjet paper and I tried to make a design that blends nonsense and refinement randomly."
Watching and listening to the two albums, I thought that each of the elements such as sound, graphics and lyrics are very simple but your works become interesting by putting them together with unique ideas. What is the most important thing for you when you design something?
For example, we live in a world that is 50 years ahead from the early R&R times, 30 years ahead from the Beatles, 25 years ahead from Hip Hop, 90 years ahead from Dada, 40 years ahead from Pop Art. Moreover, we can know them through records, video, documents or at museums to some degree. We know or experience things which J Whitney or J Lennon didn't know. Even if our talent is inferior to their's, we have a big advantage in terms of the amount of information we have access to. We can spend time and effort to realize what they didn't or couldn't achieve by sampling their skills, ideas and sense. That is, by omitting the time for learning traditional skills, we can jump to the next step. We like R&R because it's a simple music, which can be made with only 3 codes and feelings. In the same way, not so much training is required to do bit map design.
Your lyris are all written in English. Do you try to be open to the world?
Our principle for the lyrics is to play with simple English, which is not like a native speaker. E-mail from France or Brazil is always written in English and we also reply in English even if the recipient is Korean or German because English is regarded as the common language. It enables us to communicate with each other beyond borders. The most interesting thing, however, is that the simple English spoken by non-native English speakers is becoming an official language. We thought Delaware could be enjoyed by people around the world by making the lyrics with simple English.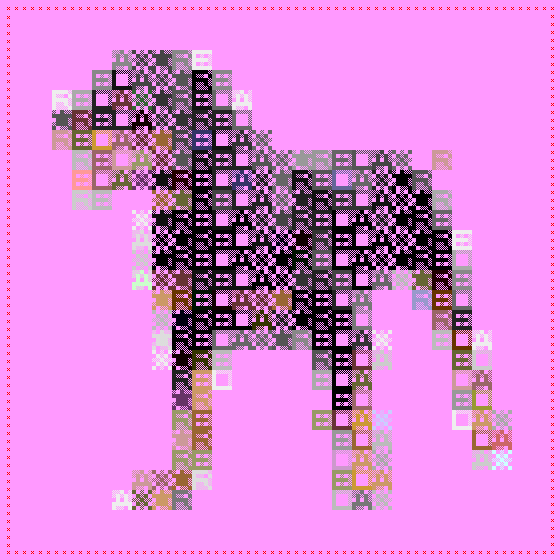 Could you tell me about the concept of Shift cover design for this issue?
We don't usually set up the concept first so it is made up after finishing off the work. This cover concept, which can be seen or heard in several ways, depends on you. We don't know whether it is noisy or quiet. The song is "designin'_in_+he_rain" from "dELAwArE_S+rikeS_bAcK". It is composed by Yoshiki Watanabe, lyrics by Samata, arranged by Tajiri, vocal by Aya Honda, so all members of Delaware cooperated in this song and we all like it.
Apparently, you have renewed Delaware's homepage which is famous for horizontal scrolloing. How was it changed?
We mainly changed the interface design and excluded or remixed old works a little. For example, texts in the pages were all graphics before but it's just a decoration so we changed it into real text. It was a good idea when we thought about the function of the interface. Also, when you wanted to listen to our music, you needed to download it but you can listen to it on the website now by using shockwave.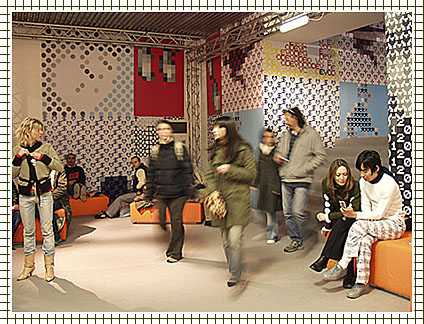 Do you have something you want to try in 2004?
We are sometimes asked to do a speech at some international conference or workshop. However, we are not good at doing speeches and get uncomfortable and sweaty. We need to spend a lot of energy but it is not so interesting. Regardless, we are asked to do it. We are interested in going abroad. So, we are thinking of making up a new entertainment speech show close to our live performance. Of course, the speech is the main thing but music and graphics supports our speeches and deliver Delaware's feeling to the audience which can't be expressed by only language. By making it closer to a live performance, we would be more excited and wouldn't have the uncomfortable sweat. We hope to have Delaware's original speech show at Melborne in April.
Please leave a message to the reader.
This is the most difficult question and embarrassing. Our true intention is "Please buy our new albums!" but stated principle is "Please buy our new albums! Listen to and watch them and listen to them again, and you will be VERY happy!"
Delaware
mail@delaware.gr.jp
http://www.delaware.gr.jp
Text & Translation: Naoko Fukushi
[Help wanted]
Inviting volunteer staff / pro bono for contribution and translation. Please
e-mail
to us.