Catrin Altenbrandt aka Pixelgarten, who is a freelance designer mainly working in own project, designed this issue's cover. She is one of artists who were selected from more than 500 contestants for Shift 2004 calendar competition. Illustration drown with her original touch creates her own world.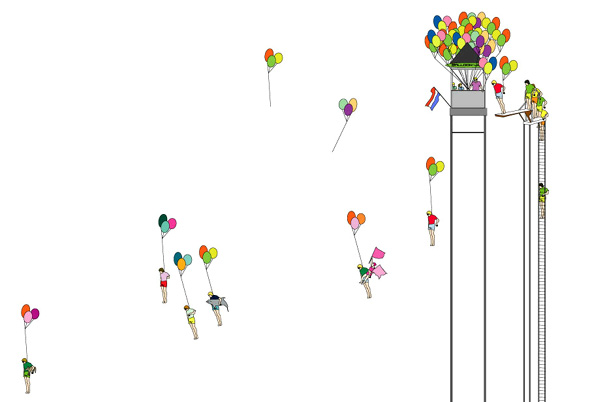 Can you please introduce yourself?
Catrin Altenbrandt. I am 25 years old. I live in Germany. Since 1999 I study Visual Communication (Free Design) at the Hochschule fuer Gestaltung Offenbach. My major is "Experimental Space Concepts" in German it is called "Experimentelle Raumkonzepte". I also do illustrations and graphic design as a freelancer.
What are you doing mainly as a designer or artist?
I am mainly working on my own projects as an artist. I'm not bound to any media. I also do graphic projects. At the moment I work together with my boyfriend, who is also a graphic designer and two others on the design of a Japanese film festival called "Nippon Connection". The festival presents movies of young Japanese film makers.
I'm also working on a font right now. It was a project at my university called Tasten. The fonts that were created within this project are no conventional fonts. They don't necessarily have letters in it.
A lot of my works are about creating little universes of things, like for example the "Oceanworld".
Please introduce your own website.
The website, Pixelgarten is my online portfolio. The concept was to make it look like a computer program. I plan to make it more interactive in the future…but first I have to improve my action scripting… (flash doesn't seem to like me…)
My first concept was to have it like a garden where every visitor can leave/plant something he has to look after. That's where the name Pixelgarten (= pixel garden) comes from.
The works I show there are mainly individual projects. I don't show any graphic works there, yet.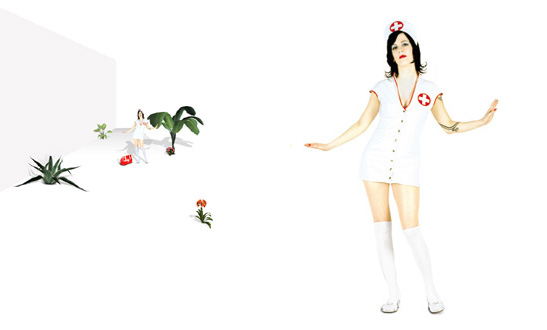 Your work was selected in Shift Calendar 2004 competition. According your work description, the work is a part of series. Could you tell us more about the work itself and the series?
The work is called "wir trafen uns in einem garten…" which means "we met in a garden…". The garden in this image consists of hyper natural plants. These plants are 3D but you can only see this when looking closer. Then you discover little mistakes in those perfectly looking plants. Each image shows another garden and in every garden there's another woman wearing an uniform. The woman is real even if she seems to be artificial. The original pictures are quite big and nearly white with light grey shapes. It's again a series of pictures you will have to come and look closer to find out the little stories that are hidden in it.
From what do you usually get inspiration?
From many different things, actually everything can be inspiring. Listening to Music or just walking through the streets and "observing". In the city I live a lot of different cultures mix together and you can find many strange things. I also get inspirations from visiting other countries – which I really enjoy. Especially Asia. I've been to Tokyo once, which was very fascinating. Tokyo is very inspiring !!!
I guess you can also see the influence of being part of the computer games generation in some of my work.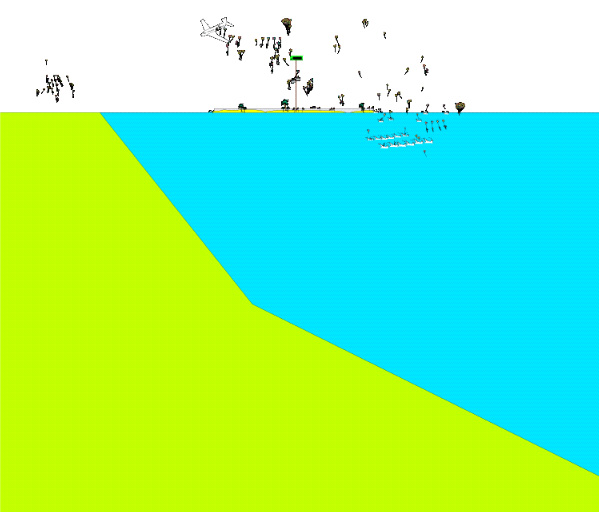 Is there any interesting movement in Germany?
Well, no I don't think there is something at the moment that you could call a movement…hmmm…there are certainly a lot of small things going on. I guess the German city where the most cultural things are happening at the moment is Berlin.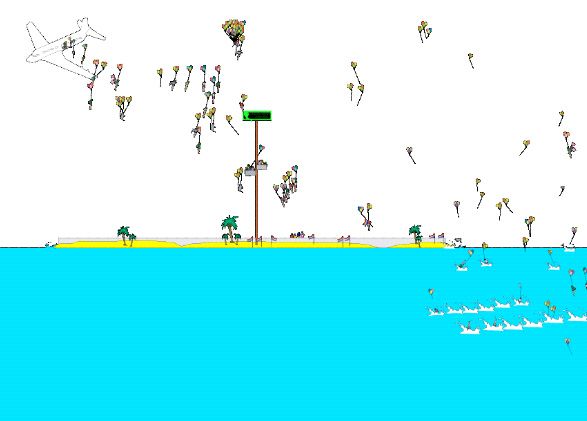 Could you tell us the concept of the cover design for this issue?
The idea for the cover design of this issue was taken from another work I did, called oceanworld. This work is a series of 8 images. The images are quite big but the content is very small and you have to look closely to understand the images. Standing far away you only see geometrical shapes, but when coming closer it appears to be a kind of landscape where many little things are happening. There you will discover a little world of balloon people and water ski shows. I tried to translate this process of coming closer to the images and seeking for little things to the shift cover design animation.
The bases of these pictures are my personal memories of being to Florida as a small child and visiting a lot of theme parks there.
If there is any plan or things what you want to challenge, could you tell us?
There are a lot of things that are challenging for me. Actually every new project is a challenge.
I am planning to work more and more as a freelancer. There are a lot of things I want to do and I have many projects stored in my mind …
Please leave a message to Shift reader.
Happy new year … enjoy your flight through oceanworld … look closely
Pixelgarten / Catrin Altenbrandt
Catrin Altenbrandt
Address: Herrnstrasse 10, 63065 Offenbach, Germany
Tel: +49.69 8008 79 40
gartenservice@pixelgarten.de
http://www.pixelgarten.de
Text: Naoko Fukushi
[Help wanted]
Inviting volunteer staff / pro bono for contribution and translation. Please
e-mail
to us.