Yoshi Sodeoka from C404, featured in this issue, is an artist based in New York who creates multi media art and music using digital noise. He contributed the cover design for this issue and is going to do a peformance at the opening event of DOTMOV Festival 2003 held at Soso Cafe and produced by Shift from November 1st to 30th, 2003. His art and craft spans several fields, allowing him to take act as a curator for a multimedia art gallery, and take part in several events like experimental music festivals. Find out more about him.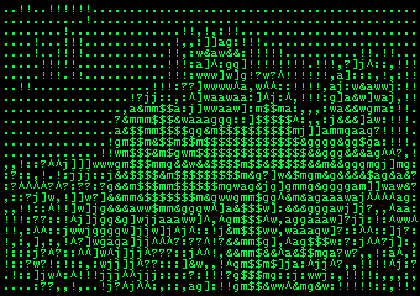 First of all, could you introduce yourself?
My name is Yoshi Sodeoka. I was born in Japan and had been painting and playing music in Yokohama. I moved to New York City in 1989 to study art and design at Pratt Institute. I've been living in New York City since then. I had worked for Viacom MTV, Nicholson NY (now known as Icon Media Lab), and was art director of now defunct web-zine Word.com for about 6 years. Currently I work on projects under the name of C404 with a bunch of friends and collaborators.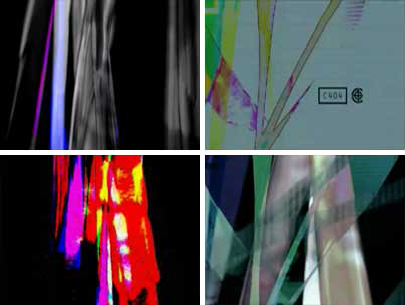 Could you tell us about the work of C404?
Yeah, I guess I do a lot of different stuff. A lot of it is pretty much in the nature of experimental and R&D side, art and design projects on the web or motion graphics or installations or music performance and recording or whatever, for clients or non-profit art institutions. There is no complicated mission. I'm just doing what I know. I studied both fine art and design. also I've played music my whole life. So, I try to combine all the knowledge into projects. The result is a fusion of all that.
Recent interesting project I have worked on was making a motion graphics piece for YouWorkForThem's upcoming DVD, working title "Enter the Dragon". Those guys invited a bunch of designers and artists to animate their typefaces. I made one of that. Line up for this DVD is pretty good. It will be a great DVD.
Also, I worked on Day-dream DVD compilation as well. That's also another experimental video work. This DVD will be also cool when it comes out.
And I'm doing an unique project for the Tokyo Designer Week in Japan. There will be a show sponsored by KIDI Parsons Japan in October in Tokyo. This show will showcase chairs that can be transported in an overhead bin of a 747 airplane. They invited about 15 different non-product designers to design it. So, they are expecting somewhat unusual entries. So, I'm working with my long time collaborator Jason Mohr to design a conceptual chair for it. The show should be running in Tokyo by the time this interview comes out actually. I will put up our entry on my web site, so you can look for it there also.
And also, I'm talking to the Museum of Moving Image for a possible art installation idea for their "ALT" Digital Media exhibition for next year.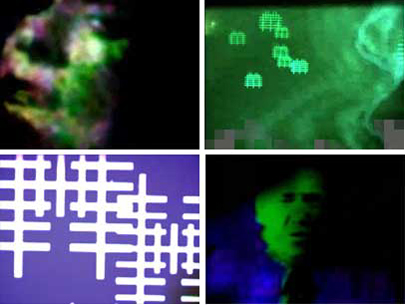 You have been working in this area for a long time. Looking back at the last ten years, how do you feel?
It's very surreal. The industry has changed a lot, but in a good way. I mean I'm just talking about only 10 years though. That's not much or is it? I used to work on CD-ROM and Enhanced CD with Director before 1995 for MTV and stuff. Then Internet stuff started to happen with Netscape after. Back then, all the technologies for browsers were total jokes. Those were to crash your system, not to browse web. But technologies for multimedia are much matured now. A lot of good design and artist community emerged on the internet. Net art got quite recognitions from reputable organizations. All those things were unheard of when I started Word.com back in 1995. And there was no net art concept in 1995, none.
So, yeah, I think in the end, it all made the right kind of natural progression. Media on the internet got really diverged and that's good. And I somehow managed to adapt to that entire change pretty good, I think.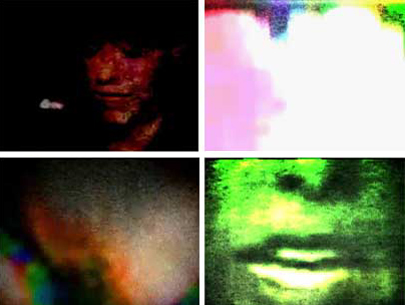 What is the impression of "OFFF", in which you performed, held in Barcelona on last May?
That was really a great experience. "OFFF" is gradually getting more experimental music acts every year, and I think that's just cool. I really get their mission which is to integrate between art, design and music. There were artists, designers and musicians all mixed together to give presentations or perform.
So, we were there to be sort of a mix of artists and musicians, asked to perform our experimental audio and visual set with our custom system "Casket". My partner Sean and I wrote this system which lets us mix synthetic noise audio and video projection in real time.
So, we arrived at Barcelona with no sleep and major jetlag. Then we got a major equipment trouble when we were setting up. Half the system blew up in smoke with crazy 220 euro voltage! That was mainly my fault not preparing
fully for that. Anyway, we couldn't work out the visual system part because of it. So, we had to improvise the whole thing, and just focus on creating live noise music side of it. It ended up confusing a lot of people. Ha Ha… I guess some people were expecting a regular speech presentation of C404's visual work. That didn't happen. But at the same time, a bunch of people enjoyed it because it was just crazy. You know I like doing stuff outrageous and unpredictable sometimes. And we were definitely the loudest ones at the OFFF. Every event needs some freaks like that. So, that was all cool in the end. Overall, I had the best time at the OFFF. Everyone we met at the OFFF was super nice and Barcelona is such a beautiful town. I hope to go back there next year.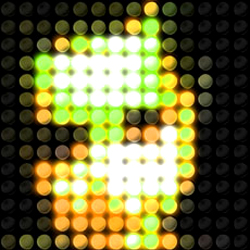 What is your plan for a performance at the opening party of the DOTMOV festival?
Yeah, this will be like 30 minutes to 1 hour set for their opening party night. And I hope the system doesn't blow up this time. It's nothing ground breaking, but it will be mellow, some ambient thing for the party. Casket system looks very complicated on the description page but that's just a backend. It actually does the simple thing when you see it. It's a very subtle synchronized audio and visual performance system. Audio instrument part is custom written in Supercollider by my partner Sean Rooney. He's going to mainly perform that with his Powerbook and Wacom tablet. And I will also play audio at the same time with my Powerbook. And both of our audio performance controls the visual flow. We will be mostly playing tracks out of our experimental noise band The Knobs.
I saw your work "Remix" created for OFFF on the website and had an impression that music and visual was synchronized and it was really made from those two components. With what process do you create such work?
Because I create both audio and visual at the same time, it always ends up looking very connected. When I'm working with my experimental videos, in my mind visual and sound happens at the same time. So, I just kind of render that into videos. My C404.40.40.31 DVD is a half hour of that. I don't really know what to call them and I don't specially know what category my video work ends up in. I guess you have to call it experimental videos, but I have hard time explaining what it is still. I just say like it's a psychedelic audio visual trance experience or whatever. I also have hard time picking a category when I try to enter a competition or film festival and all. Usually, there's no category my stuff fits into… it's not a film neither a music video, and the audio isnn't exactly electronic music. It's just what it is.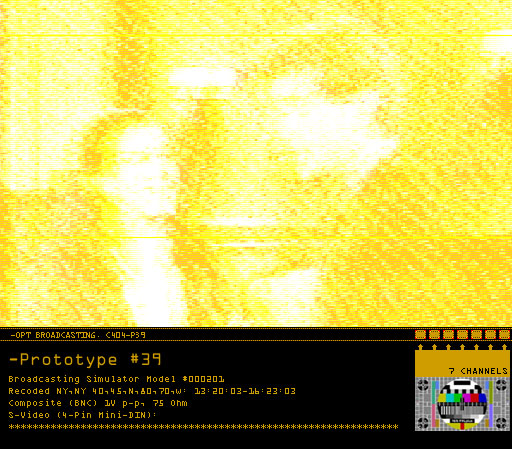 From what are you inspired normally in the work creation?
It totally depends on the project, but in many cases for my own art projects, I always start out from figuring out the concept and meaning, then i figure out the appropriate look for it. I get inspired by the relationship between media culture, technology and humanity, and how they affect each other and so on. So, I use a lot of old television and film footage and collage it with some noise tracks that I make. I sample a lot of shortwave and VF radio for the sounds. I'm fascinated with analogue technology, and I try to simulate that using digital technology. What I do sometime is that I even tape my digital video into VHS analogue tape, and degrade the quality. Then get the footage back into computer again for the final analogue-ish results. I like my work being kind of gritty.
What is the concept of the cover design you did for this issue?
I tried to imagine this… What if there was an underground syndicated technology TV show called Shift in the early 80's and I videotaped it on top the other educational tv shows on my parents' videotape. I found that tape now, this could be how it looked like. I actually do have a bunch of videotapes of random japanese tv shows from 80's saved up. They all look pretty crazy when I see it now.
What do you think about US/New York web, design and art scene from the point of view you live there? Is there something interesting movement happening there?
Well, It's been always interesting, I think. I take for granted of that always, since I've been here so long. Also I may not be qualified to talk about the New York web/art scene type of topic though. I tend to ignore trends and I'm actually pretty mellow now when it comes to going out and checking out events, mingling with people and all that. I'm at either home or at my work studio. I find myself always working. So, I'm just an observer of what's going on in NY even though I live right here in lower east side where a bunch of stuff happens everyday. I mean the whole internet thing made the community all global. It doesn't almost matter where you are anymore. People in Japan might know more about stuff going in here. But you know, it's still totally great to be in New York in general. Culturally, there are always a lot of people doing really creative and you can meet a lot of them. I mean it is New York after all. There's something new and underground happening here all the time. So, it's good.
What is the vision for the future?
Yeah let me think. I guess I'm not so good with planning out my life. I like going with the flow, you know what I'm saying? I will keep on doing what I'm going and trying to be better at it.
Please leave a message to readers.
I hope to see some of the readers at the .MOV Festival in Sapporo. I don't do much public event like that often. So, I'm looking forward to seeing people there.
C404
Address: 515 Greenwich St. 203, New York, NY 10013, USA
info@c404.com
http://www.c404.com
Text: Naoko Fukushi
[Help wanted]
Inviting volunteer staff / pro bono for contribution and translation. Please
e-mail
to us.