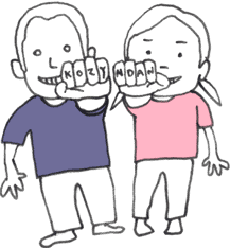 That L.A. based illustration maveriks Kozyndan (a couple named Kozy'n'Dan) have new work shown at the Giant Robot Store is no accident. The duo contributes regularly to Giant Robot magazine and GR has returned the favor in releasing a 96page soft cover book on the work of Kozyndan called Urban Myths.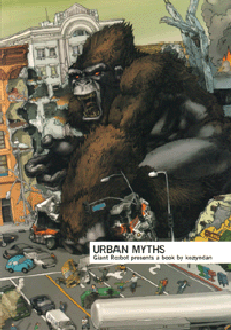 But there is another book in the works: Hawaian Girls have more fun is another project, that started when a Japanese fashion magazine asked them to do a fashion spread with some Hawaiian photos. Of course they reworked the wacko pics in classic Kozydan fashion and have turned out a hilarious series – soon to be published.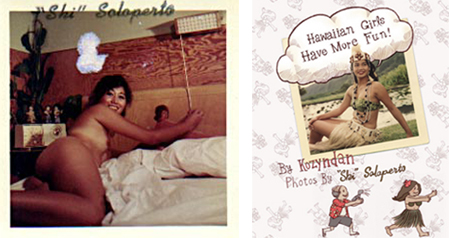 The two artists work both for themselves and clients such as record companies, magazines and corporate clients. Looking at the work and the samples on the website it is surprising and encouraging to see, how Kozyndan stick to their style without compromising.
One of the themes that pops up often with them is the bunny.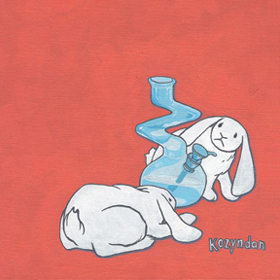 I wanted to know more about bunnies and other things, so I asked the artists some questions. Here they are.
How did you meet.
D: We met in painting class in college of all places – corny, but true.
Who is your favorite client and why.
K: Well, we most like working for ourselves, and about half of our income comes from making our own illustrations and selling the posters of them. If we had to pick a commercial client though it would probably be SubPop records because they give us complete freedom, pay quickly, and the work ends up being seen by a lot of
people here in the U.S.
How do you work.
D: Typically kozy does all the hard core drawing. While she starts drawing a background I try to come up with ideas and layouts for the characters and the overall concept of the piece. then she takes my characters and more of her own and and adds them into the background. Then we scan in the drawing and put it onto 2 computers and start painting it digitally, each doing different areas until it is mostly complete, then we join the files and complete it. Sometimes we do projects on our own or ones where one person does most of the work and the other helps out just a little, but most of it is
intensely collaborative.
Why L.A.
K: It was the closest big city to where we went to college.
D: I grew up in Southern California – once you get spoiled on the weather here it is hard to leave.
K: Also – LA is just a great place to be creatively right now. Tons of artists are flocking here because there is always work and money, so we can do what we love and actually get paid properly for it.
What is your favorite candy, why.
K: Hi Chu(any flavor), or any japanese candy.
D: Mike n Ike's – I have no idea why – they all taste pretty much the same and are too sweet, but i have always loved them since I was a kid – my favorite thing to eat in a movie theater.
Sushi or Burrito.
K: Sushi- i love mexican food. we can have burrito anytime we want, but we can't afford sushi very often.
D: Sushi – i hate mexican food.
Do you have animals.
K: We have bunnies of course – 2 male bunnies – they are in love with each other.
What is the story around hawaian girl.
D: When i was in high school, some fellow student just gave them to me. He asked me if I wanted nudie pictures and, being 16, of course I said "hell yes!" – I have had them ever since. Within the next year or so we will be making a book with our illustrations surrounding each photo, one per page. It will probably detail the history of Hawaii…
Will music or illustration save the world.
D: Neither will save the world (although music will have the more valiant attempt) – only a radical change in the US power structure and of human nature in general will save the world. Our government is taking this planet towards a path of destruction to make a few men wealthy – it is despicable, and nothing we draw can overcome the power they have to manipulate the masses. This sounds fatalistic, but it is the truth.
Kozyndan are showing artwork at the Giant Robot Store in Los Angeles until end of September.
Kozyndan Exhibition "Urban Miths"
Date: 16th August – 30th September 2003
Open: Mon-Sat/11:30am-8:00pm, Sun/12:00-6:00pm
Place: Giant Robot Store
Adress: 2015 Sawtelle Blvd, Los Angeles, CA 90025
Tel: (310) 478-1819
us@kozyndan.com
www.kozyndan.com
Text: Reto Caduff from Retocaduff
[Help wanted]
Inviting volunteer staff / pro bono for contribution and translation. Please
e-mail
to us.