What is the concept and idea of "Instant Go" and this campaign ?
"Instant Go" is an expression of urban active youth culture – always "on", ready, immediate, and "technoactive" – the fusion of technology with activity. Nike's presto line embodies this culture with products that responded to these modern needs, with simple, easy, "Instant Go" products that instantly conform to your body.
"Instant Go" for this season is about urban active expression, told thru art that moves thru a panasian city. How do you inspire movement?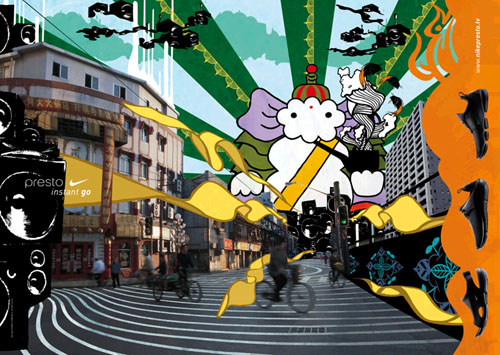 One of the great things about this campaign is how Nike was able to give young people a new way to express themselves both physically and artisitically through technology, bringing what normally is flat art to move through the Asian cities in 3-D. We brought together an international collective of post graffiti artists, digital motion graphic artists, and a DJ, fusing their expressions into a collective whole and having that inspire youth culture and movement.
The story goes beyond being "just an AD", but shows Nike's commitment to supporting innovative youth from around the world.
While the visuals do have some actual scenes of sports, it is more the visceral effect of all of the artist's work fused together, including the original music, which hopefully serves as inspiration for movement… for an "Instant Go" life.
"Instant Go" as a concept is a catalyst to this movement.
One of our key initiatives behind this second season of "Instant Go" was to find people who were inspired by a sport to become active in creative ways, to put together a collaboration that only Nike could do and to continue to find ways of expressing this active life through a blend of the analog (traditional painting and graffitti) and digital (animation + media technology) along with the driving force of fresh music.
We assembled an international Presto Instant Go team that stretches across borders as well as disciplines, who in a sense become ambassadors of culture for their respective nations…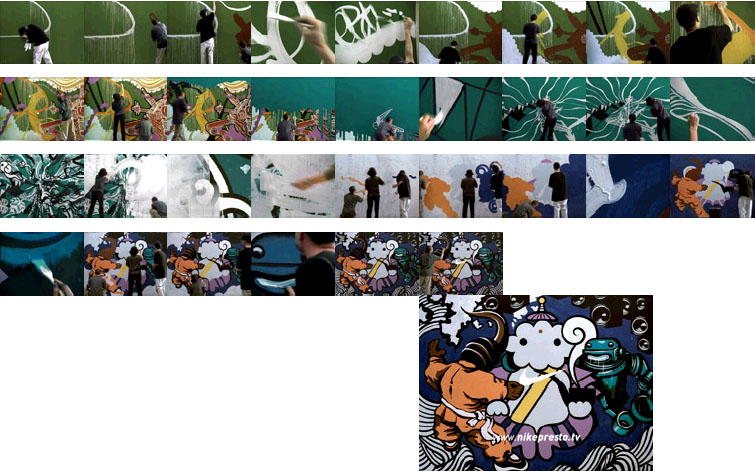 In terms of production, what sort of people were involved in this project?
Skwerm (NYC, USA): aka David Ellis, The creator and leader of the famous street art collective, the Barnstormers, and artistic director for Presto 04. Their art performance videos are world famous amongst the art/skate/graffiti crowd. His collaborations represent the best of the post-graffiti movement.
Sasu (Tokyo, Japan): A very talented artist who came about her work partly inspired by street + sports culture. It's great to have a strong young creative woman on the team with the same street credibility. Sasu's art brought a quiet, reserved counterpoint to the team's hyper energy images.
Frek (Hong Kong, China): Only 19, a new discovery that we found who has very much impressed Skwerm. He had no idea who the Barnstormers were and how influential this collaboration was going to be to him.
Motion Theory (LA, USA): A live-action design company using their digital and creative skills to bring the above artists into a different realm of 3-D space and motion, the 4th dimension. Matt Cullen and I met at Imaginary Forces in LA and have been collaborators ever since.
DJ Uppercut (Tokyo, Japan): He found his way into music originally through skating. Today, he is one of the most promising young artists on the scene.
Read more ...
[Help wanted]
Inviting volunteer staff / pro bono for contribution and translation. Please
e-mail
to us.