Saturday night got pretty cheerful – lively in Sapporo's "Soso Cafe"! No wonder when a mass of young and beautiful ladies get together with a trendy team of make-up artists eager to style for free!
The featured artist of April's "Dot Soso#14" event was make-up artist Miwa Yokoyama, and she presented the "Thanksgiving Makeup". She is a prize-winner of the Los Angeles Competition of "ICE" (International Cosmetology Expo) in 2001. She also hosted the fashion & make-up show "Continuous Beauty" in 2002. She is working as a hair & make-up artist for the "Style" project at Tokachi Contemporary Art Exhibition "Demeter". The "Thanks Giving MakeUp" was accompanied by the Sapporo-based graphic-team "Mogra" which was another highlight to not miss.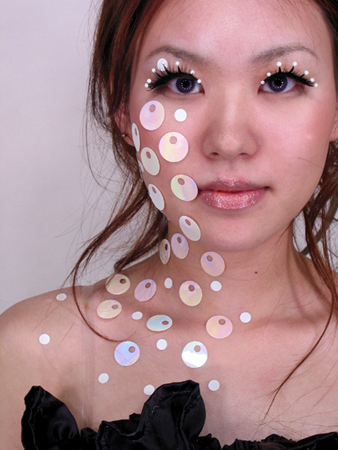 What interested me most about Miwa and her girls was their playfully-touched and unique make-up while adhering to the theme of "Dot".
I had the chance to interview Miwa Yokohama. I asked her some questions I always wanted to ask.
Where does your passion for dots come from?
There is a power emanating from dots. Depending on how you combine different dots the expression changes anew. The result can be anything – cute, cool or even mystic.
How would you describe your make-up style?
My characteristic is using the face as a canvas, like painting a picture. I like to mix colors and the artistic make-up is my favourite, too, as I presented in the Soso Cafe. This kind of make-up is getting more and more interesting to me. I am inspired by fashion a lot as well.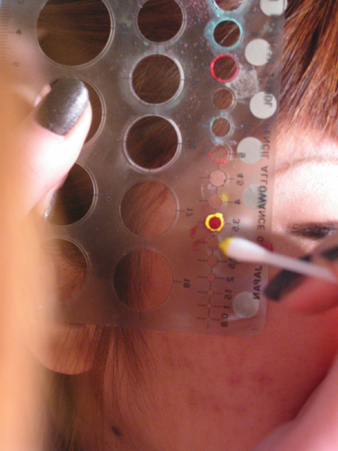 Where did you acquire your make-up skills from?
After graduating high school, I attended the Business school for make-up for 2 years. I studied the basic make-up techniques, make-up for shooting and shows, special make-ups and nail art. The school I attended gave us many chances to gain experience. We had make-ups outside the school as extracurricular lessons. They were quite instructive.
Tell me about Los Angeles. Did you learn anything from the Los Angeles trip especially from the "ICE"? What were your experiences?
"ICE" (International Cosmetology Expo) is a big beauty fair in Los Angeles and I participated in the "evening classic make-up" section. Other participants were all active make-up artists coming from the USA, Korea, and Europe irrespective of age, sex or position. I recieved the fifth prize in thirty participants, but only to attend "ICE" became an unforgettable experience. The people were all highly openminded and fancy-free, everything was so exciting to me. I thought what a difference to Japanese beauty fairs! Everyone's style was so bizarre and eccentric, thanks to all of it I got more openminded, too.
How does your near future plans look? How will you go on?
I will go on expressing myself as footloose and fancy-free as I have been doing. But still I have to be more experienced at work so that I need to refine my skill more and more! I want to continue to do rehabilitation make-up, and try out a mix of natural and soft make-up. I want to translate all the ideas which will come up during the year, one by one into action.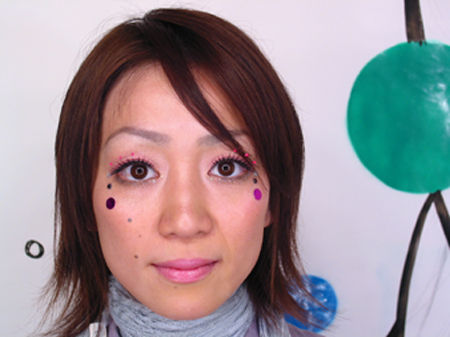 For myself who was brought up in Europe I was stunned by the extraordinary taste styling and make-up possibilities which Japanese people are familiar with through their lives or traditional events. Frankly, you may only find this style in Japan (or at a carnival). It is merged with glitter and even stickers in all sorts of colors, which were pasted tastefully onto the faces. I got to know a new kind of experimental make-up out of the ordinary.
The queue kept the guests nearby from adding new fresh color to their faces, and Miss Yokoyama gave her fancy full scope, with all her concentration without losing her smile. Even boys seemed to be enjoying [..] the unusual look. Besides, there had been a crowd of people at all times around the make-up accessory section and the nail art service section with plentiful of different kinds of design also of one's own option. Everything was available to satisfy a young and vain heart.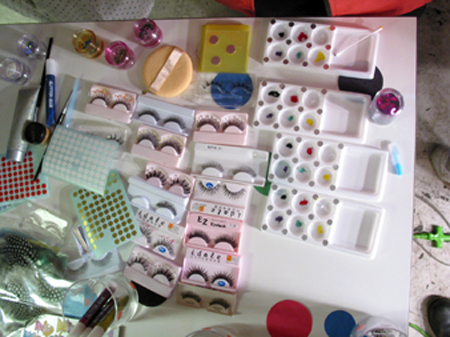 The graphic-team "Mogra" was featured presenting a live illustration performance. Painting the cafe wall with natural elements but peculiar shapes, Araya from Mogra seemed to live in close touch to nature. He told me he also likes to illustrate Manga. His artwork could be seet at Soso Cafe during the exhibition. For newcomers like Mogra, Dot Soso is always a good opportunity for local artists to present their ability to the public.
Last, but not least, artist "Tatsuya Muku" presented his self-designed T-shirts with dot design, which came hot off the press on location. This was also a good opportunity for him to introduce his own fashion brand "Nozoky" he just started.
As on every Dot Soso event, the music was presented by the "Nordform Crew". They accompanied the evening with electronic sound, a good mixture of relaxing and good mood music to make sure the good atmosphere persisted.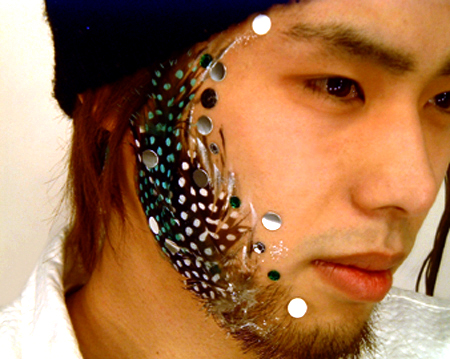 The night could be found something for almost every fancy. At the end of the night everyone went home fairly pleased, with a (nearly) new look and surely enriched with new make-up-ideas for the next party!
DOT SOSO#14 Miwa Yokoyama "Thanks Giving MakeUp"
Date: April 5th (Sat) 2003 Start 20:00
Adv.1500yen/w1Drink Day.2000yen/w1Drink
Visuals: Mogra
Makeup: Miwa Yokoyama (ThanksGiving MakeUp)
DJs and Lighting Installation: Nordform Crew (Tokyo/Sapporo)
Place: Soso Cafe
Address: 1F Sansei Bld., S1 W13 Chuo-ku, Sapporo, Japan
Tel: Soso Cafe 011-280-2240, Soulmasters Cafe 011-221-1116
http://www.shift.jp.org/soso/
Text: Michiko Ikeda
Photos: Satoru Tanno
[Help wanted]
Inviting volunteer staff / pro bono for contribution and translation. Please
e-mail
to us.