MATTHEW BARNEY EXHIBITION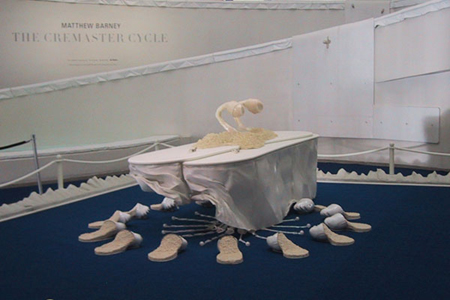 I have to admit, as someone who lives in New York, that I don't go to museums that often. Just to name art and design museums, there are a handful of them that I can think of: The Guggenheim Museum, the Metropolitan Museum of Art, the Museum of Modern Art, Cooper Hewitt Design Museum, the Whitney Museum of American Art etc. Last time I went to an art museum was several months ago when I had an out-of-town friend.
The last time I went to the Guggenheim Museum was more than 3 years ago to see a show called "The World of Nam Jun Paik." That was definitely one of the best exhibitions that I can recall. The current exhibition at the same museum, "Matthew Barney – The Cremaster Cycle," is also one of the best, I can say.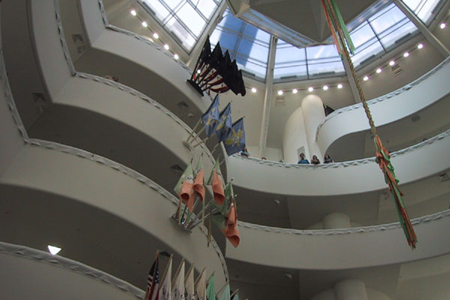 The first significant encounter that I had with Matthew Barney's work was several years ago when I saw one of his films "Cremaster 2." I had heard of him and was somewhat aware of his work through his appearances in several international shows. A friend asked me to go see this film one night and he had briefly told me "Oh, this artist gets millions of dollars to make these arty films." After watching the film, I have to admit that I didn't know what to make of it. The narrative seemed very abstract, somewhat slow-moving and not instantly obvious. The imagery, however, was vivid, surrealistic and absolutely stunning.
There are five feature-length Cremaster films, made between 1994 and 2003 (although not shot sequentially). The Cremaster Cycle is almost a universe of its own that unfolds cinematically but also through installations, photographs, sculptures, and drawings that Barney makes in conjunction with each episode. Enter the museum and the visitor is able to experience those firsthand. Part of "Cremaster 3," the film from the series that was most recently filmed, takes place at the Guggenheim Museum. The museum serves not only as a gallery space but also as a film studio, and the visitor can experience the film set as she walks through the museum.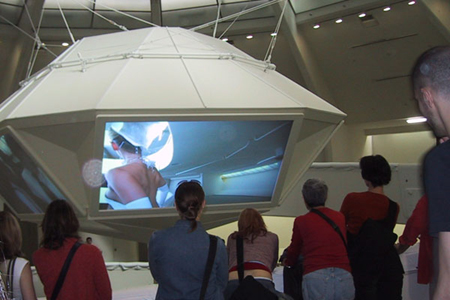 Every detail of the museum is transformed into the Cremaster universe. Bizarre yet gorgeous sculptures and imagery make up this universe that is surrealistically out of the ordinary. Even the frames of the photographs as well as the cases of the drawings are carefully crafted from similar materials that are used in the films and installations.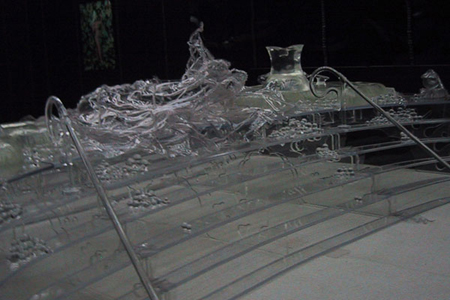 Like the last show that I saw at the Guggenheim, I was genuinely impressed by this exhibition. Most museums merely display artist's work whereas the Guggenheim let Barney, as well as Paik, turn the space into work of art itself. Frank Lloyd Wright may not have imagined the building being used this way. But if he had, that's genius on his part.

Matthew Barney – The Cremaster Cycle
Guggenheim Museum
Date: Febuary 21th 2003 – June 11th 2003
Address : 1071 Fifth Avenue at 89th Street New York, NY, USA
Tel: +1-212-423-3500
www.guggenheim.org
Text and Photos: Rei Inamoto From Interfere
[Help wanted]
Inviting volunteer staff / pro bono for contribution and translation. Please
e-mail
to us.