The second exhibition at Gas Shop will start Friday the 7th of February. The featured artist is Amsterdam-based-designer Frederique Daubal. Not only designing graphics and textiles, but also She is a talented fashion designer as well as graphic and textile designer. She has a wide range of clients; Wieden+Kennedy to Nike, Paul Smith and more. Discover her enthusiasm for the exhibition as well as her original brand "pieces".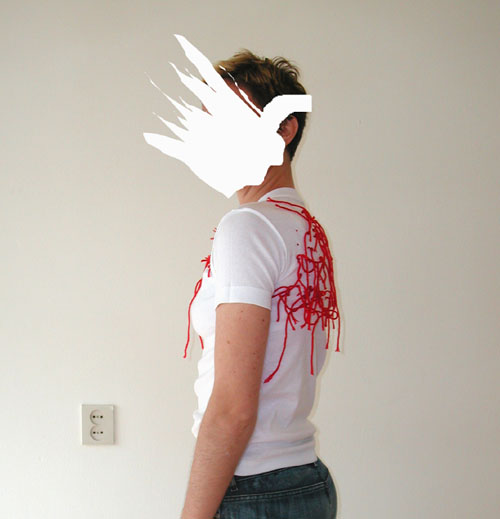 Please introduce yourself.
I'm a French girl, 1523 beauty spots. Studied literature and art in different schools then graphic design in France and in Montreal. Since then I've been working mostly as a freelance graphic or textile designer. From exactly two and half years I work on my own "pieces".
I would like to ask you about the exhibition that will be held at Gas Shop from Friday the 7th of February. What is the concept of this exhibition?
A spontaneous "rendez-vous" in Japan.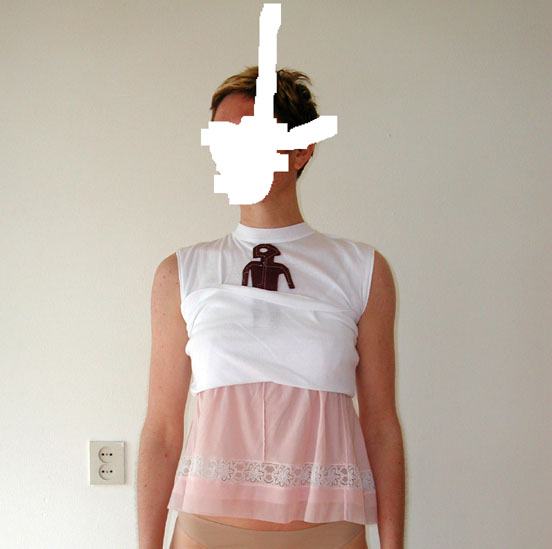 What was the reason for choosing "Eclaircie en fin de journee" as the title for this exhibition? What led you to reach this title?
It can be a weather forecast expression meaning 'clearing skies at the end of the day' . We barely notice it anymore, but it's a wonderful and positive thought that I like.
The little things happening in your everyday life, which make your day, make you vibrate; what is responsible to wake up your adrenalin even for 1/4 second… whatever it could be.
What sort of works will you show in this exhibition?
Cakes, candies, wine…. no, that will be next. This time it'll be featuring different "pieces" to wear or to touch like t-shirts, sleeves, dresses, knickers, handkerchiefs, buttons… also some more graphic work called "overprint"… And new or unique pieces. Welcome.
I heard that this is the first exhibition in Japan for you. What are your impressions of Japan? Are you excited?
Yes. The first exhibition in Japan and only the second time there. This exhibition is a great gift from GAS people, I'm really delighted with it.
Japan intrigues me. When I was there I could have walked nights and days in the streets without being satisfied It's an amazing source of stimulation looking ahead.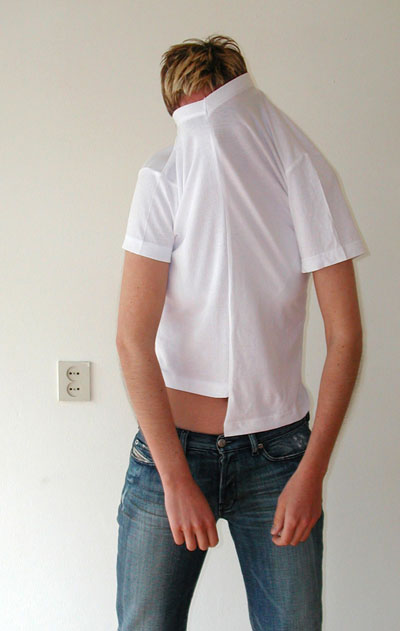 Please tell us about your own brand "pieces". What sort of activities are you doing in "pieces"?
I'm making "pieces"… a quite abstract word I like to use because my production is not stuck on one specific product and this medium can change regarding what I want to express.
My work merged different activities, I try to evolve to become more pertinent. Yes, everyday and I like it.
What are your ideas or opinions about fashion? Do you think your background of graphic design influences your fashion? If so, how?
I'm not so much interested in trends, new things fast, ready, sell, sale… but really enthusiastic and curious about the creative side of few designers, feel great to see innovative into clothes or others products, the way they dare to follow their own vision, some edges thought which are not only reflecting on the surface but also experimental in the making, the cut, especially when these ideas are twisted answers to our daily life habit.
A graphic design background brought me where I'm today. Maybe because it was not
enough to make two-dimensional things and I needed more interaction with people, then three-dimension pieces or clothes become alive when people are wearing them. [They're] not really mine anymore.Beside using words and images on fabric in my production, I think graphic design influences me sometimes in the way I work, going back and force between an idea, a sketch, making something, take a picture, downloading it in the computer, working on it, coming back to hand made things… etc.
Why did you choose Amsterdam to carry on your activities?
For the tulips! And my addiction to droopjes (liquorices).5 years ago I was only into graphic design and was attracted by the Netherlands where you find a culture of design, almost
an habit I can say, an attitude, especially in typography. A good feeling in creativity with quite easy going persons; totally different than in Paris.

Are there any events or artists that worth keeping our eyes on, in Amsterdam and The Netherlands?
The group Droog Design, Hella Jongerius, Re-Magazine, Film Festival Rotterdam. There is also really good photographers here, and an amount of art/design/fashion schools spread in all the country.
If I went to Amsterdam, where would you recommend visiting?
Take a bike. Some photo/art gallery like Huis Marseille, De Apple, Foam… Frozen Fountain (shop)…
If you arrive on 30th April It's Queen's Day, you might not believe it,that day all the country, wearing orange, is in the street for a big party, and a huge flee market. For a non local it's quite something.
What sort of projects will you take forward in the near future?
New collaborations in different fields, "wear&play" pieces on their way, fixing my bike, and certainly my curiosity by moving to another country…
"Eclairie en fin de journee"
A New Exhibition by Frederique Daubal
Date: February 7th – March 2nd 2003
Place : Gas Shop Gallery
Address: P-28-14 Aobadai, Meguro-ku, Tokyo
Tel: 03-5721-0233
Frederique Daubal
Address : Haarlemmerstraat 54, 1013 ES Amsterdam The Netherland
Tel : 0031 (0)6 18 05 02 53
frederique@daubal.com
www.daubal.com
Text: Sachiko Kurashina
[Help wanted]
Inviting volunteer staff / pro bono for contribution and translation. Please
e-mail
to us.