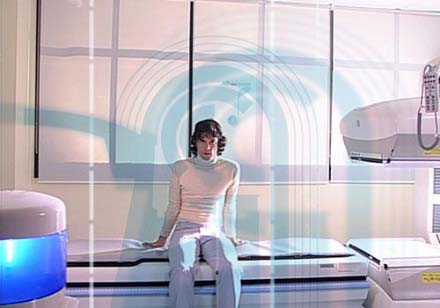 Antonio Birabent seems to have returned from a long trip through curvy and nocturne fields. Now he has finally found the light he so much needed. He defines himself as a singer who sings clear and crystal songs. With a certain tango melancholy, he moves back and forth wearing a safe look in his face, taking control of it all.
He wants to meet me in a traditional coffee house of Recoleta, one of the most glamorous neighbourhoods of Buenos Aires, which was built around the most glamorous cemetery. After getting a bit lost I entered La Biela ten minutes early. I'm not at all surprised by the living creatures that surround me, they are probably judges or lawyers, everyone very well dressed and lucubrating plans for the rest of us mortals, for sure. I wonder what I am doing there and I guess he won't show up at all. I choose a table on the corner, close to the window with a view to a very green park. If he sits in front of me he'll have a quiet place to lay his eyes upon. It's good to know he won't have to look at me all the time. Just when I forget him, he enters the bar, dressed in a pair of green pants and a black leather jacket. He looks taller, I think. I say a brief "hi" and wave my hand at him, he recognizes me and comes closer, sitting in the vacant chair in front of me. Suddenly he finds out the view, and he'll be looking at the world through that window during the next hour. Fortunately. He asks for coffee with a lot of milk. After taking the first sip, he's ready to talk about his last album, "Cardinal", the seventh in his career. "Cardinal is versatile", he tells me, "there's no stylism nor a unique idea about music. A lot of instruments cohabit in it. The classic ones and the modern technology. French corn, japanese sampler, funny little noises", he says with a smile on the right side of his mouth. "In my previous albums I was more like a storyteller. In this one, I just sing. It's more transparent, much closer to the light".
Why the name "Cardinal"
I like words, I just liked that one. It's a synonym to essential. In one of my songs I propose to go down to a woman's cardinal point, the most fragile and also the strongest, her most certain and authentic intimacy. Cardinal also represents a compass that guides you away from mediocrity, it's the possibility of something more human and worthy in a painful and unfair world. I learned from the dictionary that cardinal virtues inherited by Christian world from Greek culture are justice, restraint, strength and prudence. They conquered me.
How do you explain the recurrence of the trip as a theme in your songs?
Actually, I didn't travel a lot. I lived in Madrid for a long time, from 7 to 18 years old. Now I want to remain in one place, I got tired of not being in my own place. At this moment my trips are only because of work. Trip is a search. To compose a song is already a search, all the time we're searching for something. At this corner, while talking to you, I'm looking for something yet unknown. My search is contradictory, it is at times very concrete and other times, it is more subtle and profound, it's about being happy and clear.
Are they synonyms?
Clarity is a sincere and real vision of things. Seeing the calm sea and the fishes who swim in it is very helpful. In this ever changing world, where we stand close to a supposed truth, it's good to rely on a place where truth is essential. Although the song is a space of fantasy itself, in my case it is also a tale of truth.
Do your songs reflect your own life?
I don't write for anyone in particular. Like I say in the song "Living in your pulse", I'd like to live in somebody's pulse, but I still don't know in whose. However, my song is the place where my true self lies. Even if I wanted to lie, I couldn't. it's nice to know I can count on my songs to tell some truth. That kind of clarity is what resembles happiness.
There's a lot of recurrence in your songs…
Yes, there's a lit and roofless labyrinth, from where you can see the sky. There are lots of questions from a luminous pleasurable place.
Are you optimist?
Yes, I try to capture the most healthy situations. Not only I get hit by pain and poverty as a social expression of our times, but it also hurts to find out individual human cruelty. I can't understand evil, I'm not capable of it. I try to promote the most human places. While he takes his jacket off, the orange glow of his t-shirt dazzles everywhere and his melancholic eyes replay the colour of the window. The landscape seems to get through him, but suddenly he returns and talks about his projects and wishes. The enthusiasm grows big inside this being far away from the meaning of the evil world.
How do you explain the dichotomy between your romantic side (the composer) and your concrete side (the manager)?
I'm versatile, I change all the time. I dream a lot but I'm also very down to earth. I have both sides all the time, they trade places. Songs are a great escape from reality.
Which are your projects from now on?
First, I want to promote my album in the country and abroad. I'd like to edit the book of girls pictures. I took photographs of 33 different girls portrayed in their own atmosphere, close to their own point of view. Some of them are portrayed in places I thought were close to their style. I also included some of my short stories. The book's title is "I took off with her", like one of the songs.
Birabent talks proudly about his girls. Comfortably sat back in his chair, he's found a cozy position he mantains during the whole conversation. Now life not only lives in the outside world. The boy in almond-shaped eyes gets passionate when he talks about his music, his motivations, his safe place. He lets himself be and now he needn't explain how clear he is. He simply is. He' s also many more things, and the deepest labyrinth lives between his hands and in each one of his poems. Almost no one has access to that place, and those who do, have a limited time.
"Where are you? Are you already in this world? What's your name? Am I your man?", he wonders on stage, staring at the public with a fixed look, maybe in search for someone who'll redeem him from the world. A big boy lookin for a hand. His songs are looking for him.
Do you think previously what you say in your shows?
No, and that's a major risk. Many singers plan everything before they speak in a show. But I'm not a politician nor a speaker, I'm not used to talking in front of 600 persons. I'm too shy for that. I do it because people need something from the artist, they need to know if he'll say the same things he writes down in his songs. It's weird, but in the end they don't believe him until he actually talks live.
How do you make your facets of actor and singer compatible?
I like acting, I have fun doing it. When you act you compose a character, just like you have to compose a song. In English t's very clear, because we use the same verb "play" for a song and a theatre piece. And it also refers to the recreational component. The difference between acting and making music is that music depends only on me and I have it everywhere. Even if I'm alone in the world, I could always make music. In regards to acting, I like quality movies or TV series. Nowadays, TV isn't very good, I've been offered many things which I rejected. I'm interested on a worthy product. If not, I'd rather not do it.
Where and when do you write your songs?
I always carry a pen in my pocket, I write everywhere. In Buenos Aires I don't write much. I write when I'm far from home and family. I have the urge to write when I'm totally alone. I use to spend a lot of time without doing it, and suddenly it overflows and everything I've been carrying in me jumps to the outside. That's what happened with "Cardinal"; even as I was writing it it was shaped like a record.
Antonio folds carefully the napkin in which he's been drawing scribbles during the last hour, and while putting it in his pocket, he gets up and asks me to join him. His suggestion seems natural to me and we leave the bar together. The bar has already changed. There are no lawyers or judges or Recoleta people anymore. Now the bar is friendly because AB conquered me to his lines. A few steps from there we hear the waiter's call, with my handbag in his hand. I've left it in the chair, obviously. AB goes back, holds it, gives it to me, I look at him and say "I don't care for material stuff". He smiles weakly, I sigh, we keep going. And the conversation continues while we cross streets, then he warns me about a taxi that almost hits me, people watch us, we enter the Bank, I wait for him in the row, he changes some money, he has a life. We go to his place and he gives me the album while I wait for him at the front door. I try to escape from reality and listen to a song in my walkman, but he arrives soon and he approaches me, we say goodbye and he waves at me, tasting my name in his mouth. I walk away wondering about the slightest possibility of having took off with him. At least this time.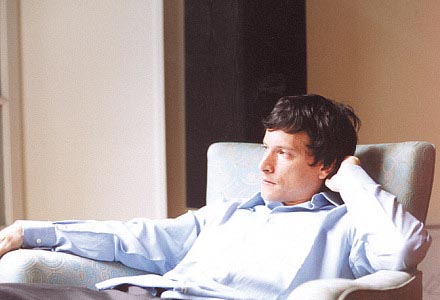 Although when he was little music ran through his veins, AB did also some acting. Some of his works were films "Tango Feroz" ("Rough Tango"), "Pequenos Milagros" ("Little Miracles"), "El Impostor" ("The Fake") and "Lisboa", and the TV series "Verdad/Consecuencia" ("Truth or Dare") and "Un Mundo de Sensaciones" ("A world of Sensations"). Between 1993 and 1996 he edited two records: "Todo este tiempo" ("All this time") y "Morir y Matar" ("To Die and to Kill"). Then he got through independent period during which he settled in Madrid. There he edited "Azar" ("Chance"), "Ep" (unpublished in Argentina), "Anatomia" ("Anatomy") and "Anatomix".
When we get closer to AB, we can find in him a recurring identification with the oriental culture. It shows off in his songs "Aishteru", "Eight chinese girls" and "Oriental Princess", for instance. It flows also inside his almond-shaped eyes and his calm philosophy. AB dreams with a trip towards a japanese beach where nothing else matters.
In "Oriental Princess" we perceive a certain tranquillity where one could easily rest. Nothing urges him too much in this eternal dream. Maybe the last sentence resumes the leit-motiv of his way through music and life. "It' s so hard to be standard", he says between resignation and moan. We keep listening him even long after he quits singing.
"Aishteru" ("I love you") is a song which Birabent composed after his girlfriend went to Japan and told him stories from her trip. He found in that japanese word the feeling he identifies with. It reflects the nostalgia of love that remains just a short time before fading away. That word itself carries the germ of her own disappearance, and returns like pure memory.
In video clip of song "Today", Birabent is white. Everything around him is white too: the hospital, the surgical instruments, the lighting, even the song itself. From the singer's point of view, the first idea they had in mind was the story of a couple that enters a high tech clinic to get a cure for lack of affection. However, he came to the conclusion that it'd be very pretentious to tell such a story in a three minute video clip. "that would be more like a David Lynch movie. I'm happy with the results of the clip. The story remains open, but it's ok, he says truly relieved. "I find in video clips a relaxed place, where I'm not totally responsible for what happens. I'm not the captain of the ship anymore".
Text: Gisella Natalia Lifchitz
[Help wanted]
Inviting volunteer staff / pro bono for contribution and translation. Please
e-mail
to us.