SUGGESTIVE LINE FROM SWARM III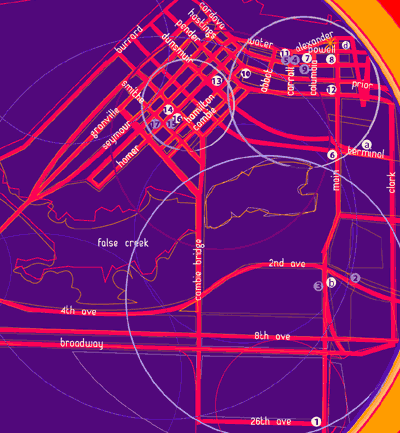 I feel like cooking up something new at the beginning of a new season. Fall especially inspires various senses. The sensitive spirits created a big swarm in early September and made one night of Vancouver's art culture sensational.
"SWARM" is an annual event sponsored by the nonprofit association of Artist Run Centers in Vancouver and the third SWARM occurred this fall. There were about 20 galleries having opening receptions and one night of visual arts created a festive mood with not only art students, but also the general public.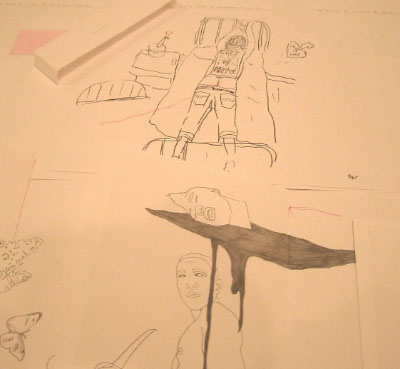 Asianpunkboy "APB01 : The Empty City, July 2002. Special drawing for the Belkin Satellite"
We were "swarming" around Mount Pleasant, downtown, and Gastown to explore something inspiring and exciting in Vancouver's art scene. Among the galleries, Belkin Satellite Gallery stood out from the rest. The exhibition entitled "Suggestive Line" was about Figurative Drawing by 18 artists selected by the curator Lee Plested and Scott Watson. Each drawing was represented in unique and various ways.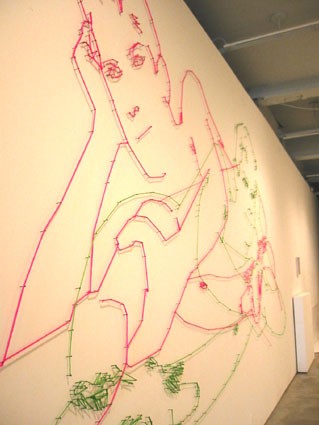 Miguel da Conceicao : "Tommy Tommy" 2002
From Vancouver those local contemporary artists such as Miguel da Conceicao, Ignacio Corral, Jason Fitspatrick, Geoffrey Farmer and Brian Jungen, Michael Gualey, the Humanfive collective, Attila Richard Lukacs, Myfanwy MacLeod, Natasha McHardy, Judy Radul, and also Asianpunkboy from New York, Jill Henderson and Tracy Nakayama from Brooklyn, Shary Boyle playing an active role in Toronto and Los Angels, Luanne Martineau from Canada, represented themselves both in an abstract way and a realistic way, in a free and sophisticated attitude.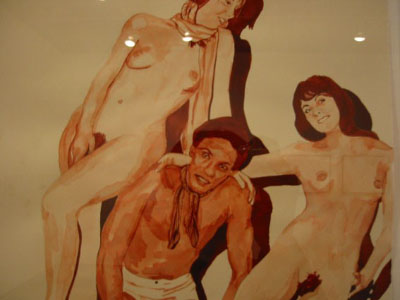 Tracy Nakayama : Dance Lesson with Jerome, 2000
The whole show had awareness or consciousness of Gay culture rather than a traditional drawing technique. That is, it was about sensory human beings themselves. As a drawing connected line-by-line and dot-by-dot, a relationship between people is made up with an ordered comfortable flow. Eighteen different confident works of art represent humanity to the full.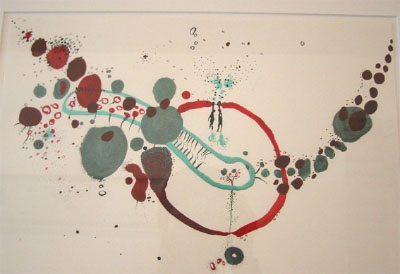 Natasha McHardy : "Ennui Swamp Drawing" 2002
The goals of SWARM are to promote Vancouver's Artist Run Culture and catch on the general public. It is an event only a cross-cultural city like Vancouver is capable of. And "Suggestive Line" at Belkin Satellite was surely the exhibition that reflected Vancouver's culture.
Being the city where public galleries are concentrated the most in North America, and Vancouver focuses on support for emerging artists and development in the contemporary art scene. Because Artist Run galleries are nonprofit, artists cannot sell their artwork, but once a year, galleries offer the works for sale in support of continued programming. In any case, it is an ideal space for artists to express their creativity.
Why not starts an international activity from an Artist Run Gallery in Vancouver?
Suggestive Line
Date : 6th – 29th September 2002
Curator : Lee Plested and Scott Watson
Place : Belkin Satellite Gallery
Address : 555 Hamilton Street, Vancouver, BC V6B 2R1, CANADA
www.belkin-gallery.ubc.ca
Text and Photos: Aya Takada from SML-(6j6)
[Help wanted]
Inviting volunteer staff / pro bono for contribution and translation. Please
e-mail
to us.