"Game Over City – La ville en jeux" brings together six artists who use video games in order to develop architecture concerns, and to question urban life. Tobias Bernstrup, Palle Torsson, Felix Stephan Huber, Virginie Barre, Stephane Sautour and Pierre Giner reveal the stigmata of a new way of perceiving the world, by experimenting the complexity of space occupation inside the virtual worlds, and our relation with reality. The exhibition was held during two months in Reims, the traditional town of the Champagne wine. Perhaps it contribute to give such a distorted look on architecture.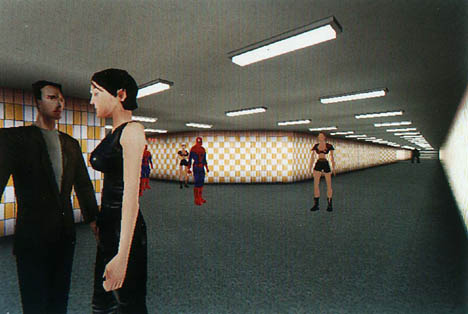 The French artist Pierre Giner proposes a stroll in an imaginary road movie. With a certain tension, the video mixes virtual and real sequences of car driving and accidents, acconpanied of a kind of sentimental story, so we can't know what part of the danger is virtual. According to the artist this project is intented to evolve into an interactive story. A second installation seemed more narrative than linked to videogames world. Virginie Barreand and Stephane Sautour's short animated film, "Rouge Total" slowly reveals images that are at once violent, dreamlike and mysterious. The German artist Felix Stephan Huber places the set of his shoot game in the heart of Alexander Platz, the former central square in East Berlin. The 3D world wich is a carricature of reality allows the player to meet virtual charcters and make them speak about their vision of reality. In the multiplayer version, combatants confront each other in this interstitial place, symbol of a dethroned utopia.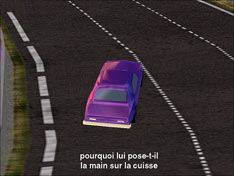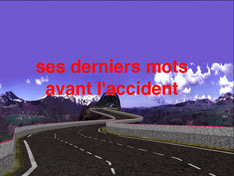 Both sides : Keep the distance by Pierre Giner. Subtitles translation : "why does he put his hand on her leg?", "his last words before the accident."
The swedish artist and performer Tobias Bernstrup was presenting his fake real place in a video-projected game, based on an Unreal edit. The public is invited to wander about in the superficialy reconstituted urbanity of Postdamer Platz in Berlin. The player goes for a mysterious night walk, with almost no one outside, except a girl running in the dark cold streets and another man praying. The principal attraction in this empty town is two teleportations stations that bring you on the top of the highest buidings, for a suicide-jump offering the most impressive view on the town. Bernstrup has an ironical look on this city, and offers an illustration of the notion of "generic town", as described by the architect Rem Koolhas. This game is inspired from the idea being conveyed by rebuilt Berlin, made of buildings constructed by international architects, but all very similars on their sidings.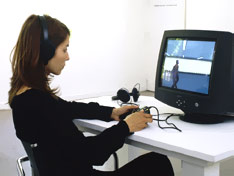 Left: Sam by Palle Torson, Right: Reality check one by Felix Stephan Huber. (Right Photo by Andre Morin)
As in Palle Torson's work "Sam", a violent game with a 5 year years old heroine (also shown at the Palais de Tokyo in Paris), these artworks are not simply interactives installations, but tend to be really immersive. The full size viewings apears to be the best option to make us focus on human reality in relation with an architectural environment language. This exhibition confirms the emergence of video game works in the elitist world of contemporary art, arriving in a serie of interresting experiments arround this theme in Europe, such as the Art Bienale of Lyon (France) and the Game On Exhibition wich is still held in London. Moreover, note that Laurence Dreyfus, the curator of Game Over City is preparing an exhibition about Tobias Bernstrup called "Nekropolis", that should take place from september 23 at the Palais de Tokyo.
Game Over City – La ville en jeux
Date : 17th May to 28th July, 2002
Place : FRAC (Fond regional d'art Contemporain)
Address : 1, Place Museux, 51100 Reims, France
Tel : +33 (0) 3 26 05 78 32
Text: Jeremie Cortial
[Help wanted]
Inviting volunteer staff / pro bono for contribution and translation. Please
e-mail
to us.