Having visited the Giant Robot Store in Los Angeles a couple of times during the past year, I thought it was about time to write something about this well curated design store and make a travel issue this month.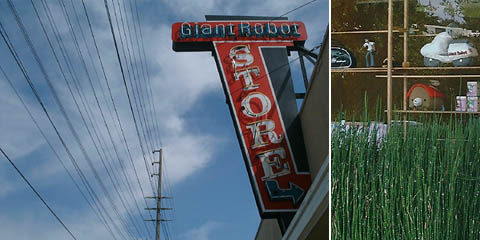 Located on Sawtelle Blvd. in west LA, this place is a "must-visit" everytime being in sunny California. On a Friday afternoon I met up with Eric, the founder of Giant Robot Magazine to ask him some questions how the whole thing got to that point. Being from the area around LA, Eric started started out as a student at UCLA where he took east Asian studies as his major. After graduating eight years ago he first worked for a game magazine published by Larry Flint (yes, the Hustler guy!), but soon put out the first issue of Giant Robot. Being interested in magazines / writing / editorial work / drawing and photography for quite some time, he felt the urge to be able to publish themes he was interested in at any time that he wanted. Doing everything on his own at first, the starting issue which is still available at the store was just a number of photocopied black and white papers in which he dealed with themes that he felt were worth publishing at that time.

Now, eight years later at issue 25, publishing four issues per year and about 90 pages thick, Giant Robot has grown to a full color magazine with a circulation of 40.000 and is sold all over the US and Asia. Being that large Eric though still sees what he does more as a fun way of living and more as a friendship thing. Although also the staff working for GR has grown by now to seven fulltime employees including graphic designers, editors and advertising people, he still picks the topics for each issue together with the co-editor. The topics that come out of that always cover a broad range from music, design, lifestyle, products and the east coast art scene which has a pretty strong focus in the issues. As he told me, the GR Magazine is not about being stuck to one main theme for each issue, but more about just writing on things that seem interesting to him and his friends.
By having a lot of fans of the magazine more and more people wanted to come and give the guys of GR a visit at their office and wanted to see something related to the magazine. This and the fact that products in rather small numbers were already sold via their website, contributed to the idea to open up an own store.

About more than a year ago when a nice space was available close to their office, the idea became reality. Today the store sells quite a variety of well chosen products, shirts and books in a design context from all over the world. By having such a large variety of products ranging from AfroKen and Groovisions dolls over Geoff McFedrigde Shirts to Yoshitomo Nara Skateboards, it costs a lot of time, as he told me, looking around for new products and trying to get a hold of them. Sometimes people even send stuff in asking them if there is a possibility to sell it at the store such as the handmade plush Giant Robot robots with their turntable that were made and send in by Georgette Urfano aka. Geek Industries. Soon she stitched another plush robot-vespa and now her sewings are a quite an eye candy when visiting.

By spending so much time on trying to find new and cool products for the assortment, there is always something new to get when coming in. Besides this variety the friendly atmosphere is another thing that makes this store so unique and special. Even if you are just coming in to look around you can always start a little design chit-chat with one of the people working there and hear interesting news about things that you probably did not know too much about before. Although there is not a big masterplan how to conquer the world or such, the plans for the future are to keep going and make the magazine as well as the store better with each day although i could not imagine what there can be done better yet.. So, if you should be in Los Angeles sometimes, you should definitely check out the Giant Robot Store, it is worth more than a visit.
Giant Robot Store
Address: 2015 Sawtelle Blvd., Los Angeles, CA 90064
Tel: +1 310 478 1819
info@giantrobot.com
http://www.giantrobot.com
Text: Daniel Goddemeyer
Photos: Daniel Goddemeyer

[Help wanted]
Inviting volunteer staff / pro bono for contribution and translation. Please
e-mail
to us.