IDN FRESH CONFERENCE 2002
IdN celebrated its tenth anniversary with a bang during the third Fresh Conference in Singapore. The two-day conference brought together designers from across the globe. Almost three thousand delegates from over thirty different countries attended the conference to hear and see acclaimed designers from separate ends of the world showcase their work, share their personal interests, philosophies and influences. Bringing people together for a common passion.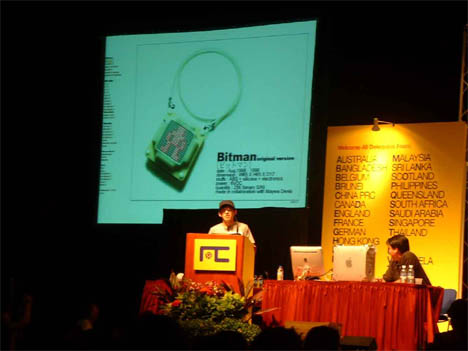 No man is an island, and the world is a changed place since the collapse of the Twin Towers. This was evident from the constant mentioning of the event in question throughout the two-day event. The fragility of life is amplified, making one question and probe deeper into the purpose of design and the effect it has on peoples' lives.
The first speaker at the conference, Stefan Sagmeister, whose hometown is New York, displayed this concern by filling people's minds with equations. "Good intention + bad design = good design?" Listeners reflected in the darkness with sums to calculate, trying to come to grips with the resultant of good and bad design.

On a lighter note, comic duo Shinichiro Kitai and Yoshizo Yoshimura from Devil Robots introduced their creations reading off "scripts" in English. Characters from the Tofu family were present too, accompanying their creators on stage. Humorous and dynamic, viewers were treated to an array of characters, watching them in action through their movies.
While some philosophized, and some showcased their work, common treads surfaced throughout the conference. Namely the concept of interaction and possibilities brought about by modern technology.

The concept of interaction was constantly redefined. Different designers like Joel Baumann from Tomoto Interactive, Yugo Nakamura and Ryota Kuwakubo showcased their work which dealt with interactivity but in a new light, going beyond the interaction of the user in front of a screen navigating by means of a mouse. In particular Ryota Kuwakubo displayed his range of interactive creations. Reacting to sound, movement, his creations include toys like the bitman and Heaven Seed, which give responses according to different actions. Showing how a basic principle could be translated into other projects such as art installations placed on display in art museums.
Credit was constantly given to modern technology, namely the Internet and e-mail. Echoed by numerous designers, modern technology has changed the medium, the way people communicate and prior impossible connections made possible.
Read more ...

1
2
[Help wanted]
Inviting volunteer staff / pro bono for contribution and translation. Please
e-mail
to us.