THE 3RD BUENOS AIRES FASHION WEEK
The third edition of Buenos Aires Fashion Week (BAF week), from 22nd to 25th April, in the capital city of Argentina glittered with a light of its own and real inner poise.
The local fashion fair, which took place at the traditional building of the Rural Society, showed a variety of colorful racks enlightened by young and alternative designer clothes. All of the assistants – visitors, buyers and designers- shared the same code of cool and trendy fashion.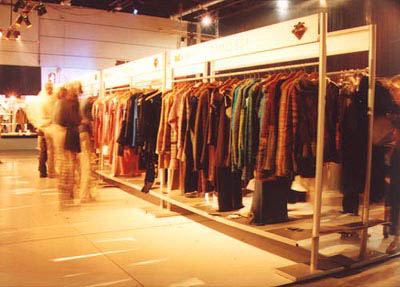 The welcome was attractive: TV screens recreating the fashion shows scenery; and the general conclusion of the assistants and organisers turned out to be promising.
This enterprise was born in January 2001 and it is supported by Pampa Group, a partnership of two young entrepreneurs, which guarantees the participation of 45 designers. The objective of the event is to become a "catwalk to the world", introducing new Argentinian trends for next winter season, through showrooms meant to generate more closeness between the public and the clothes. Pilar Calegari is one of the Pampa Group directors, affirms that "BAFweek works to positionate Buenos Aires as one of the major design centres of the world".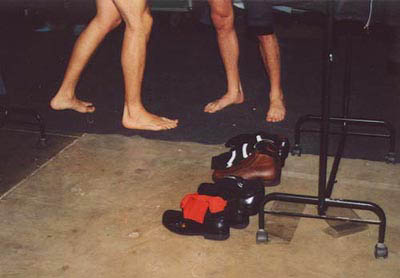 Backstage of Estebecorena Brothers
From designer Javier Estebecorena, from Estebecorena Brothers, perspective "BAF project is growing with us. We have developed a very fluent relationship with Pampa Group because they listen to those who participate and they try to integrate ideas".
The brothers, whose men clothes brand simply carries HE initials, were first interested in design as children, "creating objects, doing some carpentry and paper arts and crafts. Our biggest occupation was searching for new stuff and watching everything". After that, they both worked at their father's metallurgical enterprise, until they created their own graphic and industrial design study, at the back of their parents house.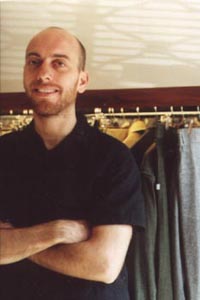 Javier Estebecorena
Javier, who studied Indumentary and Textile Design at the University of Buenos Aires and nowadays teaches "Expressive Media", says that "we have a different concept from what is usually made. We don't make a collection, but develop each garment independently, and it evolves or extinguishes based on people tastes. Our interest resides in anthropometrical, the shape of the human body".
The brothers proposal points to the international market, since "the clothes we make are for the inhabitants of big cities. We are permanently working with both warm and cold garments, for the two hemispheres".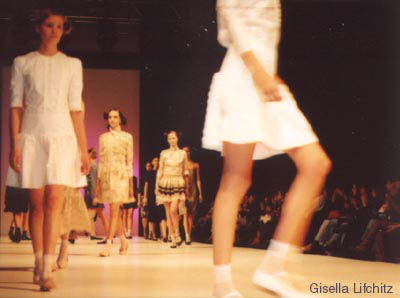 In this edition of BAF, the offer was varied. The diversity of styles gave birth to an original syncretism of textures, materials and endless combinations, transforming the scene into an eclectic landscape. Many of the designers took a strong bet and some of them immersed in wild temerity while defining their proposals not only through clothes but especially through their discourse.
Therefore, we could find at the catwalk some inexpressive porcelain dolls, depersonalized and close-fitted into dark suits, hackneyed heroes with a severe gesture, Alices in no Wonderland and gothic meticulousness embroidered in macrame.
However, we also noticed a brief rapture of hope through the insistent display of colours, which recreated a languid mixture between hippie litany and old time romantic moods. There were plenty of lunatics with no course or destination, wandering around the catwalk like Victor Hugo's miserables. Those itinerant travelers looked like Kafkian characters irremediably lost in the voracity of time.
Read more ...

1
2
[Help wanted]
Inviting volunteer staff / pro bono for contribution and translation. Please
e-mail
to us.