A Londoner illustrator Pete Fowler made a cover design with Simon Pike for this issue. Pete has been creating unique characters, which make even adults want to collect them, in his original worlds called "Monsterism" and "Fowlerism."
As he has provided his designs to Japanese clothing brand "Satan Arbeit," he has been participating in many projects in Japan. I have a good hunch that we will have many chances to come in touch with his tastes.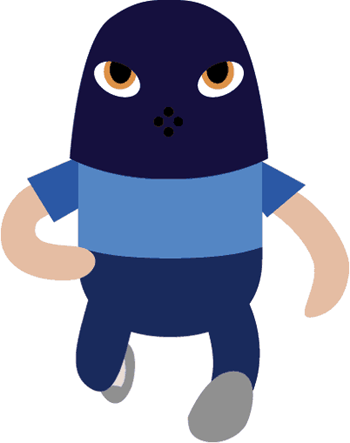 Please introduce yourself.
Pete Fowler: My name is Pete Fowler and I work as a freelance illustrator, artist and monster maker. I work mostly in the UK and Japan for my company Pete Fowler Ltd. and clients ranging from Sony Creative Products to the Super Furry Animals. I too am from a Fine Art background originally and worked on several projects, including a self published comic 'Slouch' before moving to London where I now work and live.
Simon Pike: My name is Simon Pike and I run BroadSnout a design and production company I founded two years ago, we now do everything from web design to television animation. I am originally from a fine art background (I meet Pete at Art School in 1989) and prior to forming BroadSnout I made and exhibited artworks, which were predominantly made in glass.
First of all, we would like to know about the cover design for this issue. What did you image when you were creating this design? Please pick up the points that you find it difficult as well as your favourite points of it.
P: Both myself and Simon wanted to create something simple, playful and interactive so we decided on concentrating on one character and the movements it makes. The character itself is based on an earlier being called 'happy executioner' and is the version of him as a child -'baby executioner' ! I wanted a character that was both cute and evil that the viewer can play with. I think the difficulties came with the simplicity of the idea and the code challenges that Simon had to solve.
We have heard that this cover design is a collaboration work with Simon Pike, who have created Pete's fowlerism.net and monsterism.net. We would like to know about Simon and what sort of process did you two take when you were creating this cover design?
S: As you mention Pete and I have collaborated on a number of projects, stretching right back to art school, where we collaborated on a piece for our final shows. I approached Pete with the idea of making fowlerism for a final project for my MA, it was pretty much the first project I'd done in Flash and things grew on the success of that. We have a very good working relationship and ideas evolve throughout the creative process. On this occasion Pete had the idea of simply using one character on a plain white background, from there it seemed obvious to introduce an interactive element, to control him in someway. We wanted, however to keep this control random and a bit nonsensical, there are surreal elements in Pete's characters, which are complemented by this kind of animation. All the movement is created using script within flash to keep the design as light, in terms of file size, as possible.
P: We both know each others work very well so collaborating together is something we feel comfortable with and the projects often grow organically once the work is flowing back and forth between us during the creative process.
Often the ideas will start as rough sketches or storyboards, from there I take the images into illustrator ready for delivery to Simon. Once the artwork is imported into flash myself and Simon discuss throughout the process how the piece will evolve and what ideas can be added.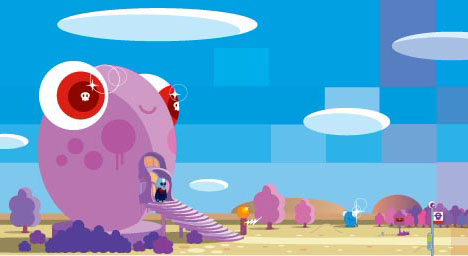 What kind of works and projects has Simon been doing?
S: BroadSnout has been working on a variety of projects recently. We created two films for the Super Furry Animals DVD 'Rings Around the World': Receptacle for the Respectable with Pete and also Sidewalk Surfer Girl. We have been involved in numerous web projects varying from working with the Future Sound of London to developing an on line game of Scrabble for Flextech Television. Also we do a lot of corporate work, presentations and interface design.
Your monsters have got the human touch and they are easily accepted not only by children but also by adults who love character goods. What do you think about this point?
P: I'm happy to hear that my work can be both appreciated by adults and children as I feel that I don't have a particular audience, I've had great feedback about my monsters from young kids to old people. It's my dream to reach a wide range of people with my work, so I try to add a human element and personality to the monsters so there is something about my characters that people could relate to.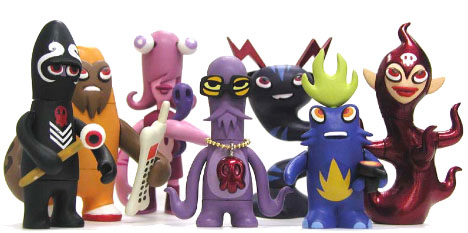 Please tell us about the toy project "Monsterism" from Cube.
P: The project came about after a meeting with Sony Creative Products staff at an exhibition preview party of my 3D work in Speak For Gallery Tokyo. The first release from this project was the World of Monsterism figures vol.1 that comprised of seven characters in two different colourways. The idea behind the figures is that each one can be dis-assembled and re assembled using other monster's parts to create your own character with lots of possible combinations.
Each monster has an information card that explains a little about their personality and background and in some cases what music they like!
At the moment we have released Vol.1.5 in Japan and in the UK too, with Vol.2 due for release in the summer. Also due for release over the coming months are larger soft vinyl figures that will accompany and populate the world of Monsterism .I see this project as a way of bringing my world to life and forming the core of my creative imagination as other projects I'm working on (comic strip) will revolve around similar ideas and characters.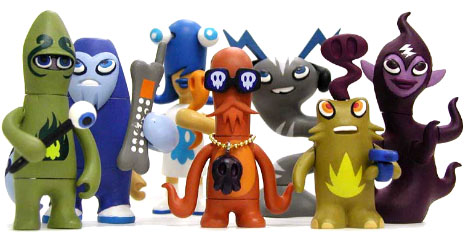 We can find lively monsters at your site Fowlerism as well. At this site, users are able to create their own original monsters like the toy project "Monsterism". Could you please tell us about this site? This site is also a collaboration work with Simon, isn't it? Please tell us Monsterism siteas well.
P: Both myself and Simon are interested in the interactive side of the web and animation so the make a monster on fowlerism.net is something we saw as a starting point for our concept. The site was both myself and Simon first flash project so we wanted to make something different from other sites on the web and retain the feeling of my work in an animated format. We received a lot of interest for this site so we decided to create monsterism.net to take its place over time. It's a site that will feature many aspects of my artwork, toys and collaborative work with Simon and also an online shop for the goods and products that I create and design.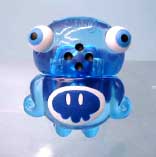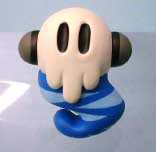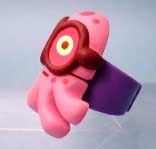 You have been expanding your field in Japan, such as participating in Art Capsule Toy Project, haven't you? You have also recently launched a fashion brand, called "Satan Arbeit". Please tell us know about this brand.
P: Satan Arbeit are a clothing brand from Osaka I have worked with for the last few years and have recently opened up branches in Tokyo, Sendai and Sapporo.
I mainly design the prints, logos, textile patterns, promotional items, illustrations and store painting amongst projects they do. They also organise events in Osaka that feature live bands, DJ's and live painting from international artists and often have up to 2,000 people attending. I've recently collaborated with Shigeru Mizuki on 3 tee shirt designs that will be released through the brand.
P: The time capsule project was again arranged by SCP and was an interesting project for me as I my works were exhibited alongside James Jarvis, Jim Woodring and Groovisions to name a few. I love gacha gacha as a way of getting goods and seeing my work in a vending machine was great!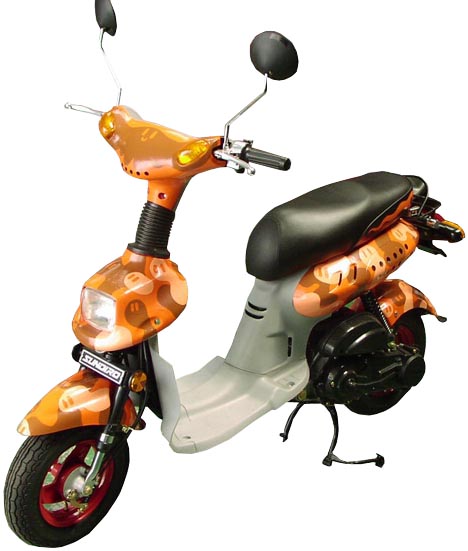 You painted motor scooters that were for Christmas presents from Satan Arbeit. Do any differences come up when you are designing if an object is different (i.e. to a motor scooter, a paper or a cloth)? Or is your feeling always same even the subject is different, because designing is the common point?
P: I try to approach each different project I do with the same enthusiasm and energy and I see each object as a new 'canvas' for me. I love to paint such things as the scooter as they bring new challenges to my work and keep me interested though I would be just as happy working with pencil on paper too.
What do you think about Japan? Are you enjoying working with Japanese clients?
P: Japan is a country that I have found interesting for sometime after finding out about the rich creative culture for myself. I love the clash between new and old and enjoy the mixture when used creatively. Even food in Japan is inspiring for me, the way it looks and where it comes from, whether from a conbini or Ginza sushiya! There is something enjoyable about working with Japanese clients that does not exist here as the graphic image has a long history in Japan and people seem very comfortable and eager to enjoy the medium. And of course creating toys in Japan is unique for me, as these projects would be difficult to execute in the UK. Japanese clients always bring something different and interesting to their project with me so it's something I hope I can continue doing.
Please tell us your current projects and the future plan. Have you got any plans of collaboration of Pete and Simon?
S: Pete and I have plans for developing monsterism over time into a major web presence, with games and monthly features. Apart from that I'm sure there will also be many other occasions on which we will collaborate.
Please leave a message for Shift readers.
P: If you create, be yourself.
Pete Fowler
Address: 8-10 Rhoda Street, London E2, UK
fowler.p@virgin.net
http://www.monsterism.net
Simon Pike
Address: Lana House, Studio 101, 118 Commercial Street, London E1 6NF, UK
simon@broadsnout.com
http://www.broadsnout.com
Text: Sachiko Kurashina
[Help wanted]
Inviting volunteer staff / pro bono for contribution and translation. Please
e-mail
to us.