A Londoner illustrator Pete Fowler made a cover design with Simon Pike for this issue. Pete has been creating unique characters, which make even adults want to collect them, in his original worlds called "Monsterism" and "Fowlerism."
As he has provided his designs to Japanese clothing brand "Satan Arbeit," he has been participating in many projects in Japan. I have a good hunch that we will have many chances to come in touch with his tastes.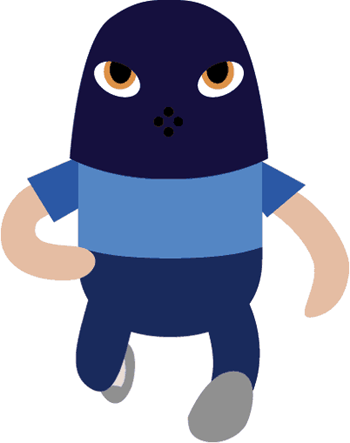 Please introduce yourself.
Pete Fowler: My name is Pete Fowler and I work as a freelance illustrator, artist and monster maker. I work mostly in the UK and Japan for my company Pete Fowler Ltd. and clients ranging from Sony Creative Products to the Super Furry Animals. I too am from a Fine Art background originally and worked on several projects, including a self published comic 'Slouch' before moving to London where I now work and live.
Simon Pike: My name is Simon Pike and I run BroadSnout a design and production company I founded two years ago, we now do everything from web design to television animation. I am originally from a fine art background (I meet Pete at Art School in 1989) and prior to forming BroadSnout I made and exhibited artworks, which were predominantly made in glass.
First of all, we would like to know about the cover design for this issue. What did you image when you were creating this design? Please pick up the points that you find it difficult as well as your favourite points of it.
P: Both myself and Simon wanted to create something simple, playful and interactive so we decided on concentrating on one character and the movements it makes. The character itself is based on an earlier being called 'happy executioner' and is the version of him as a child -'baby executioner' ! I wanted a character that was both cute and evil that the viewer can play with. I think the difficulties came with the simplicity of the idea and the code challenges that Simon had to solve.
We have heard that this cover design is a collaboration work with Simon Pike, who have created Pete's fowlerism.net and monsterism.net. We would like to know about Simon and what sort of process did you two take when you were creating this cover design?
S: As you mention Pete and I have collaborated on a number of projects, stretching right back to art school, where we collaborated on a piece for our final shows. I approached Pete with the idea of making fowlerism for a final project for my MA, it was pretty much the first project I'd done in Flash and things grew on the success of that. We have a very good working relationship and ideas evolve throughout the creative process. On this occasion Pete had the idea of simply using one character on a plain white background, from there it seemed obvious to introduce an interactive element, to control him in someway. We wanted, however to keep this control random and a bit nonsensical, there are surreal elements in Pete's characters, which are complemented by this kind of animation. All the movement is created using script within flash to keep the design as light, in terms of file size, as possible.
P: We both know each others work very well so collaborating together is something we feel comfortable with and the projects often grow organically once the work is flowing back and forth between us during the creative process.
Often the ideas will start as rough sketches or storyboards, from there I take the images into illustrator ready for delivery to Simon. Once the artwork is imported into flash myself and Simon discuss throughout the process how the piece will evolve and what ideas can be added.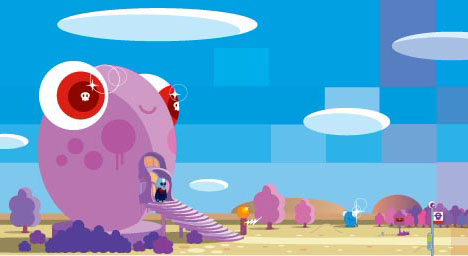 What kind of works and projects has Simon been doing?
S: BroadSnout has been working on a variety of projects recently. We created two films for the Super Furry Animals DVD 'Rings Around the World': Receptacle for the Respectable with Pete and also Sidewalk Surfer Girl. We have been involved in numerous web projects varying from working with the Future Sound of London to developing an on line game of Scrabble for Flextech Television. Also we do a lot of corporate work, presentations and interface design.
Read more ...
[Help wanted]
Inviting volunteer staff / pro bono for contribution and translation. Please
e-mail
to us.