The Sapporo School of Business Competition announced in last issue was held. The aim of this competition is to get graphic designs for the top spread pages in the vocational school's information booklet. The theme is "a bright future environment that creators imagine" and the categories are "city", "job" and "office." The prize money is 100,000 yen for each category.
Eighty-five works were sent to us within one month. The qualities of all works were quite high. The works which were chosen are easy to understand because this booklet is for students. The first three works below are the best works, which will be used in the booklet, and others were chosen for the SHIFT prize. Please have a look with the comments from each creators.
The best prize works
Category: City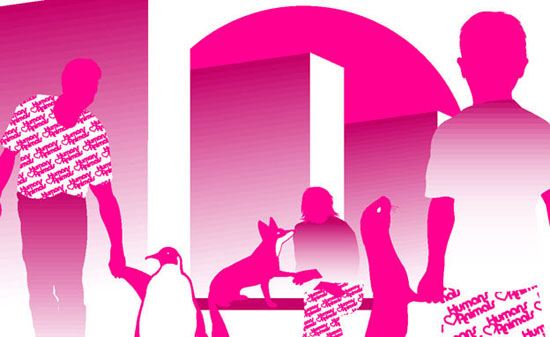 A 21-year-old first year student of Forsbergs School of Graphic Design in Stockholm, Sweden.
Work description: This work is basically about how in the future, with expanding cities, people will have to learn to share their environment with nature. So we have to become friends with the animals.
That my work has been chosen… well I'm very glad you liked it, of course. I like it too. Its got some kind of naivete about it that is kind of nice. (And the penguins are sort of cute.) I'm kind of surprised, too, though that's a pointless thing to say because nobody ever says that they had expected to win, do they?
Category: Job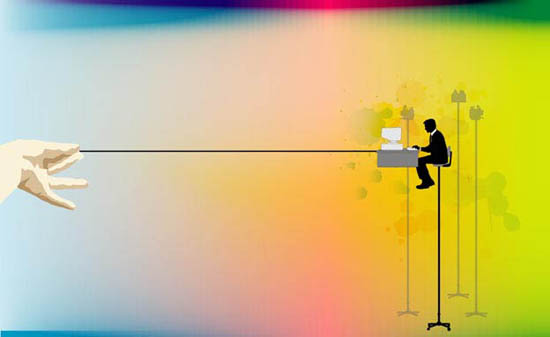 A design team of an art director Nick Philip (age 34) and a protege designer Simon Colley (age 42). They have begun to work together since 1999 and been creating streetwears, a series of reinterpretations of iconic visual images "Remix" and others.
Work description: The idea of a "Job" is something that has become extended beyond "place". Cables we can fit between our fingers network us as far as other nations or as close as the next desk. Let's use these new opportunities to uplift ourselves and each other.
Category: Office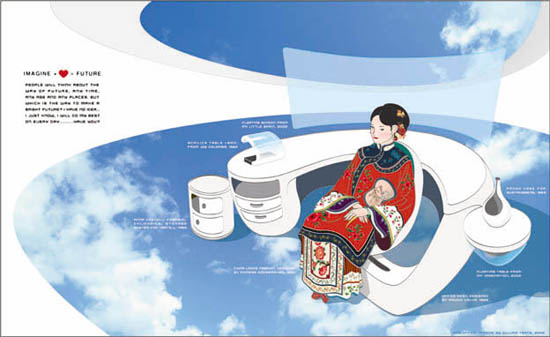 A designer, who deals with graphic design, web design, illustration and multimedia design, in Hong Kong. He is 25 years old this year.
Work description: "Son, have you read the paper today? The world economics is going down and will become worst in the following years… don't be too upset, OK?" My father said. My job was gone not long ago but I am already run out of money, coz I have no saving. My girl kicks me out from her flat, coz I have no reply from those hundreds of resumes and application letters I sent. Oh god! I used to be a popular designer!
Should I give up? Do I have to yell around and just sit back to do nothing? What can I do at this stage? Many past designers create lots of fantastic things under a poor situation and what they need are "Imagination" and "Skill". Imagination cost nothing but it is the only thing to bring a designer the brightest future. This is what I believe and this is also the reason why I made such an illustration.
SHIFT prize works
Category: City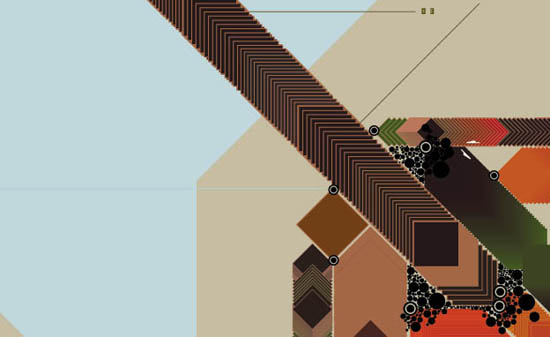 I'm 27 years old and I graduated in Fine Arts, and I've been working for six years as a graphic designer.
Work description: It's the graphic representation of a city in the future. I speak of the crowds, the tall buildings, not too different from what it is nowadays.
Category: Job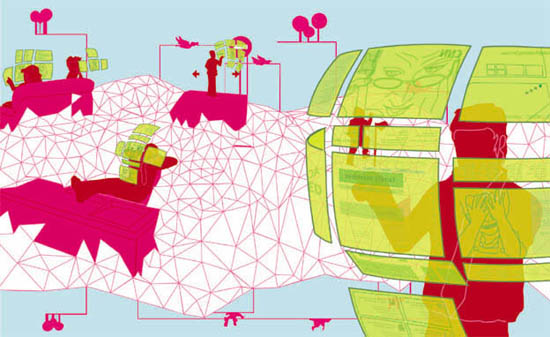 A 22-year-old freelance graphic/web designer in Jakarta, Indonesia. He studied Visual Communication Design at Pelita Harapan University.
Work description: Traffic problem that we encounter when travelling from our rest place to work places have wasted lots of our time, if this problem could be overcome, we can use this time for another activity such as more time to interact with family, study more, do another activity, doing side business, or maybe just get some sleep. I imagine a tool that can overcome this problem, a tool that have portable and easy to use characteristic, a tool that connected to network so we can access any information and interact with another people just by using one finger touch, and most of all a tool that can give us more time from our 24 hours limitation we have.
Category: Office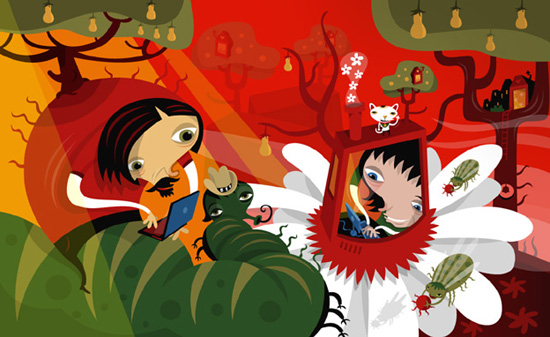 He studied Illustration and Design at Underdale University and has worked as a freelance illustrator producing artwork for various local and international publications and companiesafter the graduation. Currently he is working on an online game proposal for the ABC. Nathan is 28 years old and living in Melbourne, Australia.
Work description: Too often people work in an office situation that is uninspiring, claustrophobic and depressing. I think the future would be bright if our office environments were merged with an element of nature and fantasy. I tried to show in this artwork the magical possibilities of a workplace that incorporated these ideas (plus I love drawing bugs and weird creatures!). The piece was first sketched on paper, scanned into a Mac and traced in Adobe Illustrator 9.
Text: Sachiko Kurashina

[Help wanted]
Inviting volunteer staff / pro bono for contribution and translation. Please
e-mail
to us.