Whenever I visit the Dia Center for the Arts in Chelsea, I'm consistently impressed by its ability to showcase quality work in such a concentrated manner. It currently exhibits works by such giants as Bruce Nauman, Roni Horn, and Dan Flavin. Also, what differentiates the Dia Center from the rest of museums in New York City is its open-mindedness and devotion towards installation art.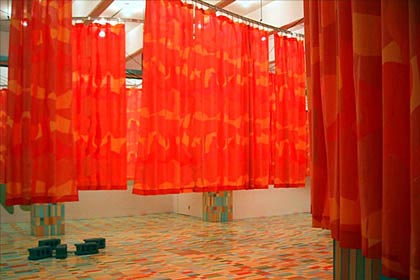 Jorge Pardo and Gilberto Zorio, Reverb, Installation view
What takes the central stage of the building this time is an installation piece by Jorge Pardo and Gilberto Zorio called "Reverb." Essentially, it is two separate pieces contributed by two different artists. Conceived by Pardo, the whole space is colorful with a tiled floor in a vibrant palette of limes, lemons, and other citrus hues, plus the orange drapes from the ceiling that cut across the space. Within the space, there are microphones intermittently placed to which visitors can broadcast their thoughts. It is a sound installation realized by Zorio originally in 1969 and then called "Microfoni." The sounds picked up by these microphones are manipulated so that whatever was amplified is repeated after a delay of several seconds.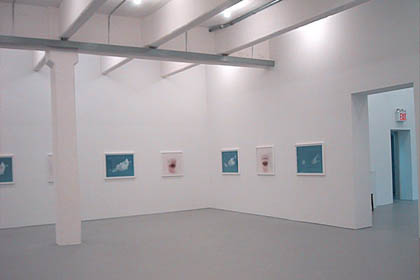 Roni Horn, Clowd and Cloun, Installation view
On the second floor galleries of the museum, photographic and sculptural pieces by Roni Horn are exhibited. All of the pieces bear the theme of juxtaposition, difference, and identity in one way or another. What's most visually striking is "Clowd and Cloun" (as opposed to "Cloud and Clown"), in which photographs of clouds are juxtaposed alternately with those of a clown. In this piece, the artist calls into question not only the subject matter, but also the manner in which the work is displayed.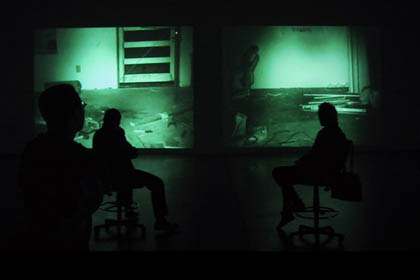 Bruce Nauman, Mapping the Studio, Installation view
In another gallery is a video work by Bruce Nauman, probably the most celebrated American artist alive today. For this piece, Nauman set up night-vision surveillance cameras in his studio space and recorded happenings over night. Calling it "Mapping the Studio," the piece consists of seven video projections onto the walls of the gallery. In the projections, viewers can spot few subtle movements in his studio, such as mice crawling around. And that's pretty much all that happens in this over five-hour video piece. According to Nauman, he watches these videos as a means to meditate.
The mainstream art scene in New York City seems to be under the weather lately: the Biennial at the Whitney Museum of American Art has received such horrid reviews; the Museum of Modern Art will be closed for renovation and will be moved to Queens for a few years. Underdog venues such as the Dia Center will be a small yet strong art spot, only without the tourists. And I hope it remains that way.
Dia Center for the Arts
Open: 12:00 – 18:00 (Closed on Monday and Tuesday)
Address: 548 West 22nd Street, New York, NY 10011
Tel: +1 212 989 5566
Admission: $6 ($3 for students and seniors and free to members and children under ten).
http://www.diacenter.org
Text: Rei Inamoto
Photos: Rei Inamoto

[Help wanted]
Inviting volunteer staff / pro bono for contribution and translation. Please
e-mail
to us.