One of the most tasteful clubs in hamburg is the "Mojo Club". It opened up in 1991 and had several side activities like a shop, a lounging club and a record series. We met Leif Nueske, one of the founders, to ask him about the history of the Mojo-dynasty.
The starting point was the music, from the beginning they called it "Dancefloor Jazz". It is jazz music from the 60's and 70's, that is very danceable. When they started to play that kind of music, it was new in the club and dance scene, because in the 60's that style of music hardly found its way over the ocean from america and in the 70's it were mostly intellectuals who listened concentrated to the virtuosly playing musicians instead of dancing. So they had to build their audience up by organising a lot of parties in different locations until they felt the time was right to open a club of their own.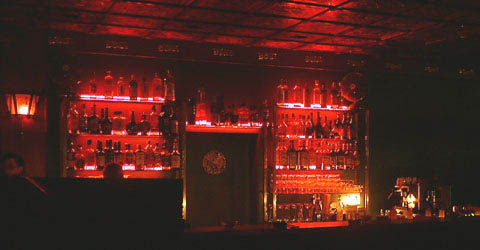 They found a room on the famous "Reeperbahn", which is the main street of Hamburgs red-light- and also the amusement- and partydistrict. Before it was a musical instrument shop, so they had to improvise a club. They rent a sound-system and installed some slide projectors with images of 60's jazz musicians to produce the right mood. First they only opend on saturdays but soon found some like minded dj's to do the friday that concentrated on a more modern aspect of jazz: electric jazz.
They called the club "Mojo-Club". Mojo is somekind of positive magic in the carribean voodoo-cult. The term was familiar because it appeared in the jazz-music, so they took it as the name for the club. A friend of them, Marion Schnelle, did a logo, and for the flyers they had some rudimentary rules like "never use serif-fonts" as a first step of visual identity.
In 92 the Mojo-crew opend a shop where they sold old and rare records and also clothes, club couture mostly from england that you couldn't get somewhere else in Hamburg. Their style was mod-orientaded and also reached to old-school Adidas stuff. Even a hair-cutter was included in the shop, so you could get everything you need for a satisfied clubbers lifestyle!

That year they also released the first Mojo Club – dancefloor jazz sampler. It contained unknown songs from the 60's to early 70's by artists like Jimmy Smith, Roy Ayers, James Brown, Kool And The Gang and Nina Simone. The record was a big success, so it became a series, this summer they will release the 10th volume. The club became very famous, people started waiting in a queue and the dj's made a tour through germany.
1995/96 times changed. The shop was closed and the Mojo people cared more about the music and the club again. Drum and bass came, the Mojo Club invited nearly all of the Metalheadz djs and the new loungin' music of Kruder and Dorfmeister who also played made Mojo-clubbing fresh again. A second record series ("Electric Mojo") was started with now two volumes and two remix albums. Raphael Marionneau developed a strict corporate identity for the mojo club that gave the club a strong identity. He also does his own club-night at the mojo club. On wednesdays it's time for "Le Cafe Abstrait". Raphael carries a lot of sofas into the club and plays relaxing chill-out music.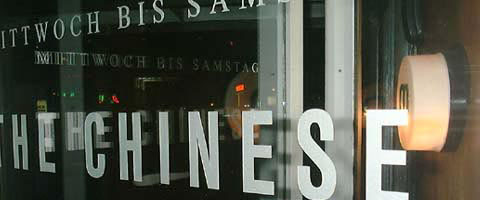 Next to the Mojo Club was a chinese family restaurant, the "Mandarin". Instead of selling and serving food the restaurant was in businesses like selling travels, copying asian soft-porns and cutting hair in their restaurant rooms. Someday in 1999 the family suddenly disappeared and left the rooms like they were. the Mojo people immediatly felt like using those rooms for something special. They built "a club without dancing" into the large frontroom called "The Mandarin". Chouches and small wooden walls that divide the seat-groups but not the room in small units.

Cool retro modern furniture with a lot of chinese noble-kitsch, like a giant dragon on the ceiling with red glowing eyes. They serve exquisite drinks and play a stimulating lounge music. After a year the Mandarin was so overcrowded, that they decided to open a backroom as a more private club, as quiet oasis. You need a special key-label to access it, therefore it's more relaxed and if you want you can play video games that are integrated very nice into the furniture.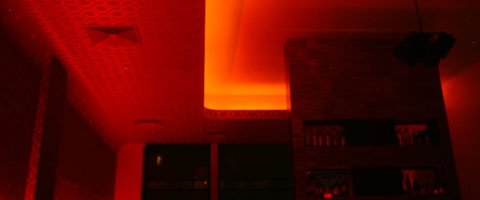 Two weeks ago a third club was opend up. It's called "Mandalay". This time it's again a club with a dancefloor, but the name, the styling and the music are closer to the lounge feeling of the Mandarin. We checked it out last week-end and were astonished how many people were there, although they didn't do any advertisement like flyers or posters for it. leif told us, that they have two more rooms to open there, so we're very curious how they will look like…
Mojo Club
Address: Reeperbahn 1, 20359 Hamburg, Germany
ana@mojo.de
http://www.mojo.de
Raphael Marionneau
Address: Revaler Strasse 46, 20099 Hamburg, Germany
design@etrema.de
http://www.etrema.de
Le Cafe Abstait
info@abstrait.net
http://www.lecafeabstrait.de
Text and Photos: Andrew Sinn and Daniel Goddemeyer
[Help wanted]
Inviting volunteer staff / pro bono for contribution and translation. Please
e-mail
to us.