Ici La Lune from France designed the cover of this month. They have been expanding their field from designing web sites to the entertainment. Check their works that contribute to the interface culture as the super media designer.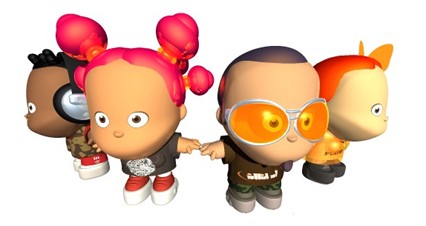 Please introduce yourself as well as your background.
We are THE SUPERMEDIA DESIGNERS from Ici La Lune, Arnaud Le Ouedec, Benoit Platre and Vincent Queguiner. We founded our compagny nearly 4 years ago and we are conceptors/programers, today Ici La Lune is composed of 8 persons. Since the begining we've mixed and loved innovation and creation.

How was Ici La Lune founded?
It was in the beginning of 1998, we were students (Arnaud Le Ouedec, Benoit Platre and Vincent Queguiner) and we decided to quit the Design & Art school (in our 5th and last year of studies) and to create our own company. Before this, we've been experiencing the new media with the Macintosh out of the school for 5 years. we had a total freedom of creation and interactivity, there was no history or any rules in this new area of expression. It was a very fascinating period, lots of good meeting and exchange occured at the begining of the web design world.
What are the main activities of Ici La Lune?
We are specialized in content interactivity in Web sites, CD-Roms as well as Offline installations. We are lucky to work in various domains such as luxury, music, industry or entertaiment. We spend a lot of time in research and development in order to innovate and developp industrial processes on our projects.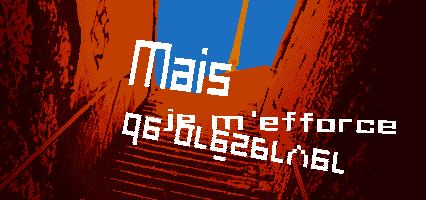 What sort of thing are you doing on Ici La Lune web site?
On the Ici La Lune web site… mmm… a HAPPY NEW YEAR card in shockwave 8.5!
How have you been achieving your object that contributing to the new interface culture on the Internet and CD-Rom with a real screen approach different from the page makers one?
By building our own culture of screen and our own rules very early before the internet we know today. We were first interested in architecture or industrial design, when we began our
studies we didn't know anything about computers. We just knew that something interesting could be done according to the projects we had in mind concerning architecture or design. We first worked with the macintosh as a tool to create some 3D pictures or animations of our
design projects. After one year, we had a lot of thing to show but we were looking for the right media to present texts, pictures… We were also more and more comfortable with the notion of user interface thanks to our feeling with the macintosh… At this time we wanted to
create our own interface to show our projects on screen, we heard about Director 3.0, and then everything became possible. We learned programming by ourselves to be free to do what we had in mind. We feel now like some lucky designers because we manage everything from the concept to the final product, we can control the quality of our products at every stage of the production. The area of the screen is for us a place where everything can happen. To conclude, we feel ourselves nearer to industrial design approach than to the edition one…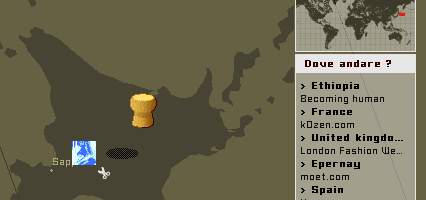 You call yourself "Super Media Designer". What is the difference between that and "Multi Media Designer"?
We wanted to call our job "supermedia" because at this time (1996) everyone was talking about multimedia, and we thought it was a poor word which didn it include the new kind of thinking it requires. Multimedia is talking about different media one put together or about a PC which has speakers and CD or DVD player. Supermedia is for us a new medium, more than the mix between different media. We try to think global, including creative and technical aspects, and it is a perpetual back and forth… The supermediais territory is between the screen and the mind and sensibility of the users, it is a non touchable media, it is a feeling which expresses itself with interactivity, graphics, motion, music…
The conference, called "Le Site De L'Atelier", was held before and this event was about the influence from Japan to France on web designing. Have you found any differences between Japanese and French webs by participating as a director?
In the French and Japanese web agencies, we have the same potential of innovation and creation. Though, I've noticed that great french brands, like Kenzo, Moet, Pommery, Dior, Salomon… had really creative web sites which doesn't seem to be the case for japanese brands…maybe the constraints are different.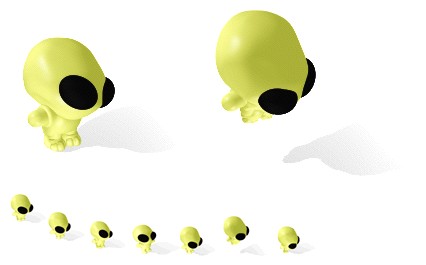 Do you think Japanese culture is influential on France?
Yes but it is essentially Manga and Anime, they've influence the french youth for more than 15 years and now a lot of french web designers are inspired by them. But for me, itis more Tei Towa, Pizzicato Five, Tadao Ando, Takeshi Kitano, some Godzilla old movies and Captain Harlock…
You seem to understand the Japanese culture well. Could you pick up both the good and bad points of Japan?
Japan is a very exciting country for me, it is an amazing coexistence of very high modernity and tradition, and I feel that a lot of creation contains the same duality, it is very interesting.
Good points : a real consideration for services and innovating products. Bad points : too spectators and not enough actors.
How about the good and bad points of Paris?
Paris is a very little big city compare to Tokyo, however in Paris they are some places where you can feel at peace, to feel the Parisian atmosphere (which is difficult to explain…),many places are full of culture, art, it is a town with many faces. I think Paris is really propice to the creation.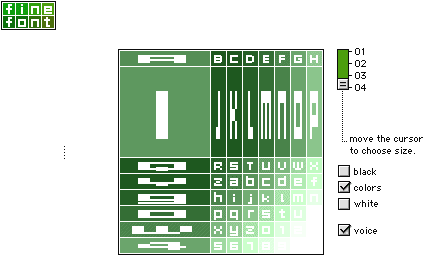 I would like to ask you about Paris and France. Have you got any movements or people who you are keeping yours eyes on in the new media scene?
Actually, the new media scene is active essentially in Paris, Lille, Bordeaux and Marseille, the actors are little companies or some groups of web designers but people don' t meet each other a lot, we just keep in touch.
What did you image when you are making a cover for Shift? Also, how did you make it?
We love to innovate and for this cover we used Shockwave 8.5 to give new emotions and sensations to Shift readers.
Tell us your current activities as well as the future projects.
We are presently working on some competitions but our next BIG project is the new Ici La Lune web site. We are still working with Moet et Chandon, Renault and some other customers.
Please give a message for SHIFT readers.
Please keep on believing to believe that we are just at the beginning of the web creation and that everything has to be done.
Ici La Lune
Address: 12 rue du mont thabor, 75001 Paris, France
Tel: +33-1-44 50 50 37
contact@icilalune.com
http://www.icilalune.com
Text: Sachiko Kurashina
[Help wanted]
Inviting volunteer staff / pro bono for contribution and translation. Please
e-mail
to us.