The Espacio Uno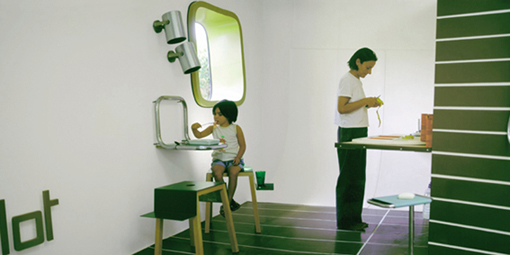 The Espacio Uno of the Museo Nacional Centro de Arte Reina Sofia is a must for all those who are interested in the most avant-garde contemporary art. The Reina Sofia has received on its walls of this small area proposals as striking as the Ana Laura Alaez, who turned its walls into a discotheque with her "Dance & Disco" installation. Now the works by Salvador Cidrae (Vigo, 1968) arrive at Espacio Uno.
One of the characteristics of this artist is his constant need to experiment. He began by carrying out sculptures and drawings in which nature was always the common link, although his strange way of seeing this nature lies in that he integrates urban and artificial elements into his works. He himself states that he is interested in considering artificial and natural aspects as a continuity, not as opposite elements.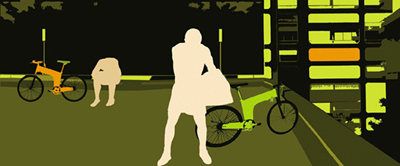 Salvador Cidrae. Untitled, 2001
At this point on his artistic journey, Salvador Cidrae has gone on to use other means of expression, such as photography, video and computer. The use of these new media, together with his interest for architecture, design and the world of advertising, are fundamental keys in his latest work, where Salvador invents a very personal world, always investigating the relation of the human being with the space that it inhabits.
As well as visiting the Espacio Uno, the third floor of the Museum houses an exhibition where the best works of one of the most acclaimed visual artists have been gathered, Pipilotti Rist (Switzerland, 1962). Under the title "Apricots along the Street", five video-installations can be seen that form a selection of her works since 1994. The subconscious, the dimensions, or the weakness of the body are some of the obsessions that roam the videos of Pipilotti.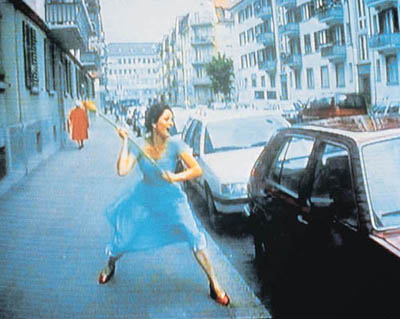 Pipilotti Rist "Ever is Over All"
After arriving at the third floor of the Reina Sofia, we come across some curtains that separate the real world from the universe of the Swiss artist. In the first room we can see "Sip my Ocean", recorded underwater; it is composed of two projections that meet in a corner of the room, forming a strange effect. We cross over to the room opposite where "Ever is Over All" shows a woman walking happily down a street whilst she breaks the windows of the parked cars with an enormous flower. Then we come across "I Couldn't agree with you more" where a woman carries out daily tasks whilst on her forehead disturbing images appear. In "Blue Lodily Letter" the camera films a body close up, and finally "The Room", a living room fitted out like a drawing room of the Alice in Wonderland kind, with an enormous sofa and chairs. In them the viewer can climb up and make themselves comfortable watching the television (normal sized) with remote control included, where, on its different channels, fragments of the artists' installations can be seen.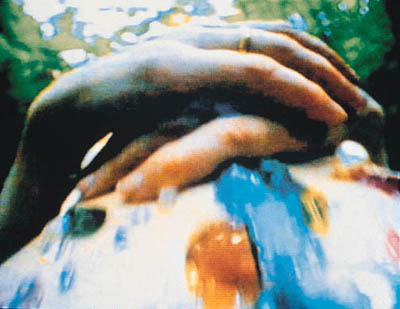 Pipilotti Rist "Blue Lodily Letter"

Salvador Cidrae. Espacio Uno.
Date: Until 6th January 2002
Pipilotti Rist. "Apricots Along the Street"
Date: Until 2nd January 2002
Place: Museo Nacional Centro de Arte Reina Sofia
Address: Santa Isabel, 52. Madrid, Spain
Text and Photos: Terevision Ruiz from Neo2 Magazine