Intro, a creative unit and based in London, produced the cover design for this issue. They have spreaded thier range of projects on line very widely, such as jacket-making of 'Primal Scream' and 'Stereo Love', producing TV programmes, websites and books. We interviewed them about their projects and Sampler 2 which has just released.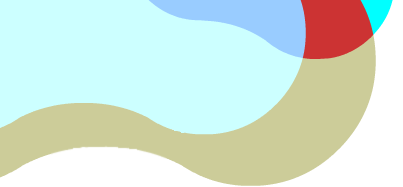 First of all, please introduce yourselves.
Intro is cross-media design group, based in central London. We make TV commercials, music industry campaigns, websites, print communications,visual identity and other things. Our philosophy is 'aesthetics first'.
What kind of activity are you currently doing?
Website for Chemical Brothers. TV commercial for Extreme Sports Channel. Radical book for Playstation 2. Flash 'video' for Gil Scott Heron, promoting his books. Album campaign for Luke Slater. Promoting our new book of Intro work, Display Copy Only.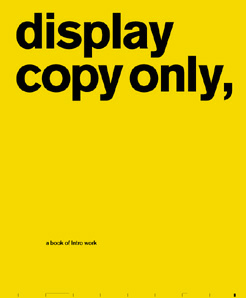 How was INTRO founded?
Founded by Adrian Shaughnessy and Katy Richardson. We both worked together in another company, but we weren't happy and needed freedom of our own company. Intro was set up to do radical work and provide a framework for talented people to work within.
We heard Sampler 2 will be released soon. what is Sampler for you as INTRO.
Sampler 2 is already out and has been very successful. See link to Intro website. The Sampler books are very important to Intro. They give us a chance to talk to other designers whose work we admire and who in the normal course of events we might not meet. It also allows us to express our views on design and the workings of the record industry. The books have sold well all over the world.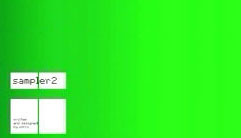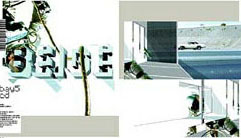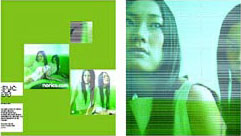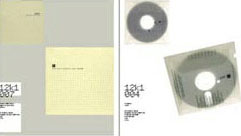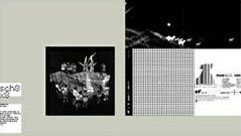 What kind of contents does Sampler2 have?How do you find Sampler2 compared with the former issue?
The content is better. Designers were more co-operative second time round. They saw that we had done a good, respectful job with Sampler 1, and they were keener to help with Sampler 2. I think some designers thought Sampler1 was going to be an ego trip for Intro! So, the material is better in 2 because we had more support.
Where do you get inspirations or idea for your works from?
Films are a big influence at Intro. We often start talking about movies when we discuss new work. But also, 60s design, radical art, cultural writers and music, always music. It directly influences what we do.
What do you think the most important aspect for design?
Collaboration. As a designer you can have the vision, but you need a collaboration with your client to get truly great work.
What did you imagine in making the cover design for SHIFT of this month?
60 issues of shift, a restrained and dry celebration that reveals itself with an uneasy twitch.
How do you think of creative scene in London.
Seems to be in need of a new direction. Lots of recycling going on. I think the only truly innovative work is being done on-line.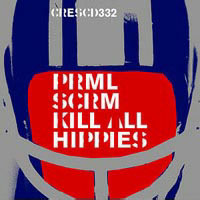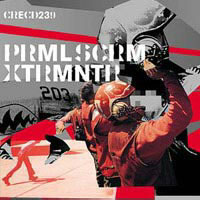 How do you feel about Japan?
I love Japan. All western designers love Japan. I haven't been to Japan. It remains something in my imagination. Somewhere to dream about. But I will come to Tokyo soon. Everybody has to! I did a seminar this year in Seoul with Hideki Nakajima and I really love his work.
What are you currently interested in?
Music, art, culture.
Please tell us your favorite visual/graphic designers.
Hedeki Nakajima, Kim Hiorthoy, Hi-Res (London web designers), Peter Saville, Ekhorn Forss (London print designers). Amongst older designers/artists I like Wallace Berman, Robert Frank, Helmet Newton, Saul Bass, Robert Rauschenburg, Robert Motherwell.
This is the last question. Please tell us your plan in the near future.
The UK design scene is very unhealthy at the moment. Clients are cancelling projects and cutting budgets. The world situation (USA and Afghanistan) doesn't help. So the future is about surviving. It's about getting through a difficult period. But we think we'll do this best by sticking to what we believe in and not running around like headless chickens.
INTRO
Address: 35 Little Russell Street, London WC1A 2HH, UK
Tel: +44 20 7637 1231
http://www.intro-uk.com
Text: Taketo Oguchi
Translation: Sachiko Kurashina
[Help wanted]
Inviting volunteer staff / pro bono for contribution and translation. Please
e-mail
to us.