For a human and poetic experience in the technological era.

Studio Azzurro is a group of artists that have made an international name due to their message 'not with a scream, but with the subtle retelling of a story'. We met the group to come up with an idea for the launch of domusweb. After several hours of discussion, the direction had moved from making an installation for a party to a strong desire to see them at work on the web.
No touch, no real spaces, interactive carpets or parachutes – just significance through the screen.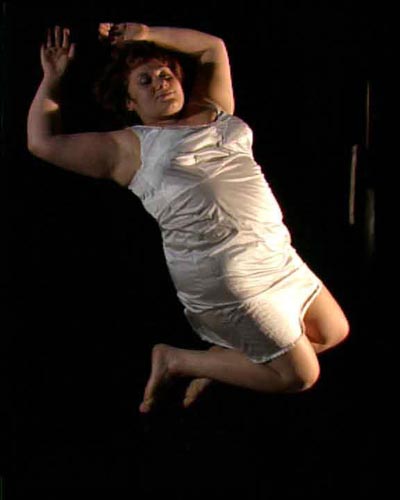 Images from the interactive installation "Tavoli"
Studio Azzurro was formed in Milan in the year 1982 as an experimental artistic and video research project through the coming together of different minds. Fabio Cirifino (1949), a photographer born in Milan, Paolo Rosa (1949), working in Visual Arts and cinema and born in Rimini, Leonardo Sangiorgi (1949) of Parma specialised in Graphics and Animation and a most recent addition in 1995 of Stefano Roveda (1959) who works in interactive systems.
Studio Azzurro's research concentrates on the integration of electronic imagery into environments, with the intention of making the spectator a participant of these 'video-environments' as they have been defined from the start. An experience that extends into the exploration of theatre space, with the design and installing different shows and musical operas in place thereby interpreting a parallel cinematographic path that manifests itself in the production of films and short films.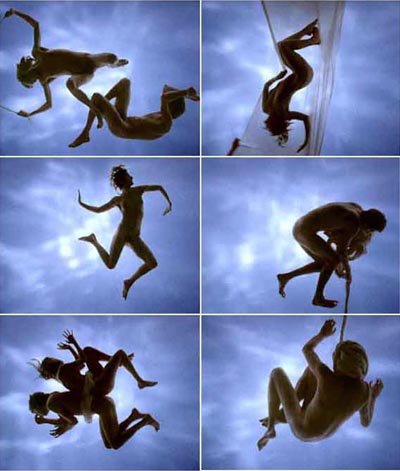 Characters in the interactive installation "Il giardino delle anime"
The work as described by the Studio. Occhi Imperfetti – Imperfect eyes. For a visual research, for the electronic imagery and contemporary music on line.
Having imperfect eyes is a natural condition for Humans. This physical limitation is what makes it possible for us to explore the universe of XXIst century electronic images. Our eyes are slow and imperfect because they are not able to renovate their sensitive surfaces quickly enough. This means that we are continually fooled by images that change very quickly.
Very often a limitation is a pretext for an absorbing expansive action, a leap forward, a vision of the future, that is not only chronological but that is also linked to behaviour, culture and ethnicity. 'Imperfect eyes' has another meaning in this situation, because they are voluntary accomplices in accepting as real a synthetic reality that is clearly approximate and uncertain in its mosaic of small light squares, jagged edges, rapid movements and unlikely forms.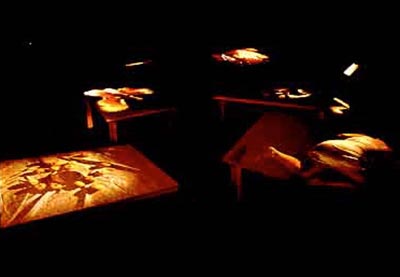 Interactive installation "Tavoli"
But what is Imperfect Eyes? Is it a site? Is it an interactive installation? Is it a place for visual experimentation? Is it a kit for video explorers? Make these questions into statements and you have the multiple ways that this online work can be interpreted.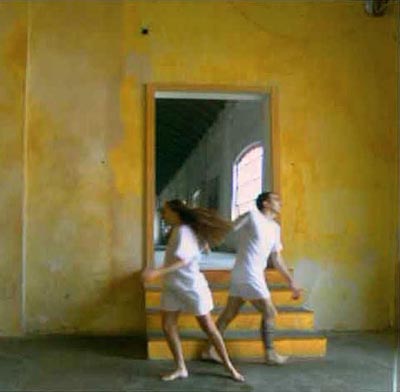 Scenes and actions from the installation Landing talk
When facing the work of Studio Azzurro, the public's reactions are unexpected; the enthusiastic respond with a performance of their own, whilst the more timid try hard to hide their burning desire to get involved. There is shouting, clapping, active participation, silence and observance.
"We entered into this new arena with our own very personal project, a broad spectrum of intentions, while making sure to avoid chasing after any particular objectives thay might have been dictated by recent technological advances. Particularly in the use of interactive elements such as sound and imagery that reacts and creates a dialogue with the public we have two clear goals in mind: to create spaces for collective use, and to use natural interfaces. We set ourselves these two objectives in the hope that they might provide the grounding for the formulation of a new form of narration discussed on more planes and higher sensorial levels. The lack of socialization appeared to us as a weak link in these new technologies that, on the whole tend to exasperate their individual offering. We decided therefore to create environments where choices are made by several partecipants, where the storyline is collectively decided upon, where the relationship among individuals is more important than the ralationship between individuals and machine. This is the idea behind we termed 'sensitive environments'. We also tried to minimize the overt presence of the technological equipment, and favour 'natural interfaces', eliminating such elements as the mouse and the keyboard and examining the possibility of using means of communication that are relatively common and do not rely on any symbolic transposition, such as touching, treading, making sounds. This was intended as a way of bringing people closer together in their participation in the experience, leaving room for communication between audience member and a more spontaneous sensorial reaction to the events unfolding around them. In a way -and we say this with due respect – we tried to do exactly the opposite of what Duchamp did. We are attempting to make work's of art that relate directly to people's behavior, and transform this behaviour into a part of the artistic experience, rather than extrapolating an object from its daily use and transferring it directly into an artistic context".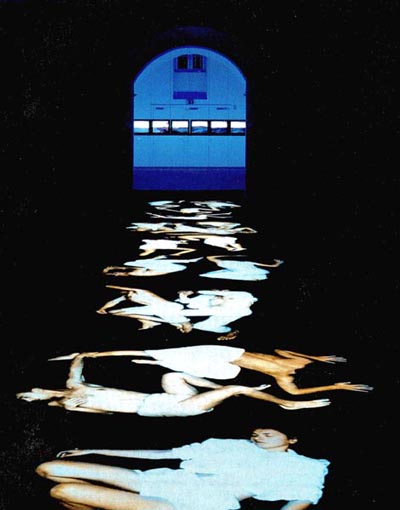 Image from the interactive installations Il Nuotatore and Coro
One of the projects by Studio Azzurro is 'The Mnemonist', the story of a man who cannot forget anything going back even to the start of his life. In this way, in every living moment all images are constantly linked to others, to smells and to sensations. The protagonist creates and endures an infinite prison of memory, a complex architecture of mechanisms and paths.
"In our experiences with interactive installations the narration is not sequential like time, but is segmented and combined. We believe this to be more like the way memory manifests itself in us."
More about their works on Domusweb.
Text: Domusweb Crew From Domusweb
[Help wanted]
Inviting volunteer staff / pro bono for contribution and translation. Please
e-mail
to us.