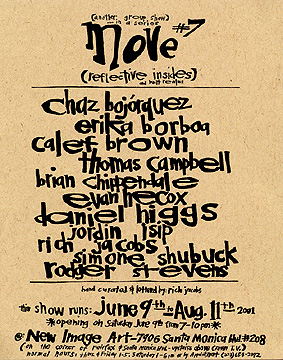 The much anticipated move #7 opened at New Image Art Gallery on June 9th, Saturday. Rich Jacobs, a devoted artist behind this series of group shows, has been curating "move" since 1997. Setting an unique theme for each show, "move" has been bringing together numbers of artists from various fields. They all differ in medium, style, and attitude. Participating artists for the #7 show will be revealed as we go, but let's start off by asking the man behind "move", an striking artist himself, Rich Jacobs how he weaved the extravaganza together this time.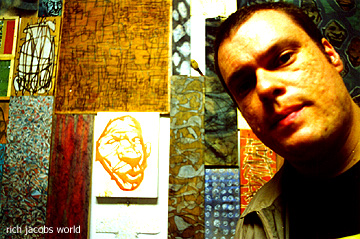 "It's just all about calling people up, getting in touch with the ones I want to show with." The concept behind "move" is fairly simple he explains. "[It involves] something that moves me, or something that creates movement. It started off as a little zine. I used to put together things that were meaningful to me. I was really into music and I still do like music…listen to lots, but I realized I was spending more and more time on visual art. In 1997, we had our first group show." With the exception of the two shows that took place in NY and Pennsylvania, NEW IMAGE ART has been the home to the "move" exhibits. move#2 had a hundred artists participating -that was an awful lot of phone calls!!!"
The only restriction that was given to the hundred artists was the size limitation of 5×7″. The show was mobbed. The invitation had to be printed in letter size papers instead of postcards. Then came the move#3; HALF FRAME PHOTO SHOW, with the participants you find above in Jacobs' lettering. I often hear from Marsea (Goldberg, director of NEW IMAGE ART) how beautiful this show was. As a great fan of Olympus Pen myself, I probably could'nt have missed a better show.
NEW IMAGE ART is known to offer young talent a unique spotlight and Jacobs has always been one of the most influential forces behind this approach. "Well, I was already making zines in 8th grade. I think then I started to pay attention to people who are 'doing something'. I was drawing, scribbling…always doing something. I just love meeting people who are pursuing their own form of art. That's all." Then he took a pen that was thrown on the floor and started drawing "the face" on a piece of paper. When I asked him if that was a pen of his choice, he gently replied "I hardly buy art supplies. There's so much around one can use, you know?"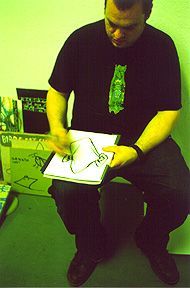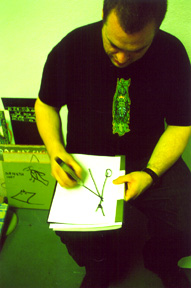 "Artists may have their hands full with day jobs or life's concern and just becomes so hard to reach for a pencil or a brush after a long day. For some it gives a significant motivation when I apply some sort of a lead, let's say by handing them a brush or just suggesting that he/she should paint a little bit more. It works amazingly. Sometimes the little bit of encouragement turn out to be a big deal. However, the artists gathered here for move#7 are well established thus pretty much content with their own path."
Illustrator, painter, photographer, graphic designer, film maker, architect, sculptor, musician…the word "artists" encompasses a variety of diciplines, all of which can be applied to move#7. Some of the artists are multi-talented, traveling from San Francisco (Evan Hecox), Los Angeles (Calef Brown, Chaz Bojorques), New York (Rich Jacobs, Erika Borboa, Jordin Isip, Simone Shubuck, Rodger Stevens), Rhode Island (Brian Chippendale) and Santa Cruz (Thomas Campbell). Having all these artists together in one particular space is simply phenomenal.
Jacobs continues, "I try to set a vague theme when curating move exhibits. Obviously, I'm selecting the members that will take part of a responsibility for group installations. Then I give them this ambiguous title or even just a hint of the theme. I leave it to the interpretation of each artist after that. They are all great creators and I respect what they are doing. Sometimes it's really fun to see how far they can go by 'exploiting' the original theme." He then revealed the theme to the 7th show, (reflective insides) and built realms. "All the artist here have established fields. I was pretty confident in what to expect from these collectives."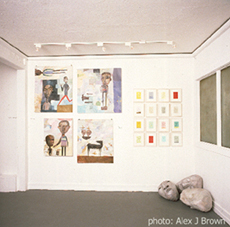 Gallery sits in the heart of a Russian neighborhood (blessed with a plethora of delis) on the 2nd floor of the old hotel building. It almost looks like a school classroom, with nostalgic memories looming around every hallway. However, the artists who come through this gallery, often well known names, can never be overlooked. Rich Jacobs, Ed Templeton, Cheryl Dunn, Chris Johanson, dalek, and Chris Yormick are the only tip of the glacier…
The smaller room serves as a main space, the heart of every showing. Artists who are assigned to this room pretty much obtain freedom to turn the room into anything. For this show, Brown, Stevens, Borboa and Jacobs are the occupants. The second room, which contain artists with supporting concepts, is airy with sunlight blessing the gallery's existence. The placement of every artist has been well discussed between Jacobs and Goldberg so there's a cohesive flow to the exhibit. "Every artist has their own wall space assigned, however presentation as a whole has to make sense." Jacobs went back and forth from one room to another during preparation, exchanging words with artists, stepping back to see the coming along of the installation in big picture. Jacobs' wall remains incomplete till the very end.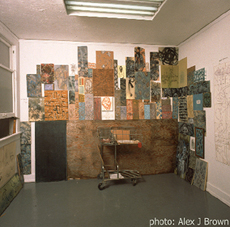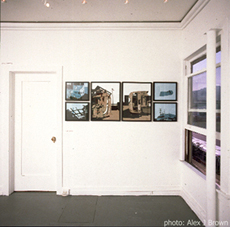 Jacobs has been in L.A. to set up the show fairly long this time, from the day he caught his friend Chris Johanson's UCLA Hammer Museum show opening. (Johanson's show has premiered to public on May 1, 2001 but the Hammer threw a big reception conjunctional with the show, "SNAP SHOT" on the night of June 2nd.) "I'm glad I had a time to prepare for this move show," said Jacobs on a break to Whole Foods("motherland of blessed food," quoted Thomas Campbell) across the intersection, and continued "I'm really happy how this show turned out. I think it's one of the best ones." His words were a definite bliss since all the flyers from the missed "move" shows were sending me far out on a guilt trip. But this time, I made it.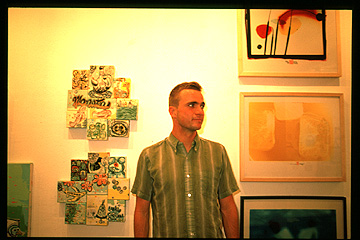 Thomas Campbell. Film maker, painter, photographer, record label owner, long boarder, skate boarder…are probably not enough to accurately describe Campbell. But I can tell you he came in with two titles under his belt for this show; painter and photographer. Campbell brought in endless selection of works which made me wonder where they're coming from. The mystery was solved when I saw his adored white van in the parking lot behind the building. "It's really great!" as he claims, "holds everything, surf board, skateboard, paints, canvases, framed photographs, CDs, videos, camera equipment…" Pretty much all the things are precious in Campbell world. Selections were carefully finalized into 9 bodies of paintings (some contained 9-10 pieces in one title, varied in sizes) and 3 frames of color photographs. His bright color palette suggests the sun, water, and the fine fine lines he draws fastens the presentation.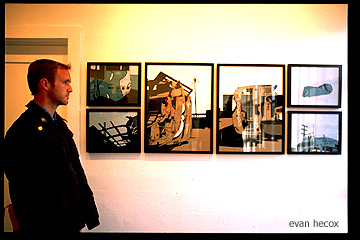 Evan Hecox. Based in San Francisco, Hecox is a well admired illustrator and graphic designer. His graphic work might be familiar from CHOCOLATE Skateboards deck design. Fine and detailed interpretation of the street is often the theme of his art. Hecox hardly takes action on the street himself, but explores the potential of the message and significance emerging from urban street scapes to its full extent. "Street is the place where my inspiration comes from." His blue-toned pieces stands very strong on the white wall.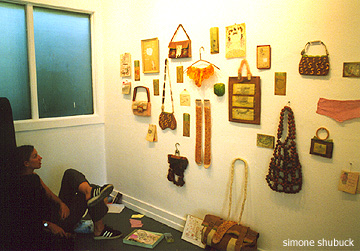 Simone Shubuck. Shucbuck's intricate drawings are underlined throughout her organic instalation, reminiscent of American folk art. "I have access to a lot of these materials," says Shubuck, whose wall was enchanted by thin sliced tomato lingeries (red & yellow), bamboo glasses, prosciutto pants (that was kept in her friend's refrigerator until the opening night), stitched dried-shrimp socks & bags and many more. "I use this 'shrimp bag' in real life but the odor is often my friends complaints. " The tree skin strap seems too fragile to apply in actual life but in Shubuck's, it shows no sign of oddity. "Also my initials are 'SS'," she comments on her 'SS' shaped shrimp stitch on her bag. Her work naturally draws the audience towards the wall and assign them to look things in detail. Currently based in New York, Shubuck also actively participates in the art scene in San Francisco, where she spent a couple years while in school.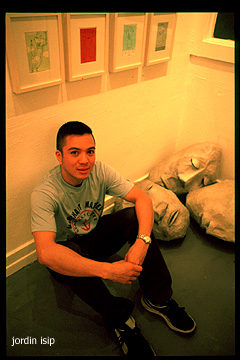 Jordin Isip. If you live in New York, you must have come across his work, at least once. Editorials include New York Times and TIME Magazine as well west coast publications. Here Isip presents three styles, mixed media collage paintings, line art on a US Postal Service postcards, and three faces that insist on having their presence intensely on the floor. Layers and layers of and papers, his art is raw yet well rendered and move exhibits. With strong graphic design background, her illustrations are seen in many editorials as well.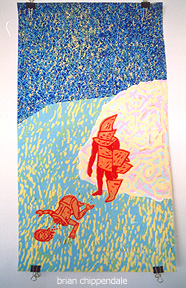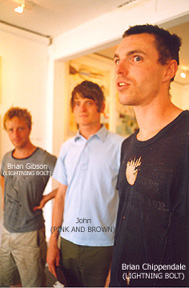 Brian Chippendale. Out from Providence, Rhode Island, Chippendale's band LIGHTNING BOLT was on the road touring when the show opened. But as if making up for the absence, the tour came to the la-la land on June 20th. The venue was THE SMELL (247 S. Main St., Downtown L.A.), which cost me couple phone calls to find (back alley guys) and required quite a bit of courage to head out to. Other bands were Pink and Brown, Vaz, etc., all alternative guerrilla noise bands. Haunting performances by Pink and Brown already messed with the light wires so the LIGHTNING BOLT came into pitch darkness. I think both Brians (Brian Gibson on base and Brian Chippendale on vocals and drums) were wearing masks. The mob was out of control in the narrow room – it was a battle to remain in one spot to see them. But somehow, Chippendale kept creeping into the crowd. Turning his drum set around and literary throwing themselves into the rabble, their performance was amoeba-esque yet really tight.
The next day he came to visit his "show", only this time visual art, with Gibson and member of Pink and Brown, before hitting the road to San Francisco. His colorful artwork is also seen on the band's new record "Ride The Skies", which he hand printed piece by piece. Back home, both Brians are one of the founders to the collective warehouse FORT THUNDER where they inhabit with 10 other artists. "When we return to FORT THUNDER in mid July, we have to move out." Among many reasons, it was "mainly a fire marshal matter, " sighs Chippendale. "We'll probably stay in Rhode Island. Many artists are there, and cost of living is so affordable." While the eviction is still his motif of art, FORT THUNDER, will remain spirited for another while.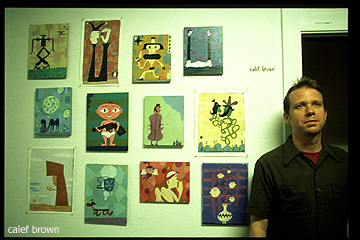 Calef Brown. After graduating Art Center, Brown decided to stay in Pasadena. His illustrations often appear in editorials, i.e. Los Angeles Magazine, but he passionately pursues children's book projects. "My illustration jobs allows me to travel in my own time, which I am grateful for. And I can also take my time to work on children's books." 'Polka Bats and Octopus Slacks' and 'Dutch Sneakers + Flea Keepers' (both published from Houghton Mifflin Company) are his adored establishments so far. In his books, Brown's warm color pallet and the dancing rhetoric appeals to wider audiences than initially intended. Even the remembered moment of Eminem and Elton John earlier this year is presented in his touch and frozen into a fairy tale. Calef Brown is fully aware of his ability to pull that kind of theme off. Another long time move contributing artist.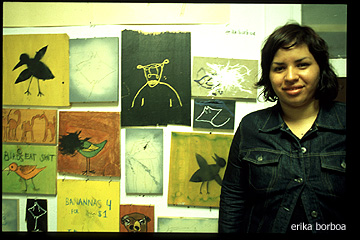 Erika Borboa. Originally from San Diego, Borboa now lives in Brooklyn with Jacobs. I remember coming across his comment on Borboa's work "…Erika's drawings are very pure, " while on research. It is very true, her simple pencil stroke is certainly pleasant to eyes. She says she enjoys drawing animals. Borboa's spicy earth tone pallet and her irregular wood pieces produces an amazingly moving color vibe, making perfect sense next to Jacobs' installation. I noticed more marine animals in her work which made me guess the longing for her home on the west coast, but that thought was easily negated by her staing "I think I miss being away from New York." Yet again, the famous saying "you only have to live in New York once, "crossed my mind. Borboa and Jacobs are down with collaborating in their art work and some of those pieces are found in this show.
"Meeting Rich and the move artists was a definite milestone for my gallery, "says director Goldberg as she looked back on the very first 'move' opening party. "He is a wonderful artist himself, and not only that, he reaches out to other talent by providing opportunities." He connects everyone by setting a mutual outlet. Jacobs possesses this magnificent blend of charisma and dedication which moved me the most. He's just the best." Encountering the move exhibit definitely set a strong stand point for the gallery. "I value the direct and in-your-face, pure and simplistic bodies of works." states Goldberg. When one's own interpretation has been applied, reality becomes significantly influential. Some unconsiously, but many artists hold their reality as their shiny shield, and live the life hard, face forward. It is how much you can reflect the world you are living in, which speaks in art. Collectors who often visit the gallery know those pieces are worth a whole lot more that any historic masterpiece. The strong sense of "here, now", and the fact that artists are actually sharing things or experiences in common, either through friendship of partnership, suggested in group shows at NEW IMAGE ART are without a doubt the charm of this gallery.
Hold your breath, move #8 is already on its way.
MOVE #7
Date : 9th June – 11th August 2001
Open: Thu. & Fri. 1-5 pm, Sat. 1-6 pm (or by appointments)
Place : New Image Art Gallery
Address : 7906 Santa Monica Blvd. #208, Los Angeles, CA 90046
Tel : 1(323)654-2192
Further information regarding the artists or art works, please contact Marsea Goldberg.
Text and Photos: Aya Muto from New Image Art Gallery
[Help wanted]
Inviting volunteer staff / pro bono for contribution and translation. Please
e-mail
to us.