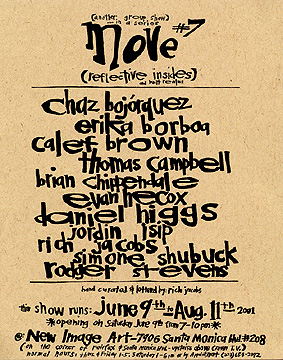 The much anticipated Move #7 opened at New Image Art Gallery on June 9th, Saturday. Rich Jacobs, a devoted artist behind this series of group shows, has been curating "move" since 1997. Setting an unique theme for each show, "move" has been bringing together numbers of artists from various fields. They all differ in medium, style, and attitude. Participating artists for the #7 show will be revealed as we go, but let's start off by asking the man behind "move", an striking artist himself, Rich Jacobs how he weaved the extravaganza together this time.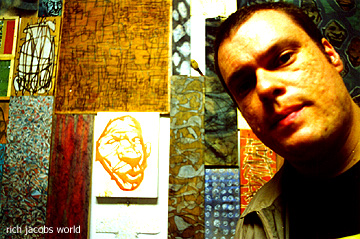 "It's just all about calling people up, getting in touch with the ones I want to show with." The concept behind "move" is fairly simple he explains. "[It involves] something that moves me, or something that creates movement. It started off as a little zine. I used to put together things that were meaningful to me. I was really into music and I still do like music… listen to lots, but I realized I was spending more and more time on visual art. In 1997, we had our first group show." With the exception of the two shows that took place in NY and Pennsylvania, New Image Art has been the home to the "move" exhibits. Move #2 had a hundred artists participating -that was an awful lot of phone calls!!!"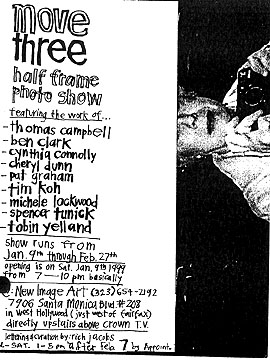 The only restriction that was given to the hundred artists was the size limitation of 5×7″. The show was mobbed. The invitation had to be printed in letter size papers instead of postcards. Then came the Move #3; Half Frame Photo Show, with the participants you find above in Jacobs' lettering. I often hear from Marsea (Goldberg, director of New Image Art) how beautiful this show was. As a great fan of Olympus Pen myself, I probably could'nt have missed a better show.
New Image Art is known to offer young talent a unique spotlight and Jacobs has always been one of the most influential forces behind this approach. "Well, I was already making zines in 8th grade. I think then I started to pay attention to people who are 'doing something'. I was drawing, scribbling… always doing something. I just love meeting people who are pursuing their own form of art. That's all." Then he took a pen that was thrown on the floor and started drawing "the face" on a piece of paper. When I asked him if that was a pen of his choice, he gently replied "I hardly buy art supplies. There's so much around one can use, you know?"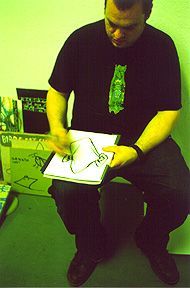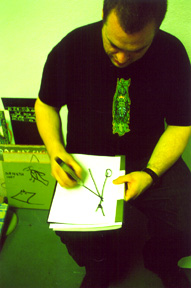 "Artists may have their hands full with day jobs or life's concern and just becomes so hard to reach for a pencil or a brush after a long day. For some it gives a significant motivation when I apply some sort of a lead, let's say by handing them a brush or just suggesting that he/she should paint a little bit more. It works amazingly. Sometimes the little bit of encouragement turn out to be a big deal. However, the artists gathered here for Move #7 are well established thus pretty much content with their own path."
Illustrator, painter, photographer, graphic designer, film maker, architect, sculptor, musician…the word "artists" encompasses a variety of diciplines, all of which can be applied to Move #7. Some of the artists are multi-talented, traveling from San Francisco (Evan Hecox), Los Angeles (Calef Brown, Chaz Bojorques), New York (Rich Jacobs, Erika Borboa, Jordin Isip, Simone Shubuck, Rodger Stevens), Rhode Island (Brian Chippendale) and Santa Cruz (Thomas Campbell). Having all these artists together in one particular space is simply phenomenal.
Jacobs continues, "I try to set a vague theme when curating move exhibits. Obviously, I'm selecting the members that will take part of a responsibility for group installations. Then I give them this ambiguous title or even just a hint of the theme. I leave it to the interpretation of each artist after that. They are all great creators and I respect what they are doing. Sometimes it's really fun to see how far they can go by 'exploiting' the original theme." He then revealed the theme to the 7th show, (reflective insides) and built realms. "All the artist here have established fields. I was pretty confident in what to expect from these collectives."
Read more ...
[Help wanted]
Inviting volunteer staff / pro bono for contribution and translation. Please
e-mail
to us.