In Europe, summer comes with its batch of exhibitions and events, art bienniales and other cultural meetings.
One of the most important art exhibitions of the summer, at least in France, will be held in Avignon. The theme of the exhibition is "Beauty". It is a recurrent concept in art but in the manner of the "Biennale de Venise", different artists works, set in different places, suggest different approaches.
The exhibition spreads in three main areas and many other lesser ones scattered around the city. The main interest of this kind of setting is to show a large spectrum of different works, tendencies from the most classical to the most modern, with its share of many good surprises…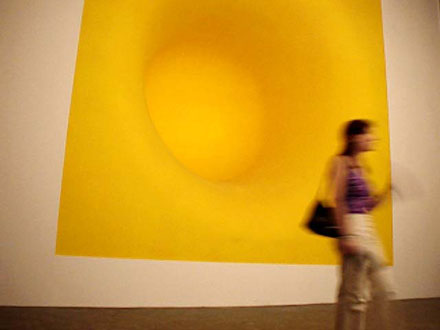 Beside the main spots, a lot of artists exhibit in churches, bars or private mansions. One of them is "La Monte Young" who invested and modified the space in a church. When you enter the church, you can watch the video of a man playing the piano that runs for 6 hours non stop. Another exhibition is Jonas Mekas held in a cloister showing some personnal family documents, slides and 16 mm films, that reflect a subjective vision of beauty based on the instant.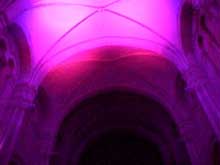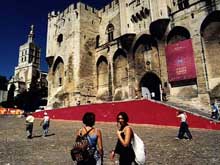 The main exhibition site is the "Palais des Papes", a huge historical fortress in Avignon in which sculptures, videos, photos, setups, and other artistic pieces of work have been displayed. The theme in this particular site is the romance between two local historical names, Petrarque and Laure… contemporary artists, in majority icones of the past decade, try to take over the history and the place.
Among the most remarkable works, Jeff Koons monumental sculpture ("Split Rocker") sitting in the inside courtyard of the palace,its head half horse and half dragon on which flowers grow, James Turrel's lighting effects ("Wide Out") or Anish Kappor hollow architectural space ("Yellow").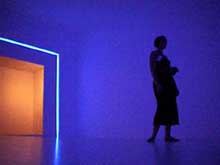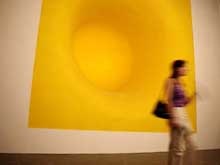 Less spectacular, yet very interesting, are also Bill Viola's video creation relating water and fire ("The Crossing"), the french artist Annette Messager's interpretation of the Palace's tapistries, who has filled a room with surrealistic creatures hanging from the ceiling ("eux et nous, nous et eux"), Pierre and Gilles revisitation of indian divinities in a neo-kitsch style by means of touched up computerised images, Franck Sculti's humoristic "dirty car", a video showing a man washing his convertible car with his tongue… and also, a 18th century engraving representing "Rhada and Krishna clasped in each others arms", some photos from Nick Knight shot under the artistic supervision of Alexander Mc Queen and displayed besides pictures of astounding african headdresses.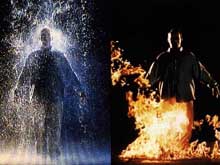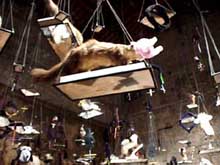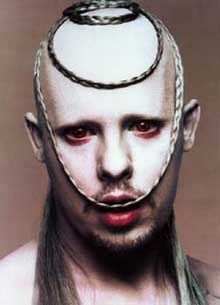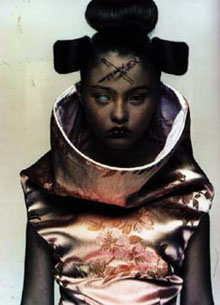 The image upper left: © Kira Peron. The image above: © Nick Night.
On the whole, a lot of interesting work even though the beauty concept sometimes seems to have been an excuse to invite famous artists.The biggest disapointment of the exhibition is Chrisian Lacroix's decoration of the city. He obviously didn't push his talent to fulfill the task he was entrusted to do.
The second part of the exhibition set in a room in "Le Jardin des Doms" just beside the palace attempts to show "Beauty" in the rough. It presents elements and objects of nature with amazing aesthetic caracteristics.
First mysterious and interresting, the show soon becomes quite boring, amounting to a curiosity cabinet. Nevertheless, there are a few very attractive things such as the "Aurelia Aurita", tiny gelly fish evolving graciously in an aquarium plunged in darkness, as well as a few minerals ("quartz") and "sepiolite" or insects with unusual shapes ("membracidae")…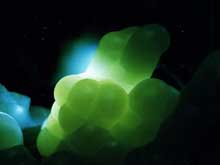 The insect photograph above: © Michel Boulard
The third and last part of the "La BeautŽ" exhibition is set in the "Transfo" site, a former electric plant rehabilited for the occasion and gathering together various artists keen on new techonologies and current fashion,music and video movements. More amusing and casual, it is in my opinion the best part of an exhibition that felt a lot like "dŽjˆ vu".
As from the start, visitors discover an amazing and refreshing space. An entrance gate created by Franois Roche and made out of thousands of mineral water bottles, arranged as a tank truck.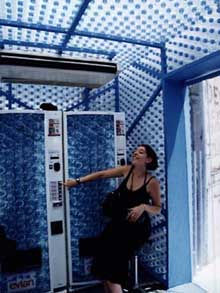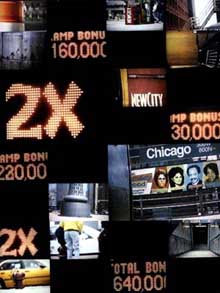 The image above right: © N+N Corsino
Behind this huge piece lays the site, made of several large bulidings and pieces of graffiti.
An event around specific disciplines has been organized in each building (photo/video, fashion, multimedia…)
In the first one, the photo/video building, Franck Scurti presents a few films. One of them, "Chicago flipper" makes you feel like a pin-ball touring around Chicago. Violent camera movements, an intentionally jerky paste-up and the noise of the pin-ball machine bumpers in the background makes the experience very impressive and realistic.
Steve McQueen's "DrumRoll"was shot as a triptyc in New York. The artist put 3 cameras in a barrel (one on each side and one in the middle) and rolled it around the city. Watching the three screens horizontaly displayed for five minutes made me feel quite nauseated.
On the upper level, five european photographers were asked to take pictures of a Japanese province. These reveal a country in constant movement and a culture and esthetic that most Europeans are ignorant about.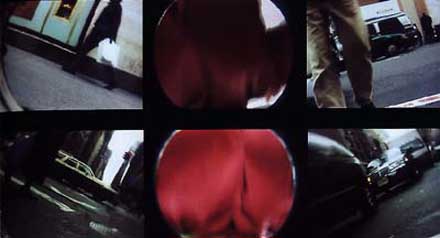 The image above: © Steve Mcqueen
Leaving this building, I found myself in front of an "Invader mosaic" representing the very famous video game "Space Invaders" . The artist who is French placed dozens of little icones from the game in every town of France.
A little bit farther away, is the "Global Tekno 2000" building, organized by radio FG, one of the very first french radio stations that played tecno music. Inside, the atmosphere is calm, resting and friendly and the lights are soft. German artists and graphic designers from Frankfurt : "Saas Fee", together with french musicians (Superpop, Pink Elln…) have created an "electronic dreamplant", a visual space. You can use the computers to run some amusing little programmes or walk into the projection room in which films, video clips and 3D animations are running non stop.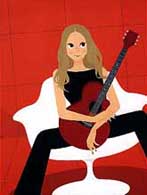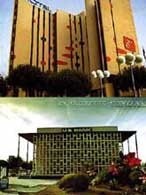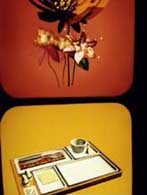 Around this major space, artists so called as the "Tecno Generation", like Emmanuelle Mabille who line draws characters or also the photographer Pierre-Emmanuel Rastoin presenting a slide show : Detroit vs Berlin telling the story of tecno music enlivened with a piece by Jeff Mills.
Overall, it seems that the "Global Tekno 2000" exhibition has perfectly managed to take in the variety of production in a homogenious representative of a culture known as digital.
In another part of the plant, there is a set of chairs and table and a television on which you can watch a fashion show of models coming into the room you are sitting in who dress and undress the chairs. This is Hussein Chalayan autumn-winter 2000 show, a fashion designer who manages to combine humour and creativity…. indisputably different.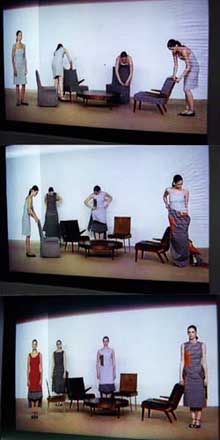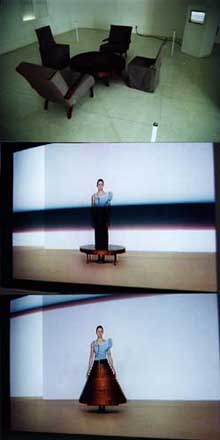 The last building is dedicated to look and body : "Decors ˆ corps". A multitude of creators inspired by fashion and science-fiction present really unusual objects, ornaments and sceneries. Among them, I noticed BarnabŽ, a hair dresser who created different wigs. Topolino occupies a stand where he offers various mystical objects added in a make-up. Xitron who works on transformation made some syringe-finger rings, and kits for sexual changes… Patrick Veillet, more poetic displayed some much lighter and animal ornaments like for instance that transparent resin spine.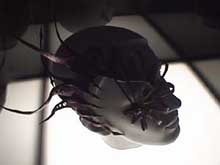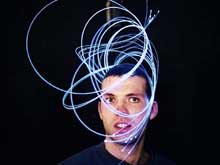 Seraphin Ducellier built a video space between mirrors and a gigantic air filled sculpture. Just behind, a Philip Treacy hat exhibition. Globally, this exhibition is dedicated to self image and leads to an idea of fashion in the future.
Last but not least part of the tecno exhibition, I must not forget to mention the bar and refreshment stall, with its excellent sandwiches and iced "pastis" and of course Niele Toroni who set six different Bowling pitches (to play "pŽtanque" which is a typical french game where you have to aim at and go as close as possible to a small wooden ball, with some heavy metal balls). These also contributes to the special casual and friendly atmosphere of the spot.
Overall, I really enjoyed visiting this exhibition. Avignon itself is beautiful, and the idea of spliting the exhibition in different places gives us a better chance to discover and appreciate the city… South of France in July is so sunny !!! Pitefully, I am less enthousiastic about some of the works. In my opinion, only half of it deserves to be shown. Moreover, the neighbourliness of some of the artists is not that fortunate.
Nevertheless, I noticed some very good things, from the global techno to Turrell's or Kapoors setups, the variety of styles allows us to discover some really unusual setups and to immerse in different trends. I would personnaly recommend a whole day visiting the Transfo site, playing "pétanque", having lunch at the Pastis (nammed after the most popular aperitif drink in the south of France), spending the afternoon viewing videos in the FG building and even the evening while you're at it. Besides, all summer, FG organises some "electronical music" parties enlivened by reknowned DJs such as Laurent Garnier, Mental Overdrive etc..Anyway, "Beauty" in Avignon already sounds like holidays.
LA BEAUTE en AVIGNON
Date : May 27th – October 1st 2000
http://www.2000enfrance.com
Text and Photo: Julien Villaret
Photos © 2000 Flammarion, Julien Villaret
[Help wanted]
Inviting volunteer staff / pro bono for contribution and translation. Please
e-mail
to us.