Even as the economic bubble enclosing San Francisco bursts, the Bay Area still reigns as a hub of recent and historical technological innovation. So what better place to stage a blockbuster survey of technology related art projects than here? The San Francisco Museum of Modern Art (SFMOMA)'s current exhibition "010101: Art in Technological Times" reflects on what it means to create work in a time when our lives are deeply intertwined with technology.
"This ground-breaking project is not just a show of 'art about technology' or 'high tech art and design.' Rather, it presents artists, architects and designers whose work is carried out self consciously in the shadow of the digital age, which is bringing new ideas and working processes to the studio, introducing new exhibition practices to the gallery and offering radically new ways to connect creators and their potential audiences. The play-on-numbers of the exhibition title underlines the changing nature of museums and artists as they and the rest of society reflect upon life in technological times." notes SFMOMA Director David A. Ross.
010101 is one of a handful of recent American shows that attempt to put a handle on these nascent forms. The curators attempt tp make sure that no subgenre of technology-informed work is left out out of the mix, and uses both a entire museum floor and an online exhibition to do so. The show includes work ranging from painting to video, sound and sculptural installations. The web portion of the show is not accessible from the museum itself. While the breadth of the show is generous, it suffers as a whole from lack of editing. It includes works that are pretty but conceptually trite, where interactive translates as merely gimmicky, and where any connection to technology seems tenuous or forced. That said, there are a number of individual projects that make the show worthwhile viewing.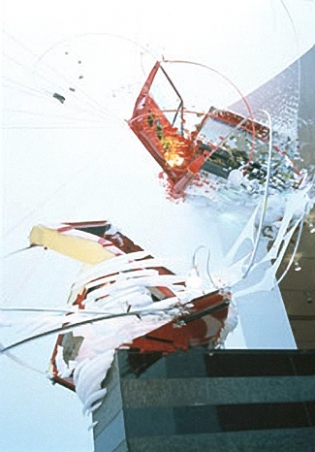 Things Fall Apart, Sarah Sze, 2001, Site-specific mixed-media installation, Courtesy of Marianne Boesky Gallery, New York
Sarah Sze's kinetic "Car Crash" defies glossy cliches about tech art with craft-class construction. Her installation arcs up the museum's center stairwell and perches off of it in a series of dizzy fragments. Tiny motors animate bits of foam, packing peanuts, pills, and other materials in a dense and organic microcosm of detritus.

Auto Scope, Heike Baranowski, 1996
And Heike Baranowski's room-filling video installation "Auto Scope" is grittily compelling. Four copies of an hourlong video loop shown simultaneously edge to edge fill a room. Paris moves by, gray walls and trees forming a banal and mesmerizing immersive kaleidoscope that dissolves through seemingly unending urban industrial zones.

Read more ...

1
2
[Help wanted]
Inviting volunteer staff / pro bono for contribution and translation. Please
e-mail
to us.