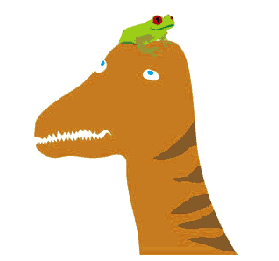 StrawberryFrog, a new kind of amphibious strategic and creative communications agency in the heart of Amsterdam, has quickly made a name for itself fighting the world's most ominous dinosaurs. Frog vs. the dinosaur is the chant. And StrawberryFrog doesn't just chant, they work for selective cross border international brands like Elle.com, O'Neill Sport, Viagra, Motorola, Heineken and Credit Suisse utilizing new, alternative media. It's done by hiring talented multicultural creatives from around the world. When pushing a deadline, frogs count on quick delivery from a small place next door called Lunchcafe Winkel. Shift recently managed to sit down with one of the waitresses, Carmen de Haan, to chat about art, Amsterdam, and the global effects of creative marketing strategies for some of the world's leading brands.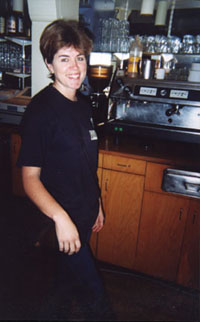 How long have you been waiting tables?
"At Winkel only about six months. I've worked in cafes since I was 15, during my studies, but full time just six months."
Are you hoping to move into another field, or stay in the food service industry?
"I want to do something more "real-life." I worked for five years at Airmiles, then I quit and travelled for six months in Latin America. And I' ve been at Winkel since I got back home. It's okay here, but I definitely want to move on to something new, where I can use my brain more."
What do the people at StrawberryFrog order most?
"Since their office is so multicultural with employees from 14 different countries their tastes are very eclectic. I love the unleashed cultural mixture the frogs got. Usually, though, they order club sandwiches, soup, and a lot of apple tart. Sometimes we bring over seven or eight at a time."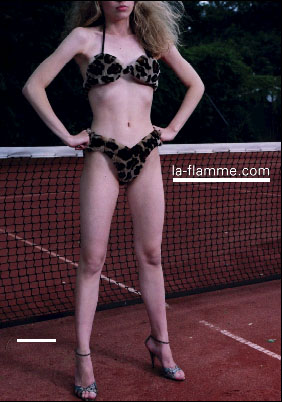 Would you ever consider waitressing in a fur bikini?
Oh, like in that la-flamme.com ad?! I heard the bikini in that ad was designed by the same people that did Brigit Bardot's bikinis back in the fifties. Is that true?
First of all, we're asking the questions. And secondly, yeah, that's true.
How'd you like the Xerox Create Power campaign?
I didn't realize Xerox made printers til I saw those ads. I thought they only made copiers. I think the ads do a great job of telling you about the high quality of these printers.
We don't speak French, but what do you think about the ELLE.com campaign?
"I don't speak much French either, but I think it's cool. I think the campaign ran in the USA mainly. This campaign really speaks to me as a woman. It's as if all of the circles make up our stereotype or perception of beauty but ELLE.com sees me as an individual. I also like the way they did the drop shadow on the original design of the ad – very cool, especially on all the online work StrawberryFrog did."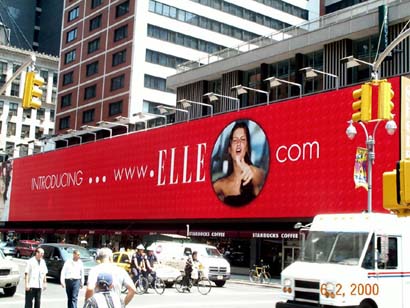 Don't you think it's funny how people sometimes confuse the words "prescription" and "subscription"?
"That reminds me. I really liked the ads StrawberryFrog did for Pharmacia and Upjohn. The distorted, melted image on the left side of the spread paints a clear picture of how this person lives in a world not knowing if she's sleeping or awake. Showing red behind the word sleep reinforces the copy, making us realize that sleep is being abused to the point of irritation and aggression. This world or shelter she has created is melting before her very eyes."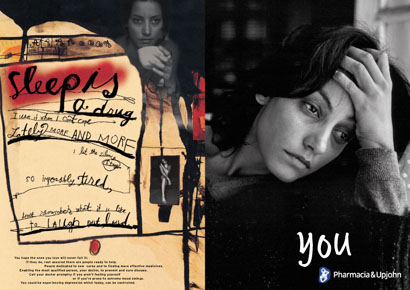 Do you like frogs?
"Yes. I like them."
Do you like strawberries?
"Yes. I love them."
What's your favourite museum in Amsterdam?
"I don't know. We live here, and it's funny how when you live in a city you don't really go to the museums."
Just pick one. We're not writing a book.
"Rijksmuseum."
Where do your customers come from?
"We do a lot of business with StrawberryFrog. They are very polite. They throw lots of club sandwich parties, reveling though the afternoon hours with lots of fresh orange juice, cappucinos and our famous apple cake. But when it comes to this big apple cake orgy, I think the reason behind theirlust for this cake is that they have global clients, with cross-border brands, we get customers from all over the world. And we're in Lonely Planet, so everyone knows that we have great apple cake."
If StrawberryFrog moves to a new location in Amsterdam, would you want to work in a cafe near the new office?
"When we bring food over we love it because everyone there is so young and informal. When they move, it will hurt the business here. They can phone us and we'll bring the club sandwich over to the new place."
Anything else you would like to add?
"Not a hell of a lot, except to say that their frog-like image notwithstaning, these people eat a lot. I mean a lot. And I heard they're expanding their interactive division – guess we're gonna be making a lot more apple cake."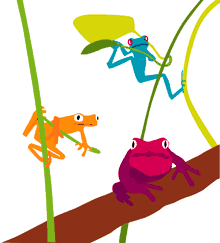 Strawberry Frog
http://www.strawberryfrog.com
Text: Jay Taylor and Brad Dykema from Strawberry Frog
[Help wanted]
Inviting volunteer staff / pro bono for contribution and translation. Please
e-mail
to us.