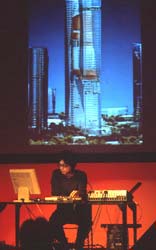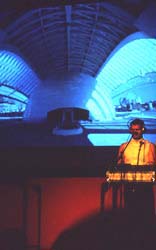 The film + concert was held at NTT Inter Communication Center (ICC) in Shinjyuku on September 23 and it was really interesting. This event entitled 'Architettura – Contemporary Architecture and Electronic Music' was a multiple event that aimed to show how two different art forms – contemporary architecture and electronic music – could meet through visuals, with a screening, live performances by Somatic, Atau Tanaka, Cineplexx and Panacea as well as a slide show.
The film work by Iara Lee titled 'Modulation' (1998/America/Distributed by Uplink. It was released also in Japan recently) is really impressive. The history of electronic music is narrated by lots of interviews and when I saw the film again at this event, I found there was a consistency between her love and interest for visual and electronic music, and also a kind of her tenacity for them. She also runs the experimental electronic music label 'Caipirinha Productions' and four works of the CD series "Architettura" have been released as of today.
Each work consists of electronic music of various styles by artists such as Savvas Ysatis and Taylor Deupree, Tetsu Inoue, David Toop and Panacea, inspired by the architecture of Oscar Niemeyer. This multi film installation developed at ICC Gallery is a 'film' for the touring installation consists of 4 short films – 'Tower of Wind', 'Terminal Happiness', 'Enclosed Nature' and 'Monumental Minimalism' – linked to the CD series.
The linked expression between visual and electronic music reminds me of the expression of 'VJ' that shows the peculiar evolution in Tokyo. The VJ movement in Tokyo has been influenced by so many safe clubs and young people who can personally afford to buy high-powered PCs. There are many possibilities in this field, but it's actually a mixture of good and bad because of PC manias and CG freaks who have less interest in music itself. In such a situation, Iara Lee's herself and her original movements are really interesting. She runs her own label and creates film works. Her attitude has a natural balance as an artist. It seems that it's her original movement, but it's legitimately linked from the pioneers (video artists and electronic musicians) who intended to combine visual and music using technologies.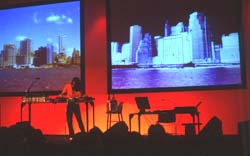 Somatic played the cutting-edge minimal sounds against the loop of the buildings captured with a moving video camera, and performed their part effectively as the introduction of the four-part work
Atau Tanaka appeared next and developed his original world with a slide show of buildings using a notebook PC, and showed the result of his experimentations in electronic music. It was a static experimentation in sound and it was totally different from the excitement and speed of live performance.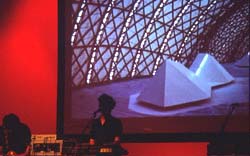 Cineplexx performed the alternative new-wave sound in early 80's against the slide show of buildings, with other members who played electronic guiters. But there was a big gap between the audiences who stared at the stage sitting on chairs and the sound played on the stage, and the live performance was not enough to fill the audience with excitement.
The last performer was Panacea. The visual was the same as other performers, but he was in the center of spotlight (other performers were playing more moderately on the corner of the stage) and played drum'n'bass with brutal, radical and industrial break beats. The heavy bass line and hard core sound suddenly changed the atmosphere.
Seeing the four parts developed by short films and sound artists, there's a monotonous boredom like experimental films and at the same time, there's a beauty in ambient sound and minimalism. It's a pursuit of interactivity between building (artificial thing) and electronic music, different from the ordinary entertainment as a 'film', but when we see those four parts all together, the impression becomes different. To be honest, I was left with several questions for each stage, but each part functioned as a constituent element of the whole work and then one film work 'Architettura' came to the fore. And the visual creator and the director of this film work, Iara Lee would leave an impression on audiences.
Text: Jiro Ohashi from E-Regular
Translation: Mayumi Kaneko
[Help wanted]
Inviting volunteer staff / pro bono for contribution and translation. Please
e-mail
to us.