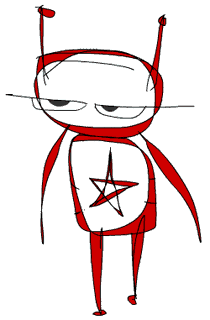 With two full-length CD releases within the last year, and numerous design projects to boot, Sydney's dump Huck/beat & Squelch collective is becoming a much-needed cohesive force in the town's often fractured electronic music underground. I recently spoke to community radio personality/entrepreneur and co-founder of dumpHuck, Tom Phillipson, about his pet project.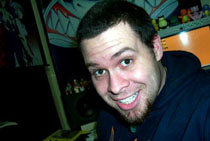 What is the inspiration behind Beat & Squelch and dump Huck industries?
The main inspiration behind dump Huck industries is to assist and promote local talent, while also raising awareness for human rights organisations. One of our main projects at present is beat & squelch, which is a compilation CD series of underground electronic artists, all of which have donated their tracks to help raise money for Amnesty International Australia of which all of the profits go to Amnesty.
Can you please give us a rundown on some of the artists involved?
There are basically have 5 core kidz involved in dump Huck.
– Deepchild (Rick Bull) , deepchild@dumphuck.com who does a lot of our
artwork for the cd's and flyers.
– hBiki (Stuart Willis) biki@dumphuck.com – Stuart deals with alot of the
legal stuff involved in the projects.
– Quark Kent (Giv Parvaneh) giv@fromage.com.au, helps with a lot of the
web construction and layout
– Sonik Professa (Florsh) sonikprofessa@dumphuck.com, who generally just
hangs about and helps on different things
– Funkenbubble (me) doe@dumphuck.com, I sorta do a bit of everything,
from the webdesign to promotions.
There is also a few artists we work with on a regular basis .. like Alphatown, an up and coming techno outfit and Aquace who produces crazed hip hop breakbeat big band funk.
So where do you see Australian music and design heading at the beginning of the new century?
Australian electronic music is currently having a serious identity problem I feel, as we are producing some very high quality music but it is still not really given the recognition locally that it deserves. I guess the problem with this is that unless we are supported locally, it makes it really difficult to gain international recognition.
But it's only a matter of time though, it can't continue for much longer without getting noticed by someone. Mind you it would be shame though if what we are doing is only recognised by our local scene after it is been taken to the international market, then feed back to them.
On the design side of dumpHuck .. we all work with different styles and in different areas. I guess audio is really the one aspect which ties us all together. Design is a major part of all our daily lives with flash is one of our favorite toys at present.
How does your philosophy differ from organisations such as k-grind (Australian broadband youth culture' website)?
Ick .. hard question .. OK for the record, I personally dont agree with kgrind purely on the basis that large corporations just blindly throwing money at what is considered underground is bullshit. The underground is not a product and can not be captured for any money. its free .. and as soon as you put a price on it, it no longer is real. Many many people would disagree with this view. There is also the aspect that there is millions of people starving and dying of preventable diseases all over the planet, and millions of dollars are being thrown at a project which until now, hasn't really produced anything. They have spent $12 million or something crazy and what do they have to show for it ..
How dumpHuck differs? Well I guess we just try to help in what way we can. We donate all our profits to charities and all work for free. Its their philosophy we dislike .. not their people.
Who/what are your music/design influences?
Our influences .. junk mail and bad porn hehehe. Lots of different things really. Collectively we are influenced by so many different sources its hard to pin point one thing. I think a really important part that we all believe in is the non commercial aspect of what we do. The community we work within is a constant inspiration, be it the radio programs we listen to and make on community radio or the web projects involve ourselves in with non profit organisations .. they all have the common thread of being for the love of it, and not the money.
I know it sounds kinda stupid, but I think we inspire each other a lot too.
So when is the Dump Huck Tour of Japan?
We are all fascinated by Japanese culture. We are all really keen do a dumpHuck.vs.Japan tour. Its funny, our cultures are really quite different sometimes and think that is what intrigues us. when ever I hear acts like Co-fusion, Atjazz and Rei Harakami I am always blown away. There is something about the attention to detail that I love.
When I was visiting Japan last year I met so many interesting and beautiful people, but in the short time I was there I was totally blown away. I love technology .. and Japan is one big toy shop.
dumpHuck
www.dumphuck.com
Text: Luke Mynott from Beyond
[Help wanted]
Inviting volunteer staff / pro bono for contribution and translation. Please
e-mail
to us.