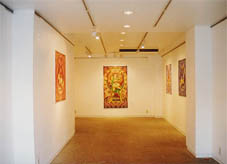 As you know reading the interview in last month's issue, Furi Furi Company did an exhibition from November 2nd to 14th at Harajuku Gallery.
They have mainly been participating in overseas exhibition until now. This first exhibition in Japan showcased their `strong' works different from their previous 'cute' works.
This exhibition is called "Furi Furi Thangka". Thangka means a Buddhist illustration in Tibetan. The figure of Buddha looking like a woman appears in seven pieces of a huge illustration. Their figures are illustrated from the context of animation or manga with a mandara mixed from the context of techno on their backgrounds. This remix style called "Spiritual Manga Style" that remixes Buddha in Buddhism and mandara in Tibet, China and Japan and animation/manga culture is one of the way of expression to exactly symbolize their generation's spiritualism.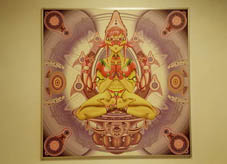 Ryosuke Tei, the president of Furi Furi, has been working on creation, thinking deeply about his identity as a third-generation overseas Chinese creator, as an Asian. He loves Buddhist culture and had once been wandering about Asia as a backpacker. For him and other members of Furi Furi, Buddhist culture is a real existence in their creations and lives.
The illustrations were displayed symmetrically in the simple space with calm lighting. By not making a display of their eccentricity and just showing the illustrations plainly, the space of Buddhist illustrations stands out with solemnity. Also, the burning incense and trance music strengthen the space.
What I was interested in was the surface of the paper having depth and weight. Looking closely at the illustrations, it's a particular paper with the texture of canvas, and in layers of two materials on the surface. At first glance, the texture doesn't look like paper. This particular output was realized in cooperation with Too Inc. This output technology made their illustration more realistic. Tei has originally pursued how to show fine arts as a contemporary artist, so his approach to create such a simple space is convincing. They showed 'strong' Furi Furi that has never been seen before.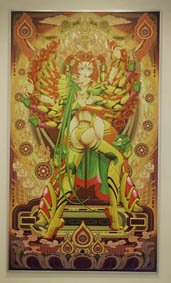 All illustrations are huge in w90cm x h158cm or w90cm X w90cm. Those futuristic Buddhist illustrations give the audiences a solemn feeling. Miho Sadogawa illustrated the Buddha (characters). The background was done by Itsuo Itoh, and Tei worked on the concept design and exhibition plan. Each member took charge of each work. Also, the direct mail covered with silver leaf on white embossed paper made by Taro Yamada was really impressive.
The teamwork combined with the exhibition's concept 'Spiritual Manga Style' is the result of the group's world outlook.
I was wondering whether the digital style could be equal to the real space. After seeing this exhibition, I understood that those Buddhist illustrations made with digital tools were compatible with the constructive and minute line of Japanese-style painting and mandara in Asian culture. The Buddha illustrated in the manga style fascinated the audiences.
Tei talked about the idea in this exhibition, 'You may have mixed feelings between design and fine art after seeing the illustrations. But I won't stick to this style. I'm always working with a backpacker spirit'. I think Furi Furi learned their own way to bring both design and fine art together by this exhibition. A few artists aside, the creators in these two different fields are work in a different way with each other, and they each have different fans. It is not too much to say that this presentation without any clients is a declaration of war by Furi Furi for all creators all over the world. Tei always talks laughingly but seriously, 'there's not only cute Furi Furi but also cool Furi Furi'.
The reception party with the fans of Furi Furi was a great success. Tei also tsaid he would pursue the possibility of such projects in the future.
Furi Furi will launch overseas with the works of 'Spiritual Manga Style'. It's really interesting to think how the audience overseas will react. Those works symbolize the Japanese of today and will tell you something.
Furi Furi Company
Address : 306 Nakayama Residence, 2-30-8 Jingumae, Shibuya-ku, Tokyo 150-0001
Tel : 81-3-5414-5443
www.furifuri.com
Text: Chibashi
Translation: Mayumi Kaneko
[Help wanted]
Inviting volunteer staff / pro bono for contribution and translation. Please
e-mail
to us.