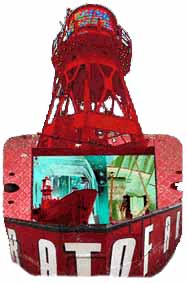 Well… we talked about it before but we HAVE to continue about this spot… as we were waiting for this kind of place for quite a long time. The Batofar, firemen boat on the seine, re-morphed in a concert hall, just R.U.L.E.S !
This month, I saw there, or missed there, depending on how early I arrived : DJ Krush, DJ Shadow, Add n to X, To rococo rot, and a A-Musik electronica noisy festival, with the beautifull FX Randomitz live. Well this is a cool and cheap place, with the neatest programs we had those last years. Open minded and electroniX oriented.
Some experimental shows like this mysterious Paris Fuck Music Society, total noise with masked musicians, 70's porno movies and un-dressed girls. Experimental cinema too, and a lot's of smaller neat things like drinking a beer on the boat, outside when the weather is nice.
7O's time again. With desire but without pornography. Maurice Dantec, french science fiction writter, read some Gilles Deleuze (on this Website you can find unreleased text of the french philosopher, some of them are translated in english, check it out !!!) text about philosophy and self emancipation while his friend Richard Pinhas, musician from the old underground band Heldon, was doing the electronic noise.
Well… this was "direct from the borderground" but not exactly a great moment. Music was nice but the filtered Dantec voice was quitte irritating. Lot's of people wanted to see it cause Dantec has a huge success here. It was exactly like if people HAD to be there.
70's encore!! La cinematheque de Paris did a very good festival about the Art of Sergio Leone who is here considered as a popular minor director. Big big mistakes. Leone is definitly one of the biggest and his last masterpiece "Once upon a time in america" is a big, big film. More than a mafia Film, more than a fresque about america, perhap's just a solid reflexion about friendship, betrayal and…cinema.
Scenes without dialogs, gloomy Enio Moricone's music and this grandeur, this anti-minimalistic way of filming/directing that created so many misinterpretations. Well this one was MY favorite. But the entire festival had great success and you had to fight hard to get tickets… Watch around if someone do the same around your location, amazing.
Batofar
Open: 20:00 – 25:00
Address: 1 Quai François Mauriac, 75013 Paris
Tel: +33 (0)1 5360 1730
communication@batofar.org
http://www.batofar.org
Text: Guillaume Ollendorff

[Help wanted]
Inviting volunteer staff / pro bono for contribution and translation. Please
e-mail
to us.